Snooki, Bill Nye, and Others Join 'Dancing with the Stars': Ranking the Cast in Order of Relevance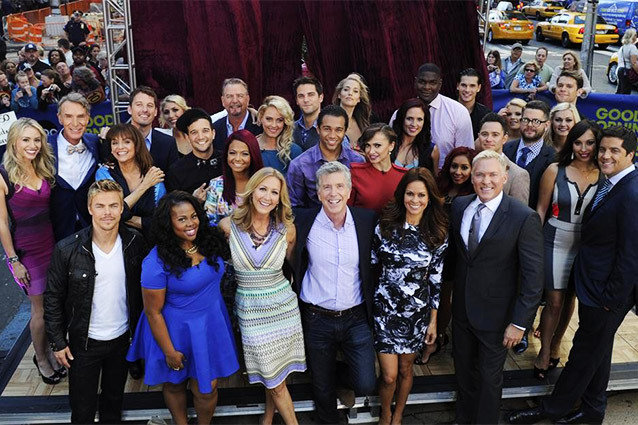 Ida Mae Astute/ABC
Every year, ABC's Dancing with the Stars ropes in a varied new batch of players to compete for a seat in Congress. (That's what the winner gets, right?) And every year, the amassed collections of actors, athletes, television personalities, and the odd astronaut have become more, let's say, "creative." Producers have shirked minor details like celebrity relevance in putting together eclectic teams for the competition series, taking the cake with their Season 17 lineup. Yes, the reactions to this year's players will range from "Not her again!"s to "Boy, he's really up and coming!"s to, "I had no idea he was still alive." Peruse the new DWTS contestants below, list compiled by Hollywood.com's Relevance Ranking (from least to most):
Corbin Bleu
As the fourth billed star of the High School Musical movies, 24-year-old Bleu is the least relevant of the troupe, hardly even a thing back when he was a thing. 
Jack Osbourne
Not far ahead of Chaz Duckworth, or whatever it was, is the youngest and least significant member of a flavor-of-the-week MTV reality show that aired back in 2002 (and lasted, despite your recollection, all the way to '05).
Bill Engvall
Neck and neck with Jackie O is Bill Engvall, best known for his frequent proximity to Larry the Cable Guy.
Christina Milian
When you cap your music career by reading tweets on that reality show that people watch when Idol is out of season, you know you're a prime candidate for DWTS.
Brant Daugherty
Admittedly, Daugherty's role on the conversation piece Pretty Little Liars could justify a more prominent placement on this list. But he's also in The Starving Games, which kind of robs him of any of those points.
Keyshawn Johnson
Right in the middle of the pack is Keyshawn Johnson, who used to play football. Football is still cool, right?

Elizabeth Berkley
Thanks to the onslaught of '90s nostalgia perpetuated by our generation's nagging inability to grow up, we have granted Saved by the Bell star Elizabeth Berkley an everlasting spot at the corner of our conscience. Remember when she took the caffeine pills? Of course you do. Hey, that might work on this show!
Leah Remini
Leah Remini's name has been thrown around a lot lately, mostly in connection to The Talk firings and Sharon Osbourne controversies. Hmm, perhaps we'll find a bit of a rivalry between her and Sharon's son Jack? That could bump him up an Engvall or two.
Amber Riley
She's on Glee, so there that is.
Valerie Harper
To be sincere for a minute, we pay legitimate credit to Valerie Harper, who is not only tackling cancer, but has long served as an inspiration to fellow sufferers, not to mention actors (she rejects the word "actress") and women everywhere. Some pop culture relevance is the kind you earn.
Snooki
…and some, alas, is the kind that forms atop your head in the shape of a ravenous koosh ball. As much as it pains us to say this, Jersey Shore star and new mom Snooki is DWTS' big get of the season.
But that's only 11. What about the last new contestant?
Ah, yes, Bill Nye the Science Guy. A man who exists beyond the realms of pop culture relevance. A man who cannot be defined, but who himself doles out definition. A man against whom all other men are measured. Often in Berzelius beakers. Science rules.
More:
Jennifer Lopez and Harry Connick Jr. Join 'American Idol'
'True Blood' to End After Season 7
'Homeland' Season Premiere Leaks Online
Follow @Michael Arbeiter
| Follow @Hollywood_com
---
From Our Partners


Stars Pose Naked for 'Allure' (Celebuzz)


20 Grisliest TV Deaths of 2012-2013 (Vulture)