'Dancing with the Stars' Season Finale Recap: Who Took Home the Trophy?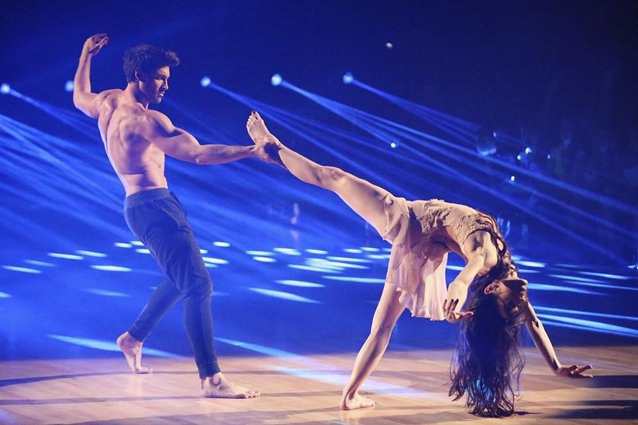 ABC Television Network
So, even though my Dancing with the Stars rankings were completely wrong, I may have been the only person to correctly rank Candace Cameron Bure above James Maslow. So ha!
Yes, in Monday's finale (part 1), after a rollicking martial arts-inspired free dance (and a real-live kiss during his tango with Peta – which somehow couldn't even compete with Meryl and Maks almost-kiss) James was sent home. Candace looked quite candidly shocked, as did pretty much everyone else in that studio audience. But, as Tom Bergeron would remind us, "That's live TV!"  And hey, at least he got to encore his freestyle dance in last night's episode.
Speaking of which, I always forget that the second part of the finale is less a new episode and more a sort of homage to the rest of the season. A good deal of the episode is spent on retrospectives, bringing back old dancers and stars, video packages, and live musical performances, most of which was delightful – anyone could benefit from a repeat viewing of Charlie White's Dick van Dyke-approved jazz dance to "Supercalifragilisticexpialidocious," in my opinion. Plus, Maks "joked" that he was going to "ravage" Meryl and nickname both of their "mean, Russian children" "Bear" during one of the video packages. So there was that. Now, the musical numbers were a bit on the spotty side – ranging in quality down from Iggy Azalea's earpiece malfunction, to Christina Perri's pitch-y take on "Human," to the multitasking Cody Simpson and Amber Riley, and finally, up to Ariana Grande's pristine vocals on "Problem."
At long last, it came down to elimination time: which was a delightful brand of awkward, as the three remaining pairs watched selected video clips of themselves from as Christina Perri wailed away at her piano for a good two minute plus. Then, when that was over to the relief of the poor dancers/stars, the drumroll was so long that Candace dropped her poker face and grinned like a good sportsman. She was right – she did end up coming in third place.
And I have to admit, once it finally came down to Meryl/Maks vs. Amy/Derek, my heart was actually pounding a bit – because somewhere in the last 10 weeks I became a huge Meryl/Maks fan.  Which was surprising, because I usually like underdogs, and Meryl had the clear advantage as a gold medal-holding ice dancer, while Amy had a lot more difficulties in uncharted territory as the first double-amputee on the show. But on the dancer side? Derek's kind of a DWTS  juggernaut – rooting for him is kind of like rooting for the Yankees. And to counter Derek's five wins, much has been made of the fact that in 13 seasons, Maks has never taken the trophy once. Plus, Meryl's admission that she wanted to win more for Maks' sake than her own rang true, and that sort of sincerity is what's always made their relationship compelling to viewers.
With all that mind, their victory was truly a joy to behold (I delightfully noted that Meryl was up on Charlie's shoulders in mere seconds, while pretty much all of the rest of the cast had to band together to get Maks off the ground, so they could celebrate their new Mirror Ball Trophy in true DWTS form). Congrats, Meryl and Maks! Now, on to those mean Russian babies.