Daniel Tosh's Animated Series 'Brickleberry': Doomed From the Start?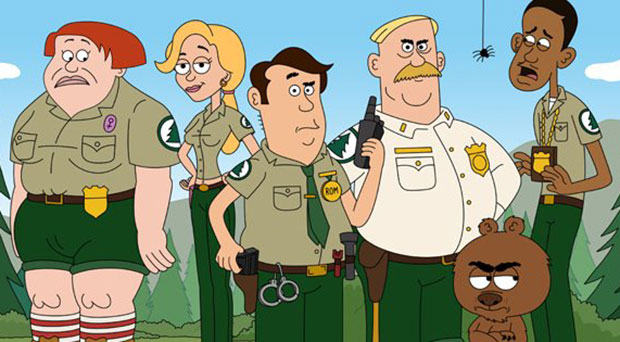 The panel for Daniel Tosh's new animated series, Brickleberry, is taking place at Comic-Con today, Friday the 13th. A bad omen or just bad timing? While Tosh — who caused a societal firestorm this week when a rape joke he directed at a female audience member at one of his shows caught the attention, and many opinions, of the Internet — won't be at the panel (creators and executive producers Waco O'Guin and Roger Black and voice actors David Herman, Tom Kenny, Jerry Minor will be), his presence, and the weight of the controversy, will no doubt be felt. 
The series, about a dysfunctional group of forest rangers, features Tosh voicing the character of a bear cub named Malloy. But, as is often the case with Comedy Central cartoons, this one most definitely isn't for kids. In the wake of the Tosh controversy, it might not go over so well with adults, either. According to the website
RumorFix
, an unnamed source claims the pilot episode features rape jokes and Tosh and co. have scrambled to take out the references before the Comic-Con debut. (Hollywood.com has reached out to Comedy Central for a comment regarding the story.) 
But how far will Tosh have to
backpedal
before this thing subsides, if it ever does? If Tosh has, in fact, opted to get rid of a rape joke in the upcoming
Brickleberry,
he still can't erase the supposed misogyny some feel he's built his comedy empire on. (
This
 and 
this
 and 
this
 will live on the Internet forever.) And it's that very legacy that's found him in this career-threatening position. If Tosh continues to apologize and edit himself, he'll no doubt disappoint his defenders and rabid fan base, but if he doesn't, he'll likely continue to feel the wrath of those who find his attitude about women and the subject of rape nothing to laugh about. 
The
Brickleberry
panel takes place tonight at SDCC at 6 PM PT (check back in to Hollywood.com for news from the event), while the series is slated to premiere on Comedy Central on Sept. 25. 
[Photo credit: Comedy Central]