Death, Destruction, and Klaine: The Year in Television Spoilers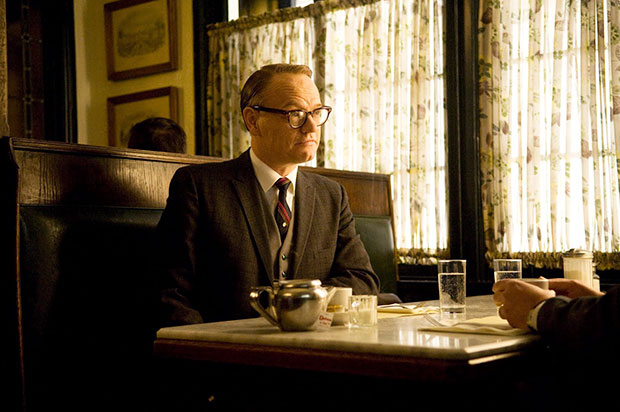 First, let's start with the bad news: The Mayan calendar (and, more importantly, a stellar John Cusack movie) have confirmed that the world is ending in a few weeks. I know, right? And we were all totally going to lose those 15 lbs and start journaling in 2013. Then there's the even worse news: You missed a lot of really good TV in 2012. So much good, in fact, that you have no hope of catching up before the end of days. That's where we (and the good news) come in — we've rounded up the best TV spoilers of 2012, so you can spend your remaining days with your family, or whatever. SPOILERS AHEAD, but sorry — no one will ever know who actually killed Alison DiLaurentis on Pretty Little Liars.
Let's start with the little guys:
How I Met Your Mother: Drama! It was eventually revealed that Barney (Neil Patrick Harris) is marrying Robin (Cobie Smulders). Also, Victoria (Ashley Williams) left her future husband at the alter for Ted (Josh Radnor), but they broke up afterwards because Ted wouldn't stop being friends with Robin. Those crazy kids!
The Office: Angela (Angela Kinsey) found out that her husband was cheating on her with Oscar (Oscar Nuñez). Way to be a good coworker, Oscar.
Parks and Recreation: Speaking of workplace comedies, Leslie (Amy Poehler) and Ben (Adam Scott) finally became engaged! It was adorable.
You still with me? Good. Because it all goes downhill from here. Time for some suicides and martyrdom:
Sons of Anarchy: The universally beloved Opie (Ryan Hurst) was brutally murdered early in the show's fifth season — sacrificing his life for the club in the most horrendous way possible (he was beaten to death with a lead pipe).
Mad Men: Then there was the tragic tale of Lane Price (Jared Harris),  the British sap who hung himself in his office after he found himself in financial trouble, and was fired by Don. Not a dry eye in the house.
But not all major deaths on TV this year were via suicide — 2012 was huge for killing, or being killed by, children. Let's explore, shall we?
Breaking Bad: In the former category, the artist formerly known as Landry (Jesse Plemons) from Friday Night Lights (now known as Todd on Breaking Bad) murdered a small child after said child witnessed Todd, Walt, and Jesse robbing a train. It was probably the most disturbing moment on TV this year, which says a lot, given our next spoiler.
The Walking Dead: This one sounds horrific, but it actually made a lot of people happy — Lori (Sarah Wayne Callies) died via C-section childbirth during a Walker attack on Walking Dead. Doc Herschel and the rest of the Grimes Gang were busy fighting Walkers in the prison, so Lori's son Carl (Chandler Riggs) had to watch while Maggie (Lauren Cohan) tore out her baby with a dirty knife. Then Carl shot her, before she rose again. It was a classic mother/son coming-of-age moment.
Downton Abbey: This one really hurt. Lady Sybil (Jessica Brown Findlay) from Downton also died during childbirth — but she didn't become a zombie, so she should just shut up and count her blessings.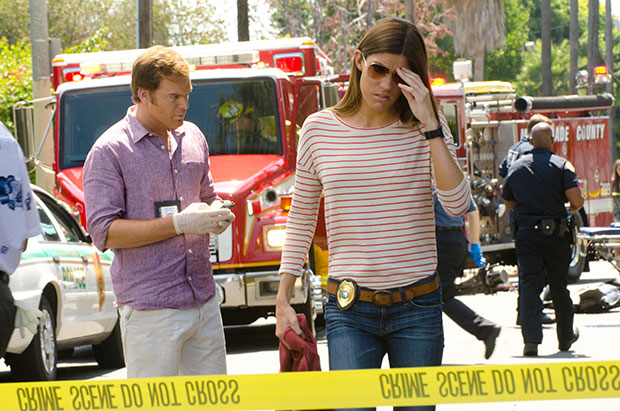 Those were all really depressing, so let's move on to justice — quite a few criminals were caught in 2012:
Breaking Bad: First and foremost there's Walter White (Bryan Cranston), the drug kingpin currently known as Heisenberg . We haven't yet seen the aftermath, but the first half of Season 5 ended with Walt's brother-in-law Hank (Dean Norris) learning his dirty, methy secret. Dun dun dun.
Dexter: This was a long time coming — Deb (Jennifer Carpenter), the brilliant Miami Metro detective, finally learned that her brother is a serial killer. So far, she's been taking it surprisingly well.
The Killing: Oh, we finally found out who killed Rosie Larsen. It was her Aunt Terry, sort of. Then the show got canceled.
Homeland: Nick Brody (Damian Lewis) was found out and captured by the CIA much, much earlier than anticipated. He's now working with them as a double agent, which is never easy when your other agency is TERRORISM.
Enough with all the humans. Supernatural spoiler time:
The Vampire Diaries: Elena (Nina Dobrev) became a vampire at the end of the third season's finale. This season, she totally dumped Stefan (Paul Wesley) and slept with Damon (Ian Somerhalder). Bad girls do it well.
Fringe: Peter (Josh Jackson) willingly turned himself into an Observer after his daughter, Etta (Georgina Haig), was killed. It was horrifying. He's going bald!
True Blood: The newly single Bill (Stephen Moyer) willingly drank the blood of the ancient, evil vampire Lilith at the end of last season — rising as an evil entity, and effectively earning the nickname "Billith." Run, Sookeh!
Now let's move on to family drama:
Revenge: Season 1 of ABC's new(ish) hit ended with Emily (Emily VanCamp) learning that her long-lost mother (Jennifer Jason Leigh) was still alive, while everyone else thought that Victoria Grayson (Madeleine Stowe) had died. She hadn't, and Emily's mother ended up being very, very boring.
Revolution: Meanwhile, over on NBC's latest hit, good-guy Miles (Billy Burke) was revealed to have started the evil Monroe Militia — the same militia that recently kidnapped his nephew. (And they still haven't turned the lights on.)
Game of Thrones: In a case of outright family treachery, Theon (Alfie Allen) betrayed the Starks by storming Winterfell, pretending to kill young Bran and Rickon, and slaughtering many of their people.
Oh, and Klaine broke up on
Glee
.
Follow Shaunna on Twitter @HWShaunna
[PHOTO CREDIT: AMC, Showtime]
MORE:
Leanne's Spoiler List: 'True Blood' Wants Fresh Meat, 'Parenthood' Heads to Court, & More!
Leanne's Spoiler List: 'AHS: Asylum' Mommy Issues, Love and Loss on 'Dexter'
Leanne's Spoiler List: Love is Shaky on 'Grey's Anatomy,' 'Vampire Diaries' Gets Darker
You Might Also Like:

Cory and Topanga Are In! Big 'Boy Meets World' Spinoff News

12 Hot (And Horrifying) TV Nude Scenes