'Dexter' Lives! … In Syndication: Interview With Stars David Zayas and Lauren Velez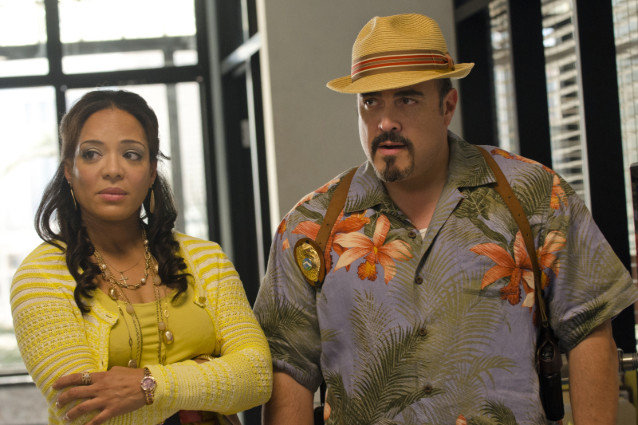 Showtime
Showtime's hit serial killer drama Dexter may have ended recently, but the show is about to enjoy a second life in syndication. Starring Michael C. Hall as the titular serial killer with a day job as a blood splatter analyst at Miami Metro police department, Dexter became a breakout hit for Showtime during its eight years on the air.
Now the creepy, morally ambiguous drama is heading to NUVOtv, the English-language destination for Latino entertainment. Audiences will be able to relive every kill, or discover the bloody fun of Dexter for the first time.
Before airing the first back-to-back episodes on January 13 at 9pm, Hollywood.com was lucky enough to hop on a call with Dexter stars David Zayas and Lauren Velez. Zayas played the laid-back, Hawaiian shirt-loving detective Angel Batista, while Velez played politically-minded Lieutenant Maria LaGuerta.
Here's what Zayas and Velez had to say about being on Showtime's most popular show, the fates of their characters, and what they thought of the controversial series finale:
On favorite behind-the-scenes moments from the show:
Velez: I always sort of jump back to the first season with "The Ice Truck Killer." We came back from some awards show—I think we were all shooting very early that morning—and we're looking at a box with cut off fingers, and it was such an intense scene. I think Jennifer started laughing, and it created this ripple effect. I mean, we just laughed for a few minutes, and they had to hold the cameras. It was very funny, and we had a lot of moments like that, which were just completely different from what you see on screens.
On diversity in the Dexter universe: 
Zayas: What caught me about the story was that they kept the integrity of the characters that were Latino. They were in powerful positions—like a detective, lieutenant, district attorney—and they maintained that for the most part throughout the eight years, and that's something rare. You don't see that on television too much. I was very proud of the fact that I was part of a show that was multiethnic.
On Dexter's moral ambiguity: 
Zayas: I think that not everything is black or white. I think that you see a show about a serial killer, and your initial reaction is that this man is bad. This man is evil. And in watching this show and watching how they've created this character, it is not black or white. You do go on the journey with him. There are aspects of his decisions that you agree with, not that you condone what he does, but you start agreeing. You start seeing his world the way he sees it, and you start to understand—not what he's doing is right—but you start to understand how his brain is working, and you start to understand how society is affecting that.
On LaGuerta's shocking death:
Velez: You know, it was difficult leaving, but I felt it was the perfect time for her to leave. I feel like it was a natural evolution for the character. Somewhere in her she always knew that she was going to have to face this particular evil, not necessarily Dexter, but that's why she became a cop. There's something really wonderfully fulfilling about it and bittersweet about leaving my Dexter family. But I'm glad that she left the way she did—not that she was shot, but willing to die for what she believed in.
On the somewhat controversial Dexter series finale: 
Zayas: As an actor, I've always found that my job is not to judge the content in which I've agreed to perform in. What I try to do is just find the truth in every moment that they've written. So yeah, there was a number of different ways it could've ended, but this is the way they chose, and I think the way it was done was very good. But when it comes to how it could have ended, everybody has an opinion, and that's what makes this medium of television so interesting.
Velez: I don't know how else it could've ended, in truth. 
On the high female body count:
Velez: What I found fascinating is that we started with three women, and all three of them were dead by the end of the show's run. I don't know what that says, but Rita, LaGuerta, and obviously Deb, all because of Dexter — whether directly or indirectly — died.
One of the things about the show that I found absolutely compelling is that there's no sugar coating it. At the end of the day he is who he is. The episodes can be funny; they can be horrible; they can be tragic– whatever they are, it never gets away from what Dexter is, which is a killer. We get a glimpse into his life and who he is, and that this could be the average person next door, which I think makes it so fascinating.
What's Dexter's weakness? 
Zayas: As a viewer of Dexter, probably his weakness would be his family. His family has always been a weakness, because to me that's what has always confused him. When something happened that involved his family, that was always what raised his blood pressure up.
On the fan response at San Diego Comic-Con: 
Zayas: Well the weirdest thing for me the first time I was at Comic-Con was seeing a bunch of people dressed up like my character. That was kind of jolting to me and kind of weird. But you know, it was interesting, and it was definitely complementary. But I had never been at Comic-Con before, and seeing people dressed like characters of our show was—it took me aback a little bit. I had to get used to that.
Velez: I think the thing that struck me the most is the commitment of the fans, not only to dressing like their favorite characters, but when they came to the panel discussions of the show the questions were so specific and really intelligent. All of them had to do with the moral ambiguity of the show and how it affected their morality. They were just really wonderful insightful questions, and I was sort of floored at how committed the audience was to the show.
Dexter airs every Monday night at 9pm on NUVOtv. Catch a preview below:
Are you excited to catch Dexter from the beginning? Still annoyed at the series finale? Share in the comments!