Did 'Agents of S.H.I.E.L.D.' Finally Earn Its Season 2 Pickup?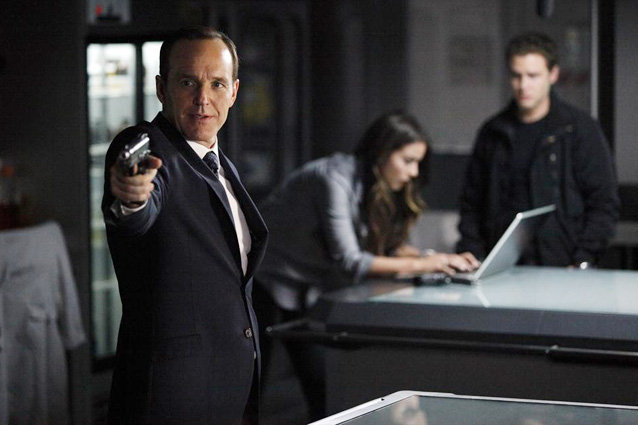 ABC Television Network
Fans of Agents of S.H.I.E.L.D. have been lying in wait for a time when their love for this critical un-darling could finally be vindicated. It's been a long wait, sure, but I think the show has finally built up a momentum that will carry viewers through to Season 2. Funnily enough, S.H.I.E.L.D. had lots of early whispers of a Season 2 pick-up, what with its big league-cinematic ties and high-profile showrunners. However, it's not until the last few episodes that a sophomore year has really looked like something the show earned. The early episodes devoted a little too much time into uncovering backstories of various minor Marvel heroes and villains, and not enough into the main mysteries of the show, such as Coulson's resurrection. As such, we're reaping quite the payout now, but it was the early episodes that paid the price.
With the recent very successful Captain America: The Winter Soldier tie-ins (the growing sense of camaraderie and chemisty between the main team members certainly hasn't hurt, either), S.H.I.E.L.D. is finally becoming a show to watch. The HYDRA takeover kicked the show into some real action, acting as the metaphorical time-bomb drama that they so desperately needed (especially as the literal time-bombs were less than thrilling).
There's also the fact that we now have a turncoat amongst us: Grant Ward's big reveal was a large factor in the show's newfound exciting-ness, especially as they made it quite clear that his feelings for Skye are genuine, as opposed to part of his cover, like his loveless fling with Melinda May – oh, and did we mention that Snarky Evil Ward is a lot more interesting than his more straightlaced counterpart?
As we march into the final few episodes, S.H.I.E.L.D. has left us with a handful of juicy mysteries: why is Skye an 0-8-4? Will Agent Ward choose Skye or HYDRA?
Let's hope Season 2 builds off of this newfound quality for an even stronger second year.