'Downton Abbey' Stars Tease Hook-Ups and Heartbreak in Season 4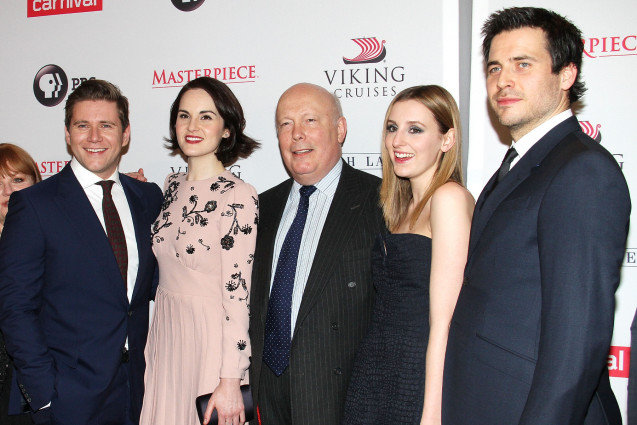 Laura Cavanaugh/Getty
The stars of Downton Abbey beat their show back to the states. PBS will begin airing season four of the phenomenon on Jan. 5, but a few residents of the big house were on hand at a PBS event in New York City on Tuesday to preview the new episodes for some superfans. Superfans with impeccable restraint, if they've steered clear of downloads. The Dowager would be proud.
After a screening of the first 40 minutes of episode one, the cast took the stage with executive producers Julian Fellowes and Gareth Neame. The discussion was plagued by lazy questions from moderator Bill Carter (just because you work for The New York Times doesn't mean you don't have to do your homework). Six months have passed since the gut-wrenching twist at the end of season three, and there's plenty more to talk about than how gosh darn uncomfortable those costumes must be.

Still, we managed to get some scoop. Hugh Bonneville (Lord Grantham) reminded us that his character means well, but remains "a beat behind the action" in terms of social change. Michelle Dockery hinted that the widowed Lady Mary will have several suitors pursuing her this year, and pointed out that many fans think Branson (Allen Leech) should be among them. Speaking of love connections, Phyllis Logan gave some hope to those who'd like to see Mrs. Hughes and Mr. Carson get together: "She has great affection for him." When asked if Lady Edith will finally catch a break this season, Laura Carmichael struggled to give a spoiler-free answer. But we're guessing the answer is no. Lesley Nicol is still lobbying for Mrs. Patmore to get a boyfriend. And clear audience favorite Rob-James Collier reassured us that Thomas won't stop scheming anytime soon. Thomas has been told by society that he's an abomination, and so he meets those expectations. "As Eminem once said," Collier quoted, "I am whatever you say I am." Barrow is a 1920s Eminem. It all makes sense now.