Prop It Up! 'Dracula' Production Designer Rob Harris Talks Reinventing the Classic Tale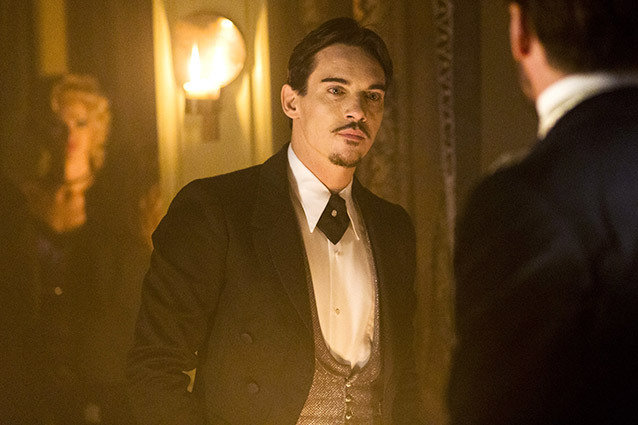 CBS Broadcasting, Inc.
NBC is about to get a bit spookier when the new series Dracula premieres on October 25. Far from the sparkly Twilight vampires, this Dracula is a whole different kind of monster. Based more closely on the original tale of literature's most famous vampire, this Dracula sees the titular bloodsucker transported to Victorian London.
Played by The Tudors' Jonathan Rhys Meyers, Dracula is awakened to wreak revenge on an ancient order that once did him wrong. Of course, what's a vampire story without some romance thrown in? In this case romance comes courtesy of Ms. Mina Murray (Jessica De Gouw) who Dracula notices immediately looks exactly like his dead wife. What are the odds?
Just like avoiding the sunlight, translating the world of the show was no picnic for production designer Rob Harris and staff.
"We had long meetings discussing the look of the show and then created mood boards for each set and character. We then moved on to designing the sets and props," Harris said in an email interview with Hollywood.com.
On a show about the world's most infamous vampire, it was essential to bring the horror elements from the story into the design. The team looked to "give a sense of menace to the sets," in order to translate Dracula's spooky, moody atmosphere. The team was also tasked with designing a huge number of sets, while always maintaining the overall high quality of the production.
Going back in time to recreate the world of Victorian London was its own special challenge. The production wanted to stay true to the period while also "including as much modernity as possible into the sets."
Even though Dracula is a show full of supernatural creatures, it was still important to recreate the period to bring audiences back in time. To take audiences to Victorian London, a massive amount of research and planning was necessary.
"Lots of research on the inventions and events of the period," Harris said of the legwork needed to bring Victorian London back to life. "Also lots of photographs of what is left in London of that period, and research into old photographs and paintings."
The time and labor paid off, according to Harris. He's looking forward to audiences discovering the show and seeing, "the scale and big production values, which support great performances."
Dracula airs Friday at 10PM ET on NBC starting October 25.
Will you be checking out Dracula? Sound off in the comments!