Dramatic Actors Are Suddenly Playing For Yuks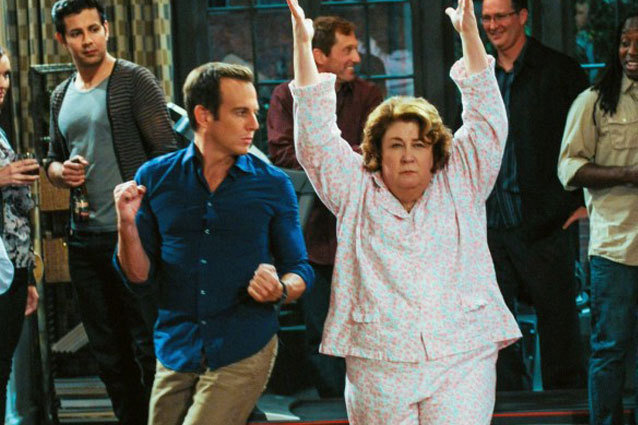 CBS 
Recently there has been a trend of dramatic actors suddenly cropping up on sitcoms. I must admit that it's a bit jarring to see Andre Braugher, Margo Martindale and Betsy Brandt playing for laughs rather than tension or tears. Braugher is on Brooklyn Nine-Nine, Martindale is on The Millers and Brandt is on The Michael J. Fox Show.
Martindale may be making her way back to serious TV sooner than anticipated if this show doesn't catch on. This would not be a bad thing, since the role she has on the show is of a nagging, meddling mother who has no concept of boundaries. At least as Justified's Mags Bennett, she was running a crime ring. Here she just comes across as pathetic. Unless there's a radical change in how the character is written, I don't have high hopes.
Braugher, who first really captured our attention as the intense detective Frank Pembleton on Homicide: Life on The Street is the least likely comedian you can think of. Even when he looks at someone with hooded eyes, you can see a certain fire inside. His role as the straight man (well, acting-wise, his character is gay on the show) to Andy Samberg's goofball is the only way it works.
The biggest change seems to be Brandt, who went from our memory of her as Breaking Bad's Marie Schrader, where she was asking Bryan Cranston's Walter White why he doesn't just die already and wailing when learning that her husband Hank was dead. Now she's playing a loving wife who has to keep rolling her eyes at her husband's wacky antics. This may be why there's a bit of a disconnect when we watch the sitcom. There just wasn't enough time in between the end of one show and the beginning of the other and many of us may visualize her as Schrader.
It seems harder to cross over from drama to comedy. The timing and rhythm is just different and it can show in an un-natural stiffness. On the other hand, it seems like actors who start off in comedy can cross over into drama. Look at actors like Tom Hanks and Hugh Laurie. Hanks began on Bosom Buddies and Laurie was on shows like Black Adder and he even had a comedy show with Stephen Fry, called A Bit Of Fry and Laurie.
It's good to see a change of pace, but I have a feeling that these sit-coms will be just a short pit stop rather than a long-term destination for them. Ultimately, they will probably look for something darker once again.
More:
A Tale of Two Quicksilvers
The Most BadAss TV Guys
5 Pop Stars Who Have Incurred The Wrath Of PETA
---
From Our Partners:


40 Most Revealing See-Through Red Carpet Looks (Vh1)


15 Stars Share Secrets of their Sex Lives (Celebuzz)
---