'DWTS': Louis Van Amstel Weighs In On the Best (and Worst) Pairs From Week 1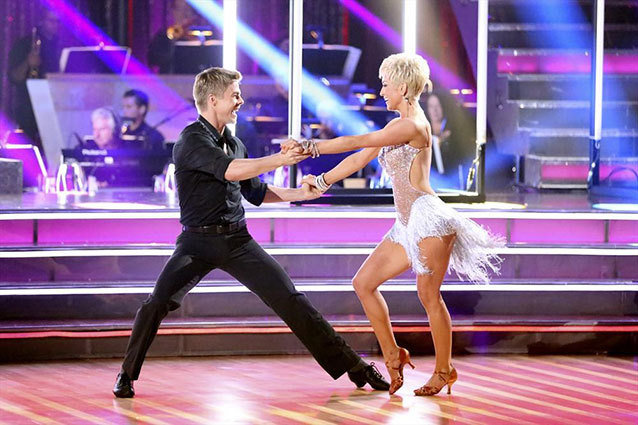 Season 16 of Dancing With the Stars kicked it off in style last week with a new type of dance, flashy dresses, and surprising talent. After only one night of performances, pro dancer Louis van Amstel has already picked his favorite — and least favorite — pairs. He also weighed in on the new contemporary style that's shaking up the ballroom.
This season, DWTS has introduced two new styles of dance to the competition: jazz and contemporary. Because contemporary dance, performed barefoot, is typically more emotional than technical , its inclusion is causing some controversy in the competition. "The new style, contemporary, is definitely causing tension, and I think that's the exact reason for the producers to do it," van Amstel tells Hollywood.com. "I do think from a pure dancing point of view, it is comparing apples to oranges between a ballroom and a latin dance, but at least they're both within ballroom dancing. And now you're adding contemporary." 
The DWTS expert knows that as weeks progress, the audience will get to see the pairs perform both ballroom and contemporary dances, but after only Week 1, it makes judging difficult. "Right now, how am I going to compare the contemporary to a foxtrot?" van Amstel wonders. "But I don't think it's bad — it shakes things up. It's a little early, but I will say the contemporary dances were the best dances of the night this week." 
The dance van Amstel is referring to was 16-year-old Disney Channel star Zendaya Coleman and her partner, Val Chmerkovskiy. "Because it was so hard to judge contemporary, I think that Val and his partner did great. But then again, it's a young girl and it looks like she has dance experience," van Amstel says. "But I think from what we've seen, Kellie Pickler [and partner Derek Hough] stole the night. I mean, the girl looked stunning. She literally could have walked out onto a competitive ballroom dance floor. She kicked ass."
RELATED: 'Bachelor' Sean Lowe Joins 'Dancing With the Stars'
As for Olympic gold medalist Aly Raisman, van Amstel thinks she will only get better from here. "I really hope that she's going to use this to add to her own training, to become more artistic and expressive within movement rather than just execution of tricks," van Amstel says. "I think her journey is going to be very interesting to see the progress that she's going to make. Apparently she was really nervous, but I would definitely not count her out. That girl just needs to get over her nerves."
The pair that van Amstel is most worried about is comedian D.L. Hughley and Cheryl Burke. "Cheryl's partner was just the worst," van Amstel says. "That was a mess. I love Cheryl, and I know she was probably pulling her hair out. He might be a sweetheart as a person but just looking from a dancing point of view, I'm worried for him."
Before the pairs take the stage again tonight and face their first elimination this week, van Amstel gives some advice for the stars. "Don't forget that people are watching and voting. And they don't vote just on what's right and wrong or good and great. It's really the personality," van Amstel says. "But people that have great personalities, they have to really start working on their dancing quality, because the judges will eventually call them out and tell the people pretty much what to do. It's always a balancing act between grow as a dancer each week, but don't forget that it's still an entertaining show, and not just a dance competition only. And vice versa."
Tune in to Dancing With the Stars on Mondays at 8 PM ET/PT, and Tuesdays at 9 PM ET/PT on ABC.
Follow Sydney on Twitter: @SydneyBucksbaum
[Photo Credit: Adam Taylor/ABC]
---
You Might Also Like:


Topanga's Revealing Lingerie Shoot: Hello '90s!


13 Most WTF Fan Tributes