'DWTS' Recap: The Power of Cher Compels You (Season 17, Episode 8)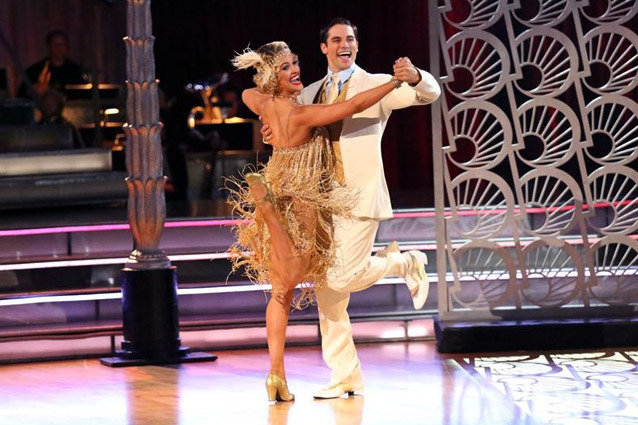 ABC
ABC did exactly what everyone was saying they were trying to do when they hired Bill Nye the Science Guy: they hooked the nerdy millenials. I mean, Bill was eliminated way back on episode 3 (after an adorable immobilized-knee robot dance to "Get Lucky") and I'm still hooked. Glitter and sequins aside, there's something that's touching about watching the stars and "the professionals" really bond as they spend hours a day training. Watching Valerie Harper dance the Viennese waltz to "Carry On" with her very-sweet partner Tristan McManus was — cheesy as it sounds — beautiful in more ways than one.
Mushiness aside, this week the dancers/stars were in for a very special treat: Cher was guest judging, in place of at-times astringent head judge Len Goodman. Everyone was over the moon – Cher was über-complimentary and supportive, and she handed out exclusively 8s and 9s. That must have been a nice break (Leah Remini in particular, expressed this sentiment multiple times), and it was fun to see the starstruck stars: Elizabeth Berkley publicly (and only slightly awkwardly) thanked Cher for what she's done to empower women. 
As we move into week 8, the competition has been getting tighter and tighter. The scores don't vary that much, and it really comes down to the fan vote: even after earning a respectable 27 after an electrifying foxtrot, Pretty Little Liars  star Brant Daugherty and partner Peta Murgatroyd (keep wanting to spell it "Peeta." Damn you, Hunger Games!) were sent home. 
It's a shame – as judge Carrie Ann Inaba put it, he's one of the contestants that's actually shown the most growth. He started fairly strong, but has markedly improved on a week-to-week basis, which is no easy feat. Plus, there's the fact that he literally looked like a '70s Disney prince in his peach-colored suit this week, with a kind of scary mannequin smile to match. I may have found it a little odd, but Cher sure loved it, and that's what's important.
Anyways, I think I'm not alone when I say I'll miss Brant, and I'm not just making salacious comments about his abs. (Although: dayyyyyyum!) He had an earnestness and work ethic that we don't always expect to see in handsome young actors, and he and Peta had the best chemistry on the show. (If you google them, you'll find piles of dating rumors.) Farewell Brant and Peta – may you dance again.