'DWTS' Recap: 'Saved by the Bell' Star Elizabeth Berkley Goes Home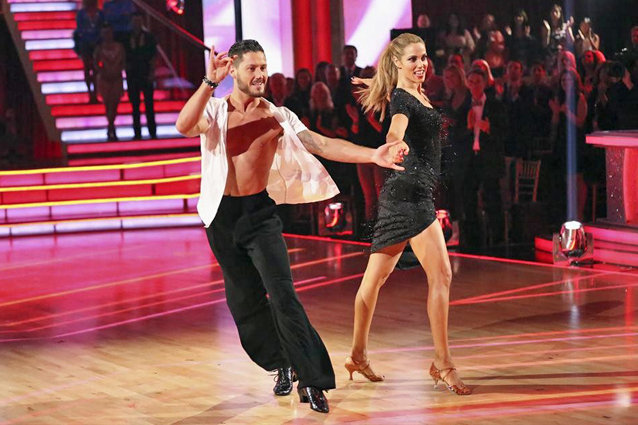 ABC
The competition continues to get tighter – this week, the term "semi-finalist" was thrown around quite a bit. It turns out the semi-finals begin next week, and the dancers continued to up their game accordingly. Corbin and Karina danced a beautiful waltz (they always have the best outfits, amirite?), and fan favorites Jack Osborne and Leah Remini continued to climb their way up the scoreboard.  Bill Engvall faltered, his exuberance only enough to earn him sevens across the board in light of his poor sense of rhythm.
This week's special challenge was the trio dance – it didn't sound quite as exciting as the freestyle, but it turned out to be hugely entertaining. For many of the dancers, adding in a third person to the group improved their dances exponentially. Elizabeth and Val (plus Gleb Savchenko) walked away with perfect 10s all around, and Corbin and Karina (plus Witney Carson) were so good that they drew comparisons to Bob Fosse. Carrie Ann was so charmed, she said something bleep-worthy – all we know is that it had something to do with Usher…?
And the best part of the trio dances? Leah (along with Tony Dovolani, and Henry Byalikov) decided to poke a bit of fun at the three judges (WATCH IT. No, seriously). I suppose as professional dancers, it would make sense that they would make great physical mimics – Tony in particular got Bruno's sweeping gestures down to a T!
 Though the odds seemed stacked against Bill (he had the lowest score by quite a bit in both of this week's dances) his legions of fans were enough to keep him on for the semi-final round. He's stolen our hearts, along with the judges, who continue to express regret that they can't score him off of his likability rather than his poor rhythm. Great for Bill, but someone had to suffer this week. And that someone? Elizabeth Berkley. Even after her consistently stellar scores, her fans were not strong enough to save her.
I know nothing about dancing, but even I could tell she had a willowy elegance and sensibility that was a rare find on a reality show like DWTS. Her considerable skill, in addition to her wide (and oh-so-slightly crazy) eyes and rapport with partner Val Chmerkovskiy will make her sorely missed – she definitely belonged up on that semi-finalist stage! It makes you really think about the popularity contest aspect of the show.  I suppose that the equally weighted scores means that the show itself really belongs equally to the fans as it does to the judges. But really, it goes to show you that your dancing's not necessarily going to get you that trophy. Like fellow proficient dancers Christina Milian and Brant Daugherty before her, Elizabeth went home before her time.
Stray observations:
* Loved the awkward cut to a reaction shot of Bill Engvall's wife as he extolled his two exceedingly gorgeous dance partners, Emma Slater and Peta Murgatroyd
* Okay I get that for whatever reason, ballroom dance costumes are often ridiculously ugly, but Jack's leopard-printed samba outfit was off the charts!
* There was a competition for best abs between Val Chmerkovskiy and Gleb Savchenko. Yes.