'DWTS' vs. 'The Voice': 5 Reasons to Watch the Singing Show Instead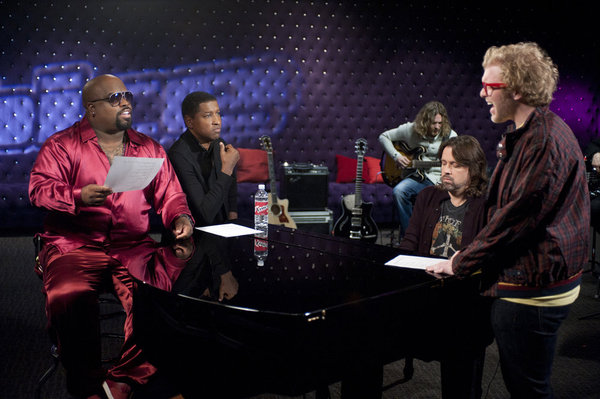 A lot of fuss has been made about the return of Dancing With The Stars March 19 and while there is nothing wrong with watching a 55-year-old tennis player, a few 90s actors, and various television hosts all try to learn the fox trot, don't hop over to ABC from NBC just yet. DWTS might just now be showing up to the party, but The Voice has been bringing the drama for almost two months now and shows no signs of slowing down. March 19's episode features the last battle round before the show heads into high gear for the live voting. It is still anyone's game to win, while on DWTS, the contest hasn't even begun. No one flips to the beginning of a book for a sneak a peak on how everything starts. Here are five compelling reasons to keep your TV tuned into The Voice. No peeking during commercials either!
1. The Talent Is Better
On The Voice, singing is what these contestants do – plain and simple. Guys like Orlando Napier, a soul singer who is in a band with his father; Tony Vincent, who's already been on Broadway; and Tony Lucca, a former Mouseketeer, actually make a living touring the country. Maria Menounos doesn't dance for a living, she hosts Extra, sometimes in a NY Giants bikini. Sherri Shepherd from The View definitely does not dance for a living and the world will see why tonight. So, on pure craftsmanship alone, The Voice wins hands down. The talent is there from the start and only the cream of the crop will survive.
2. You Knew The Voice's Stars Before They Were Famous
Brad Pitt in Thelma & Louise, George Clooney on ER, Angelina Jolie in Hackers – what do these things all have in common? These find superstars in small, breakout roles before they were…well, superstars. That's the reason sites like IMDB are so widely popular, because the world loves to see talent in its rawest form, when it's just starting out. That's The Voice in a nutshell. NBC has gathered up the nation's best musical talent yet to break out and thrown them together on one show. Who will be the next Kelly Clarkson? You'll just have to watch to find out.
3. Life Is Short
Competition life is certainly short for a unlucky battle losers March 19 on The Voice; six will be sent home by their very own coaches. This episode marks the the third night of brutal battle rounds, but DWTS is just getting started. Jaleel White, you're safe…for now. The fact that the axe can be dropped on anyone on the show, and their career prospects for that matter, is what makes The Voice the more dramatic and intense program. It's got its own x factor: that little flutter in the pit of the stomach when we're waiting for Cee Lo, Christina, Blake and Adam to make their choices.
4. Oh, the Mind Games
No other contest show on TV does it like The Voice. American Idol, DWTS, America's Got Talent, X Factor – all those shows pit talent against talent, and that's it. On The Voice, the coaches want to win it for their team and because of this, when Adam tells Christina, "I'd go with Jesse," no one really knows if he is being sincere or trying to get her to cut the other guy, giving his team an advantage. These little games and the constant bickering (or flirting between Adam and Blake) is what makes The Voice such a can't-miss series. You just don't know who to trust. When did a TV show become like the CIA?
5. Cee Lo Green
He has been beloved by a niche group of fans for years but The Voice has made Cee Lo a bona fide superstar, and for good reason. His personality, fluffy white cat and constant flirting with every female contestant just works for the Grammy-winning artist. He's like a lovable Dr. Evil, but on a reality show. Every contestant wants to be on his team and every viewer just wants to give him a hug.
So, the only question that remains is what are you tuning into tonight at 8 p.m. ET/PT: The Voice on NBC or DWTS on ABC? Tell the world what YOU think below in the comments section.