'Emily Owens, M.D.' Stars Tease the Show's Steamy Love Triangle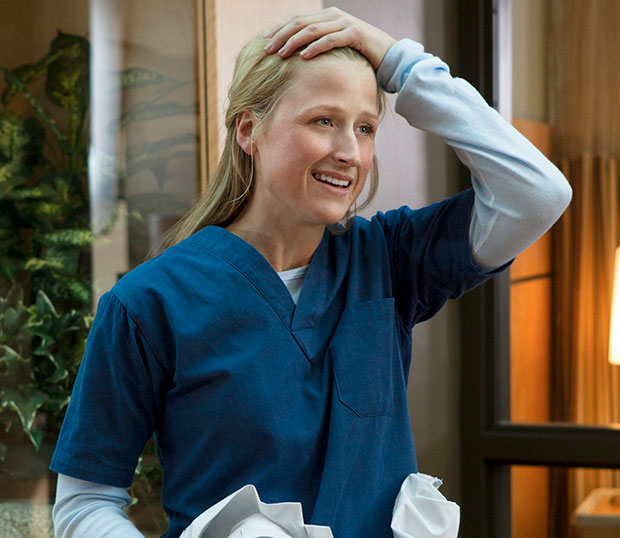 Oh, Emily Owens: You've already made us cringe in so many ways. First, there was that inability to get over high school drama. Seriously, you're a doctor now — just drop it. Second, there was that strange tendency towards awkward, inappropriate conversations with schoolchildren. Weird. But worst of all was your lack of game, and that declaration of love that was so awkward, it made viewers need a trip to Denver Memorial Hospital. They nearly died from an overdose of awkwardness.
But fear not: Hollywood.com visited the Vancouver set of Emily Owens with Warner Brothers last month, and stars Mamie Gummer, Justin Hartley, and Michael Rady assured us that the love triangle (quadrangle?) would continue to shake things up at Denver Memorial, and that we shouldn't count Emily out just yet. 
The pilot made it pretty clear that Will (Hartley) already feels some attraction to Cassandra (Aja Naomi King), and Gummer said that his upcoming relationship with her, serious or not, will be an impetus for the ladies to play nice. "By necessity, they have to kind of figure out how to get along, because of the mere fact of working together, she said. "But now, they're potentially sharing this very important person in both of their lives. So they're playing nice."
However, the fact that Micah (Rady) has his eye on Emily might drastically change the "love square" between the characters — and not in a way Cassandra wants. "I think maybe seeing someone else's attention turn on [Emily] —  looking at her like that — might start to make [Will] wonder," Gummer said.
Hartley, who plays Will, thinks that another factor could also increase his attraction to Emily — seeing her hard at work. "I think a lot of the things that they know about each other were found out in high pressure situations in med school," Hartley said. "They became best friends. Now it's real, you're operating on real people, and it's life and death, literally. So he starts to see her professionally in a different light, but also personally."
Hartley also said that the way Emily approached Will in the pilot may have been a little too much, too soon. "Sometimes, when something is presented to you that you weren't aware of, I think there's a knee jerk reaction," he said. "Then after that, [when] you have time to sort of slow down and take a breath, you look at it a little bit differently. That's what Will is going through right now."
So there's hope for our heroine after all! And, even better, there's hope that things will get hot and heavy with someone, soon: "I think we can safely get steamy without getting ridiculous," Hartley teased.
Rady, who is another fourth of the love square, teased that things would only get steamy if Will was involved, since Hartley is so damned tall and handsome. "Why should you root for Micah? I don't know," he laughed. "I'm so taken with Will. He's really tall, if you haven't noticed."
But he is also the good guy, who hasn't broken Emily's heart (yet). "He's got a good heart," Rady added. "There's no demons on anything. I think [Emily] would be very happy with Micah."
Emily Owens, M.D. airs Tuesdays at 9 p.m. ET/PT on The CW.
Follow Shaunna on Twitter @HWShaunna
[PHOTO CREDIT: Jack Rowand/The CW]
MORE:
Teaser Time! CW's 'Beauty & The Beast,' 'Arrow,' 'Emily Owens MD'
Meryl Streep's Daughter Cast in CW Doctor Drama
CW Upfront: Trailers Deliver Abs, 'Beauty,' and 'Arrow' Action — VIDEO
From Our Partners:

NY Comic-Con: 34 Crazy Costumes
(Moviefone)

(Moviefone)