Emmys Spotlight Interview: Noah Emmerich — 'The Americans'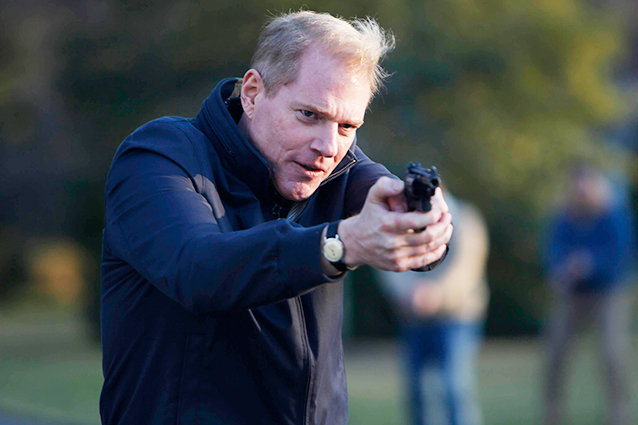 Noah Emmerich has got to be one of the hardest working character actors around. He caught audiences' attention in 1996 with his portrayal of Michael "Mo" Morris in the Ted Demme relationship dramedy Beautiful Girls, alongside Matt Dillon, Uma Thurman, Mira Sorvino, Timothy Hutton and a pre-teen Natalie Portman. Many years (and film and TV appearances) later, he's reunited with Portman on the Western Jane Got a Gun. That production got off to a rocky start when director Lynne Ramsay pulled out right before shooting began. Then Bradley Cooper left the film due to scheduling conflicts. Blogs and websites were abuzz, speculating about the fate of the film. But director Gavin O'Connor (Fifty Dead Men Walking, Warrior) is now at the helm, and the film has commenced shooting in New Mexico.
Emmerich was able to take on Jane Got A Gunwhile his critically acclaimed FX show The Americans was on hiatus. It's a Cold War-era spy drama about a couple working undercover for the KGB. Emmerich plays FBI agent Stan Beeman while Keri Russell and Matthew Rhys play his neighbors Elizabeth and Phillip Jennings, two Soviet spies fronting as an ordinary American suburban couple. Emmerich brings a depth and originality to Stan that distinguishes him from the run-of-the-mill, tough-talking FBI agents we're used to seeing on screen.
We talked to Emmerich while he was in New Mexico for Jane Got A Gun. The actor mused about Stan's demons, the power of saying yes, and why The Americans isn't just another spy drama.
SSN: What attracted you to the role of Stan in The Americans?
NE: My first thought was that I wasn't interested in playing an FBI agent, and I didn't want to do it. It felt similar to other roles I had played, and I didn't want to spend the next five or six years with a badge and a gun. It smelled procedural to me.
SSN: What made you change your mind?
NE: Gavin O'Connor is a good friend of mine, and we had lunch. He said he was going to direct this pilot and that I would be crazy not to do it. So I met with Joe Weisberg (creator and executive producer of The Americans) and questioned him about his ambitions and about who Stan was, and I turned around and really saw this as an opportunity. It seems like the more I live, the more I realize that saying yes is almost never a mistake. If you say no, it might feel safe, but then you end up going nowhere.
SSN: What did Joe say that changed your mind?
NE: Joe talked to me about the character and I started to see him as a human being, and how the world around these people affects them. I realized it was a character-driven piece in the guise of a spy thriller. With Stan, there are a lot of different realms to play in: there's his relationship with his son, his wife, the new neighbors. There's lots of subtlety and nuances and dynamics to explore.
SSN: How would you describe Stan?
NE: Stan is a tortured character. He's estranged from his family since he was so deep undercover. He's very lonely and isolated, but he's dedicated to serving his country, and he hasn't processed the effects of the time he's spent undercover, and he's thrust into this new spy game. He's good at his job, but it's destructive to his sense of self. Trust is a very rare commodity, and he really gets beat up during the first season and that takes a toll.
SSN: When you signed on, did you have a sense of where the character and the story were headed? It must be very different playing a character on a show that's constantly developing as opposed to a feature where you usually have the entire script and trajectory from the get-go.
NE: I had a sense of the arc of the character and a sense of where we were headed, but in incremental steps. The things I don't know can be surprising. It's fertile ground for exploring this character. Stan's commitment to his job is a double-edged sword. I don't know how people do these jobs in real life. It's a great asset, but there's a cost and it affects his personal life.
SSN: Can you talk about working with the other cast members, Matthew Rhys, Keri Russell and Annet Mahendru, who plays Nina, the Russian informant who has an affair with Stan?
NE: His relationship with Nina is very loaded and nuanced, and that's part of the fun of the job. I work with [Keri and Matthew] very rarely because we're almost in two parallel universes. I think I'm the most free atom of the cast members because I swing back and forth between the different worlds. It's a real layer cake of storylines.
SSN: The Americans started getting great reviews early on. Do you pay attention to what people are saying about the show while you're in production?
NE: Not during production, it's quite a distraction. With television, you're getting responses while you're in production as opposed to a feature. It's one of the trickier things to resolve, and so early on in the first season, I just stopped looking. It's dangerous to me to be hearing those voices — dangerous and not at all constructive. Since we finished the first season, I have seen more responses and you get a sense of how people are responding, which I like.
SSN: You're in production on Gavin O'Connor's western Jane Got A Gun with Natalie Portman. There has been a lot of chatter about the film with director Lynne Ramsay departing right before shooting and then Bradley Cooper having to pull out. How's the shoot going?
NE: It's going great. We have a very special movie despite all the chaos, and we're having a lot of fun. We're in New Mexico shooting revolvers and riding horses.
SSN: Do you jump right back into filming season two of The Americans after the film wraps, or do you get a little time off?
NE: Thankfully, I'll have time to re-engage with myself because it's important to recharge. Before we started filming, I had one day off between the show and the film. I'm looking forward to just being Noah for a little bit.
You'll have to wait a few months to see where season two takes Stan and the rest of the characters in The Americans. Judging from Emmerich's performance thus far, we're betting it will be even more captivating and surprising than ever.
More:
'The Americans' Star Max Hernandez and His WTF Moment 
'The Americans' Season Finale: Stakes are Higher Than Ever  
'The Americans' Should Be Your New TV Obsession 
---
From Our Partners:


Zoe Saldana Strips Down For Magazine (Celebuzz)


33 Child Stars: Where Are They Now? (Celebuzz)