Emmys 2012: Carson Daly Talks 'The Voice' First Nomination and Season 3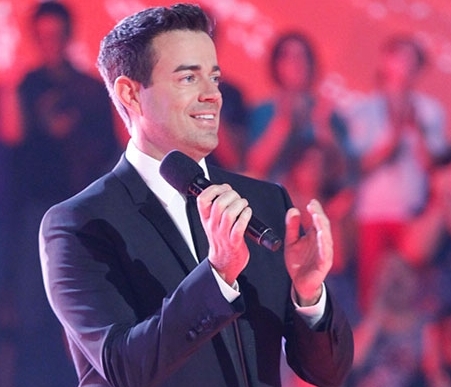 Everyone loves Carson Daly — the erstwhile face of Total Request Live turned late night host, radio DJ, reality show emcee and part-time Cee Lo wrangler — and now, everyone has a little more reason to love him, thanks in no short part to the four Emmy nominations awarded this morning to The Voice. 
Daly serves not only as the show's host, but as one of its most passionate leading producers. With competitors The X Factor and American Idol undergoing constant changes, we got Daly on the phone to share the secrets of The Voice's consistent success and explain how four spinning chairs (and an array of Christina Aguilera's hats) got the attention of Emmy:
Hollywood.com: How did you hear the news?
Carson Daly: From my sister, actually. I was just pulling up into work and I got a text from my sister, shortly followed by one from my publicist, and then I walked in and I saw they were showing Jimmy Kimmel in his pajamas on the news. It was awesome, and it was crazy!
And this is your first Emmy nomination, ever.
Absolutely! This is my first, but it's really about the show. We have so many moving parts to the show – I don't think you can have a hit show without all these moving parts being so solid. It's so important to me, being a producer and having the show get nominated. It's just incredible. I'm so happy for everybody. 
The Voice didn't get any nominations last year, but this year it got four. What do you think it was about this season that changed Emmy voters' minds?
We had so much heat coming on after the Super Bowl. We got propped up so well, and NBC's support for the show was really amazing, too. They just really swung to the fences with this whole show, this format, and our coaches. The attraction's just been there from the launch in Season 1, and Season 2 was so strong with the level of talent that we had. People really found the show this year, and in Season 3 we're just going to build on that.
Every other singing competition is going through such ridiculous changes — yet The Voice seems to be consistent. Why do you think that is?
I don't know! We have a good thing, and we're doing the best to preserve that! 
Give us a tease for next season. Are there any changes in store?
There are a few tweaks, but the line that I would use is that we just got nominated for an Emmy, so if it ain't broke, don't fix it. With our format, there are tweaks that we want to do, and there are some twists and turns, but they're great and don't change the format of the show. Our coaches are going to be able to have a little more flexibility with their team. We start out the blind auditions with more artists — they'll each have 16 on their team now [as opposed to last season's 12], because the season is a little bit longer. With the live show format, it's going to be a little bit different. We started the live show with a lot of music from a lot of different people, so I think we're going to start the live shows with fewer so that you can become more invested in our finalists because their stories are so good. We felt like some of the stories were getting lost because there were so many people to keep track of. Also, I think there's only one mentor for each coach this year. Again, it's just a little tightening of our belt.
How will you keep your mind off the Emmys for the next two months?
I drink enough to quickly forget about this, and then someone will remind me and I'll be pleasantly surprised again, so I'll get to relive the excitement. [laughs] No, listen, this is one of those things where the cliché — it's just nice to get nominated —  is totally true. As competitive as our category is, for The Voice to get recognition is incredibly amazing for all of us.
[Photo Credit: NBC]
Follow Marc on Twitter @MarcSnetiker
2012 Emmy Awards: Our Predictions!