The Worst Moments from the 2014 Emmy Awards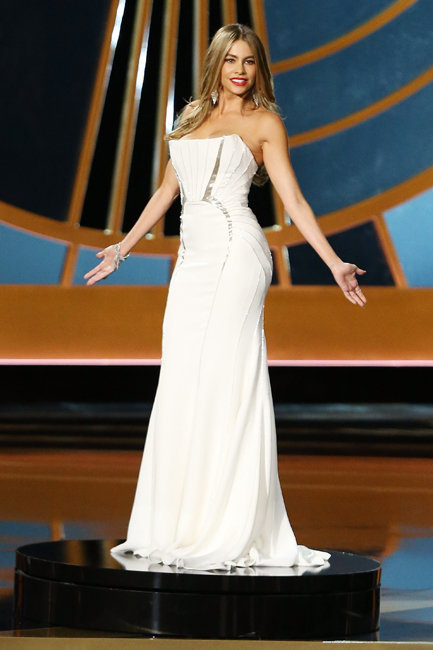 Getty Images/Michael Tran
It happens every year. We go into the Emmys hoping for thrills, for surprises, for inspiration, and we come out the other side tired, bored, and begrudging Modern Family. As per usual, this year's ceremony offered plenty of detestable moments, both in the form of award snubs and onstage bits that don't seem to have been thought through. In all honesty, a comprehensive list of the things that incurred violent eye rolls at the 66th Annual Primetime Emmy Awards would take even longer to read than the never-ending show did to watch, so here's a roundup of the top achievements in the organization's unparalleled artistry of regret: the worst moments from this year's Emmys.
Why, Weird Al, why?
Shortly after reminding us of his irreverent genius with the release of the long-awaited studio album Mandatory Fun, Weird Al Yankovic took the Emmys stage mid-ceremony to perform a patchwork of quick, lazy parodies to the theme songs of the night's various nominated comedy and drama programs (most notably Mad Men, Game of Thrones, and Modern Family). None of the obvious, haphazard lyrics lived up to Al's established ingenuity, barely earning a laugh throughout the act.
Does anybody else hear wind chimes?
The average Emmy viewer began to question his own sanity last night when the program began inscrutably ringing wind chimes to mark the victories of some of its big winners. The perplexing, noxious sound was enough to institute a subconscious resentment of whatever party had just taken the stage to collect his or her golden statue. We thought we were happy for Bryan Cranston until a high-pitched clanging washed the whole episode in general unpleasantness. Now we can't even remember who we were rooting for!
Aren't we over Sherlock?

In its inceptive years, Sherlock was an interesting, fun, and inviting new miniseries. But this past season, the writing observed a qualitative decline and the acting showed off nothing new. With so many interesting and talented players up against Martin Freeman (the entire Normal Heart supporting cast) and Benedict Cumberbatch (Mark Ruffalo, Idris Elba, and the Fargo fellas… including his own costar Freeman, who we'd rather have seen win for the FX series than for the BBC detective show) and writer Steven Moffat, we can't really sign off on this year's wins.
That one off-putting clip in the Robin Williams tribute
We don't mean to cast a foul shadow over the heartfelt remembrance of Robin Williams, but we can't help but find it odd that the Emmys chose to include a clip of him affecting racial stereotypes among its rather short montage of his material. With so much standup gold, late night circuit merriment, and Mork and Mindy treasure to choose from, why stoop to such a questionable selection?
Do you see Rosco now, Stephen? Is he in the room with us?
We've spent years enjoying Stephen Colbert's contribution to the political satire circuit, and plan to enjoy many more beside him as he graduates to hosting The Late Show. But every once in a while, the comic mastermind throws out a clunker, namely his "imaginary friend" shtick that earned (duly) zero laughs. Colbert stretched a weird one-note joke much longer than we hoped he would when he prattled on about the lack of appreciation for his invisible costar Rosco. It didn't have the cleverness or imagination of Colbert's usual esoteric material… it was just silly and, quite frankly, dumb.
Hey, Emmys, you guys see that new show Orange Is the New Black?
You could make viable cases for Louie and Veep as the deserving owners of this year's Outstanding Comedy Series Award, but a little part of each of us was rooting for Orange Is the New Black. Speaking sociopolitically, the Netflix series is offering its viewers more progressive characters, relationships, and situations than Modern Family is so often credited with doing: while the ABC sitcom relegates its gay and Latina characters to jokes about home décor and mispronunciation, OITNB actually celebrates and explores its roster's diversity sincerely… and it manages to be funny all the while.
Stop milking the folksiness!
Woody Harrelson and Matthew McConaughey are both talented actors, a fact exhibited most prominently by their partnership on HBO's True Detective. And while we may love them as actors, and even perhaps as celebrities, they both seem to be milking their fame for all its worth. Sure, an entertaining routine is welcome in any awards show presentation, but Harrelson and McConaughey seemed to have eschewed a written-and-rehearsed comedy bit in favor of a few moments of self-serving rabbelrousing.  
The general air of predictability
Yes, many of us were ecstatic for Breaking Bad stars Cranston, Anna Gunn, and Jesse Pinkman. No, we don't have the energy to maintain fury over the victories of Modern Family and Jim Parsons year after year. It's just the complete lack of suspense, surprise, or even the pretense of possibility that can be a little bit numbing to those tuning in. Do we really live in such a formulaic time for artistic expression? Doesn't it eat at us to accept that invention and originality, projects that actually challenge us, are so seldom rewarded, while the same shows and stars year after year are granted accolades for keeping us comfortable? Can't we… eh, who cares, at least we finally have our Simpsons marathon.
And the very worst moment of this or, quite possibly, any Emmys ceremony…
The Award goes to… Sofia Vergara, for The Epitome of Sexist Objectification!
There's a fine line between parody and reality, between upholding reprehensible behavior satirically and doing so earnestly. But the Emmys' Sofia Vergara-on-a-spinning-pedestal bit does not come close to that line. It lives far, far to one side, happily resting in its own sexist comforts, where women are deemed objects and the very idea of questioning the validity in this viewpoint is worthy of chuckles. The Modern Family star stood happily atop a rotating platform, devolving to little more than something to gawk at while her partner in crime, Chairman of the Television Academy Bruce Rosenblum, giddily mocked the idea that what they were doing was at all problematic. That's bad. Gwen Stefani mispronouncing "Colbert"-levels bad.