Everything We Know About the Olympics Opening Ceremonies (And Some Things We Don't)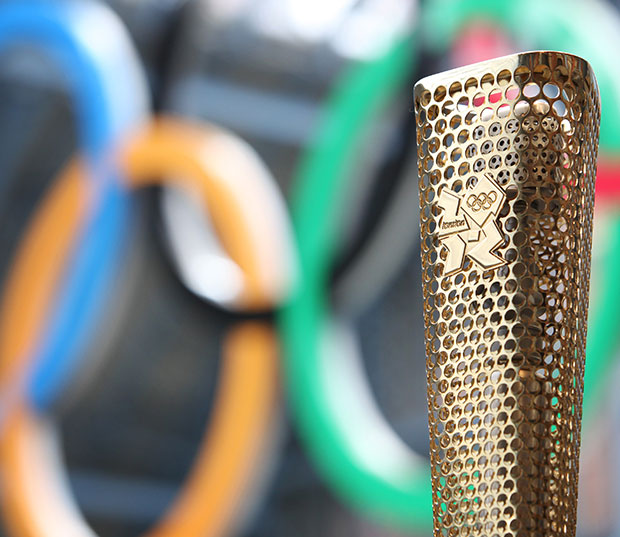 The Opening Ceremonies of the Olympic Games are always a reflection of the country hosting them. Two years ago in Vancouver, we got technological marvels and a peek into the First Nations people of Canada. Four years ago in Beijing, we got a billion dollar spectacle fueled by thousands of people beating on drums and operating those amazing boxes. You thought the ceremony was run by machines, but it was really run by China's largest resource: people. So, what can we expect from London? Something based not on the colonialism that overtook the globe last century, but something based on their most popular exports: music and culture. Yes, it appears as though both James Bond and Voldemort will be in attendance. God save the Queen.
Trainspotting and Slumdog Millionaire director Danny Boyle, who was tapped to direct the $42 million spectacle, and other organizers pleaded for participants to keep mum about just what is going to happen on Friday, July 27, at 9 PM (which airs in the U.S. on NBC starting at 7:30 PM). However, with countless actors, dancers, technicians, and nearly as many feverish journalists looking for a scoop, it seems like we know most of what is going to happen during the ceremony, if preliminary media accounts (especially a rather detailed one by the Associated Press) are to be believed.
If the journalists are right, the show will start off with chimes from the world's largest bell followed by a short film in which James Bond (played by Daniel Craig, but sadly not in his little blue bathing suit) will be knighted by Queen Elizabeth II. A stuntman playing Bond will either parachute or be lowered into the stadium carrying the Olympic torch. (It would be awesome if he passes it off to Roger Moore, Pierce Brosnan, and Sean Connery, but I'm not holding my shaken martini.) Then there will be a recitation of speech from Shakespeare's The Tempest (possibly by Kenneth Branagh) that talks about the show's theme, "Isle of Wonders."
There will also reportedly be a performance of the William Blake poem "Jerusalem," a well-known national song in the U.K. The performance will depict the idealistic idyll of the British countryside both past and present, including a mosh pit at one of their notorious music festivals. That will give way to depiction of the other side of England: the dark factories and mines. Reports of chimney sweeps and miners going into the stadium make it sound like an number out of Mary Poppins (just wait for her) or Billy Elliot: The Musical. There will supposedly be a huge set of the River Thames and scenes from British history, including the founding of the British national healthcare system (and with Michelle Obama in attendance, will this be a nod to Obamacare?) and the import of Caribbean workers to the isle.
It's been widely speculated that there will be a scene featuring many popular characters from British literature, which will culminate in a battle between Harry Potter villain Voldemort and the infamous supernanny Mary Poppins, who seems to have sprouted even more magical powers since we last saw her on film. Oh, the British do know how to make something campy and fun. In fact, I honestly believe they invented campy and fun. Not only should it be on full display, but the Brits should get a gold medal for camp as well.
The whole performance will reportedly conclude with Paul McCartney leading the crowd in a sing-along version of "Hey Jude," which will be easy for every human on earth with a radio and a pair of ears, even if they have no idea what the words exactly mean. In fact the entire musical set list (which will be remixed by the duo Underworld into a continuous track) was leaked to the press. This 80-plus song list, which is what will play mostly as the athletes from around the world are entering the stadium, includes British acts from Led Zeppelin to Handel, from Amy Winehouse to the theme for the BBC News, and includes many popular acts like David Bowie, Muse, Blur, Eric Clapton, The Who, Rolling Stones, Duran Duran, The Clash, and (a bit controversially) the Sex Pistols. Sadly, the Spice Girls aren't on the list, but I'm going to keep pretending that doesn't mean they're not going to "Zig a Zig Ah" their way onto the field.
As for the final part of the ceremony, when the Olympic cauldron is lit and the Queen declares the games open — well, that is just about the only thing that is being kept a secret. Celebrity soccer — oh, I'm sorry, football — star David Beckham has been hinting about his role in the ceremony, and will allegedly be the last person to bring the Olympic torch into the stadium, though not the one to light it. That honor usually goes to a past or present Olympian (Beckham was not tapped to play footie with the British team in competition this year). Some say Muhammad Ali, who lit the cauldron in 1996 at the Atlanta games, will be involved somehow, since he's been in London with Beckham, but that seems unlikely since the boxing legend is an American. Maybe they're going to let "the colonies" get in on the action.
We'll have to wait until Friday to find out who it really is (wouldn't it be great if for no good reason it was Graham Norton or Russel Brand or Danger Mouse?) but maybe it's better that at least one thing should be a surprise.
Follow Brian Moylan on Twitter @BrianJMoylan
More:
Muhammad Ali in London as Olympics opening ceremony rumours mount
Spice Girls Might Reunite For Summer Olympics in London