13 Fictional Schools We Wish Really Existed
Whether you're still trudging through the final years of school, or have since graduated, there's no denying we all wished our high schools were a bit cooler, a bit hipper, and had more attractive teens like those on TV and in the movies.
1. Constance Billard School for Girls – Gossip Girl
CW/Tumblr
The Upper East Side of NYC would be so much cooler if it had a high school where no one was safe from being put on blast by the watchful eye of an anonymous student. Wait…that sounds kind of scary, but there's no denying the money, fashion, and attitudes of privileged teens would be more entertaining to observe than anyone at a regular high school.
2. Hollywood Arts High School – Victorious
Nickelodeon/WiffleGif
If you live in Los Angeles or New York, schools like Hollywood Arts High School really do exist. Regular academics, mixed with the opportunity to hone and develop blossoming talent are pretty normal, but having classmates like Victoria Justice and Ariana Grande are not!
3. Capeside High – Dawson's Creek
CW/Gallery4Share
A beautiful sprawling campus complete with pillars, airy classrooms, and Dawson Leary and Pacey Witter sitting next to you in Algebra?! Yes please!
4. Bayside High – Saved By The Bell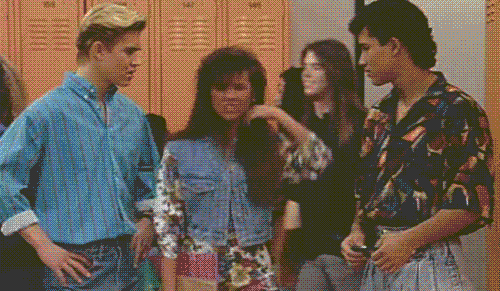 Giphy
Who wouldn't want a principal like Mr. Belding running the daily operations of a high school ruled by the likes of Zack Morris, A.C. Slater, Jessie Spano, Lisa Turtle, Kelly Kapowski and Screech?
5. Tree Hill High – One Tree Hill
CW/Teen.com
A small town high school with big time talent, drama, and an obnoxiously good looking student body is everything the stuff dream high schools are made of.
6. Degrassi High – Degrassi: The Next Generation
USA Today
This could possibly be one of the most desired high schools to attend, seeing as several of its former students went on to become massive major market successes. Can someone say Drake?!
7. Neptune High – Veronica Mars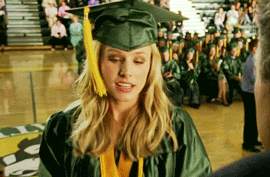 Giphy
Neptune High seems like a normal run of the mill high school, but in reality, the student body, namely Veronica Mars, was the kind you'd kill for. A private investigator in training as your student body BFF would be able to get to the bottom of every rumor running through the mill.
8. Rancho Carne High – Bring It On
Tumblr
A high school with so much spirit and fierce competitive nature is sure to keep everyone excited and on their toes, especially when cheerleading competitions dominate the attention of the student body.
9. The Harbor School – The O.C.
Fox/Tumblr
Luxurious leather couches in study hall, coffee carts, and the sweet CA sunshine are more than enough reasons to be envious of the school where Marissa, Ryan, Seth and Summer spent their teen years.
10. West Beverly High – Beverly Hills 90210
Fox/Wordpress
Kicking it back to the early '90s, West Beverly High was home to the hottest fashions, children of celebs, and mid-west transplants who curated the coolest group of friends you'd love to have as your #squad today.
11. Dillon High School – Friday Night Lights
NBC/EW
Dillon High, where football is life, teachers truly care, and turn-and-stare gorgeous students like Tim Riggins and Lyla Garrity are walking around sounds like a pretty sweet day-to-day.
12. North Shore High School – Mean Girls
What Culture
Attending a school where The Plastics run the show might not sound fun at first, but if you play your cards right, you might just get to sit with them and wear pink on Wednesdays!
13. Bronson Alcott High School – Clueless
Thought Catalog
Being at a school where it's possible to raise your grades by complaining about your love life, matchmaking teachers, and being surrounded by students who use insane vocabulary would be a dream come true for any student.
RELATED: 
15 Actors Much Older Than Their Teenage Characters
10 Of The Craziest Stunts In Movie History
10 Surprisingly Good Stoner Films