First Look: Courtney Robertson's Engagement Ring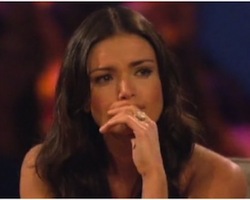 The Bachelor's Courtney Robertson had to keep her engagement ring hidden away for months, but now that America has watched Ben Flajnik slip the jewel on her finger, she's free to flaunt it in public. Yesterday the Neil Lane bauble made it's public debut as Courtney strolled through Marina del Ray, California.
Courtney tried to play it casual in a plaid shirt, jeans, and boots, but it's hard to miss the $85,000 rock on her finger. Though rumors are still swirling that Ben isn't being faithful, Courtney clearly wants to send the message that they're still headed down the aisle.
Source: Us