Not Amy & Tina: The Worst Awards Show Hosts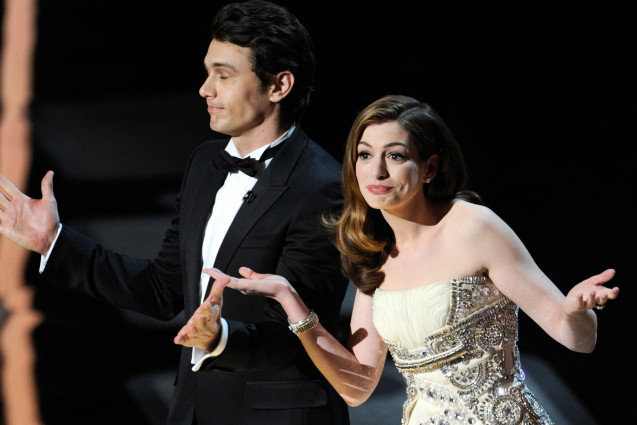 WireImage
After Tina Fey and Amy Poehler got the masses excited for the Golden Globes and made Leonardo DiCaprio blush — not an unsubstantial feat on either count — it's easy to feel like there's a run of strong hosts taking over the awards season. Ellen DeGeneres is back to bring sweetness to the Oscars and Neil Patrick Harris has made the Tonys relevant to viewers that have never seen a Broadway show. It wasn't that long ago, however, that the wrong host for the wrong awards show has made for an uncomfortable audience both at home and in the auditorium. In fact, it was just last year. Here's a look at the five worst hosts to grace an awards show stage.
Seth MacFarlane, Academy Awards, 2013
The Family Guy creator made many actresses squirm in their seats as he sang a ditty about seeing their breasts on screen. McFarlane was perfectly willing to poke fun at himself. In one bit, a time-traveling William Shatner warns MacFarlane he'll be dubbed the worst host ever. It's hard to argue with Captain Kirk.
David Letterman, Academy Awards, 1995
The very things that have made Letterman a fixture of late night television — his acerbic wit and panache for slightly off-kilter humor — led to his downfall in front of the Hollywood elite. His repeating of Uma and Oprah, ostensibly to introduce Thurman to Winfrey, was painful. It was hard to tell who was more uncomfortable, Letterman or his audience.
Reality Show Hosts, Emmys, 2008
There was already a legitimizing of reality shows by the Emmys adding a category to honor the best host of one of the shows. Having the five nominees in the category actual serve as hosts for the broadcast, as it turns out, was one step too far. Tom Bergeron, Heidi Klum, Howie Mandel, Jeff Probst and Ryan Seacrest were so out of place and lost they could have been Amazing Race contestants.
James Franco and Anne Hathaway, Academy Awards, 2011
A studio could probably make a cute rom-com with Franco and Hathaway, even if they reportedly left their Oscar hosting night not on the best of terms. Unfortunately, there aren't multiple takes allowed to get things right on a live broadcast. Franco came across as stoned and Hathaway as over excited, and neither did young Hollywood any favors.
Chelsea Handler, MTV Video Music Awards, 2010
Handler seems like she would be the perfect fit to host what amounts to a big party, and claimed to stay sober for a week to get ready for it. The comedian, as expected, didn't straddle the line of good taste, but instead plowed through it with jokes that weren't merely off-color but downright offensive, even for the network of Jersey Shore and Teen Mom.