Fox Pilot Orders: 'Sleepy Hollow,' J.J. Abrams' 'Almost Human', 'Rake,' and More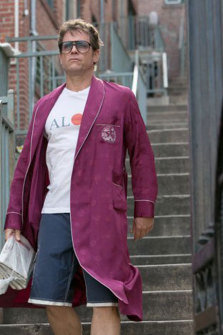 Fox has picked up a couple new drama series for next season, you guys! Look at them go, those crazy kids — ordering up shows during pilot season. Who would've thought, right? (Well, there is that whole "this is what networks do around this time every pilot season" pesky detail thing, but shh!) Fans of pilot season should get ready, steady, and start their engines, because there's only more where this came from.
The network has shown their dramas who's boss today, and those shows in charge include J.J. Abrams' new series Almost Human, the Greg Kinnear-fronted Rake, a contemporary retelling of Sleepy Hollow, and a show about gangs. It's called (wait for it), Gang Related.
But it wasn't all good news for potential Fox pilots: those not moving forward (at least at the network) are Boomerang, Delirium, and The List. A fourth series, Wild Blue, has been pushed towards a potential run off-cycle. Sorry guys, maybe next year or on a different network.
For those wondering what these new series are about, look no further than the descriptions below! We're pretty helpful 'round here, and never afraid of being a even bit servicey:
– Almost Human: A cop drama, set 35 years in the future in a time when all cops are given human-esque android partners. Stars Karl Urban, Michael Ealy, Lili Taylor, Mackenzie Crook, Michael Irby and Minka Kelly. From Abrams' Bad Robot production company and former Fringe showrunner J.H. Wyman.
– Rake: A lawyer drama adapted from its original Australian counterpart of the same name. Basically House but about law. Expect self-destructive behavior and brilliant minds. Stars Kinnear, Miranda Otto, and John Ortiz. Produced by Australian creator Peter Duncan and Rescue Me's Peter Tolan. Fun fact: Sam Raimi directed the pilot.
– Sleepy Hollow: A contemporary drama retelling the iconic story of Ichabod Crane. Stars Tom Mison, Nicole Beharie, and Orlando Jones. Produced and written by Fringe co-creators Alex Kurtzman and Bob Orcie.
– Gang Related," A crime drama that follows Los Angeles' gang task force and its rising star (Ramon Rodriguez) after he's teamed with longtime member Cassius Green (RZA) to take on some of the city's most dangerous gangs. It gets complicated. Stars Rodriguez and RZA. Written by Chris Morgan, directed by Allen Hughes.
These four pilots will be joining the already-renewed line-up of Glee, Bones, New Girl, Raising Hope, The Following and The Mindy Project, in addition to the already-ordered new comedy from Seth MacFarlane, Dad.
What do you think of Fox's new series? Excited about how the fall schedule is shaping up? Let us know in the comments.
Follow Alicia on Twitter @alicialutes
More:
A Viewer's Guide to 25 New Pilot Orders
Why Canceled Doesn't Mean 'Canceled' Anymore
'All My Children' and 'One Life to Live' Go Online
---
From Our Partners:


Watch Justin Bieber Attacked in Dubai (Celebuzz)


33 Child Stars: Where Are They Now? (Celebuzz)