Fox Needs to Give 'Brooklyn Nine-Nine' Its Own Night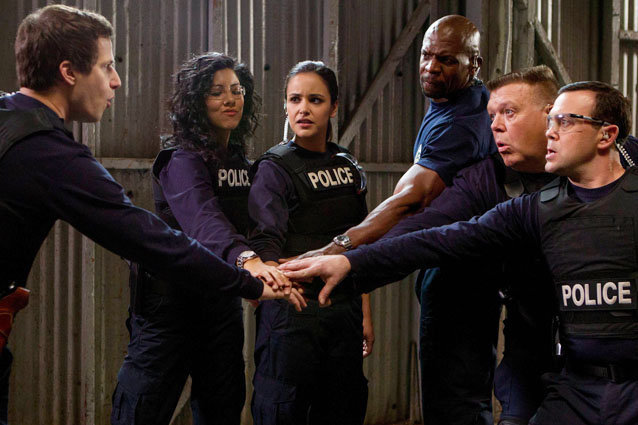 FOX Broadcasting Co.
Andy Samberg's ensemble cop comedy Brooklyn Nine-Nine had quite the first year campaign, winning the Golden Globe for best comedy series. As a reward for the good work, Fox will move the show next season to Sunday nights, sandwiched between The Simpsons and Family Guy. For anyone wondering, Brooklyn will in fact still be a live action show next season, even if the Fox move might make you wonder if the programming executives realize that.  
Tuesday Was Bad Enough
Brooklyn Nine-Nine spent its freshman season already leading into two sitcoms that it didn't mesh with: New Girl and The Mindy Project (with Dads providing a weak lead-in). The fact that it survived is a testament to the show's strong writing and the outstanding performances of Samberg, Andre Braugher, Terry Crews, Joe Lo Truglio, and the rest of the cast.
Fox's reasoning for moving the show is to put it in a grouping with other male oriented fare, since Samberg's core audience really isn't too much different from his Saturday Night Live predecessor Adam Sandler.
On the surface, the reasoning makes some sense, but is the audience for Brooklyn really the same as those of either The Simpsons (at this point in the show's run anyway) or Family Guy? Samberg's show is closer in tone to some of the workplace ensemble comedies of the '70s… a descendant of programs like Barney Miller and Taxi by way of The Office. Even when it veers into broad comedy, there's a certain level of sophistication in the way that Brooklyn approaches its funny business.
A Scheduling Problem (and Solution)
Unfortunately, Fox boxed itself into a corner with its schedule, given the number of hour-long shows the network has on its grid. In a roundabout way, they tried to partner Brooklyn with freshman sitcom Mulaney, which also comes from the Lorne Michaels tree. It follows former SNL writer John Mulaney as an aspiring stand-up comedian working for Martin Short. Mulaney is set to follow Family Guy on Sunday nights. That show faces much the same problem as Brooklyn… how much of an audience does it share with Seth MacFarlane's long-running series? Family Guy, though, is still a proven ratings winner so Fox isn't going to move it… meaning that Brooklyn and Mulaney are stuck on either side of it.
Both shows would've been better served being paired together on Wednesday night in the 8 – 9 PM time slot. While Survivor continues to pull decent ratings for CBS there, neither ABC's offering of The Middle and The Goldbergs nor NBC's new series The Mysteries of Laura would have been impossible to overcome. With a Golden Globe in its back pocket, you would think that Fox would have confidence in letting Brooklyn lead off a night of its own.  
While bouncing a show around a network's schedule is a time-honored way of killing it, Fox should consider making another move with Brooklyn Nine-Nine the next time that it's making scheduling adjustments when a couple of its new show inevitably fail and build a block of programming around Samberg and his merry band of cops… instead of trying to squeeze them into the schedule wherever they can.