See The Cast Of 'Freaks and Geeks' In Their Audition Tapes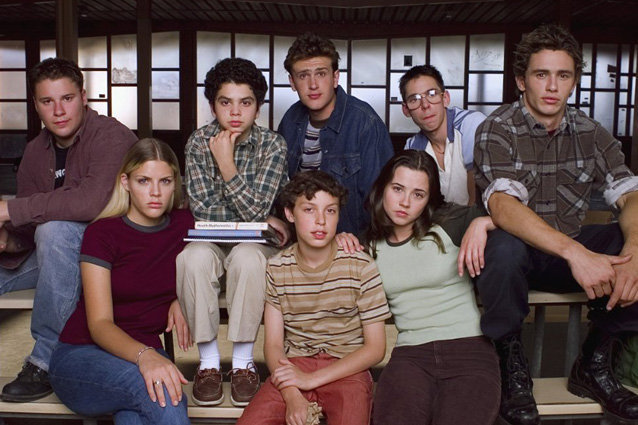 NBC
Freaks and Geeks was tragically canceled after only 12 episodes had aired — a mistake many have come to learn throughout the years as the series has found a cult following and a new appreciation. Its cast is filled with some of the most recognizable and lovable faces around today. Here are the audition tapes from those faces, trying to land the roles we'd come to love them for:
Linda Cardellini, Lindsay Weir
We could really never picture any other actor playing Lindsay Weir, and she had it down pat even in her audition. Since playing lead character (and eternal style icon) Lindsay Weir, Cardellini has starred as the perm-getting murderess from Legally Blonde and Velma in the Scooby Doo movies, as well as maintaining a long run on ER and an Emmy-nominated guest role on Mad Men. More recently, she's done voice work with various TV shows.
whatshouldbetchescallme.tumblr.com
John Francis Daley, Sam Weir
"So that means she had sex in February." He straight up kills this audition and perfectly embodies the adorable Sam Weir. Best known for his facial expressions throughout the short-lived series, Daley has become well known to fans of the hit show Bones, starring as Dr. Lance Sweets since season 3. He also writes movies like Horrible Bosses and The Incredible Burt Wonderstone nowadays too.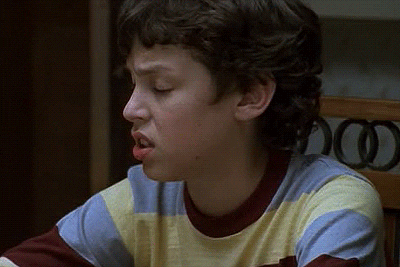 GIPHY
Seth Rogen, Ken Miller
"That's why when some idiot teacher tells me that I'm not living up to my potential, I just smile 'cause I know I am." It seems from this clip, Seth Rogen hasn't changed much, thankfully. Rogen followed his role in Freaks and Geeks with a small role in Donnie Darko and a lead role on the (also tragically short-lived) Judd Apatow-created Undeclared before finding more mainstream success with bigger roles in films like The 40-Year-Old Virgin and Knocked Up, which he also produced. He's since gone on to write, produce, and star in several other monstrously successful films: Superbad, Pineapple Express, This Is The End, and Neighbors. He's also a known enemy of North Korea. 
(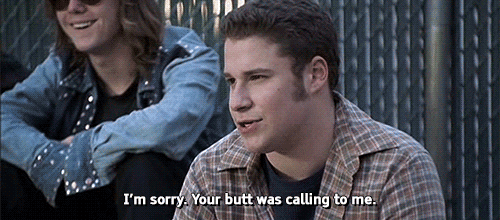 GIPHY
Busy Philipps, Kim Kelly
Wow, Busy Philipps totally understood just how mean she was supposed to be. After her turn as McKinley High School's resident mean girl Kim Kelly, Philipps guest starred a few times on Undeclared and then had a longer run as a supporting role on Dawson's Creek. Aside from her film roles in movies like White Chicks and Made of Honor, she can be found currently starring in the sixth and final season of Cougar Town. 
fckyeahfreaksandgeeks.tumblr.com
Jason Segel, Nick Andopolis
Absolutely perfect audition, right? No longer just the awkward, Led Zeppelin-obsessed stoner of McKinley, Segel now has a successful film career acting in Knocked Up, I Love You, Man, Bad Teacher, and writing/starring in movies like Forgetting Sarah Marshall, The Muppets, The Five-Year Engagement, and Sex Tape. His TV roles include a memorable recurring role on Undeclared and a lead role on the long-lasting hit series How I Met Your Mother. 
fckyeahfreaksandgeeks.tumblr.com
Martin Starr, Bill Haverchuck
"It's called the Hitler Punch." It's clear from this hilarious audition why he got the part! Probably our favorite of the entire bunch, Bill Haverchuck, the geekiest of the geeks, was played perfectly by the lanky and awkward Martin Starr. Starr has gone on to enjoy film roles in Superbad, Knocked Up, and This Is The End, along with a TV role on the hilarious-but-unfortunately-short-lived cult comedy Party Down. He can currently be found on the Emmy-nominated Silicon Valley as Gilfoyle. 
whatshouldwetrex.tumblr.com
Samm Levine, Neal Schweiber
Yepp, it seems Samm Levine really is Neal Schweiber, doofy impressions and all. Levine followed up his memorable turn as one of Sam Weir's geek best friends with small roles on every show you've ever heard of: Spin City, Yes, Dear, Just Shoot Me!, The Steve Harvey Show, Boston Public, Undeclared, Raising Dad, What I Like About You, Maybe It's Me, The Drew Carey Show, That's So Raven, That 70s Show, How I Met Your Mother, My Name Is Earl, Still Standing, Entourage, Veronica Mars, Lost, 90210, Modern Family, NCIS, Person of Interest, and most recently, Selfie. His film work includes Sydney White, Inglourious Basterds, and I Love You, Beth Cooper.  

fckyeahfreaksandgeeks.tumblr.com
While there's no James Franco audition online yet, we're not giving up hope.
tellmeimawizard.tumblr.com