'Fringe': What You Need to Know Before the Final Season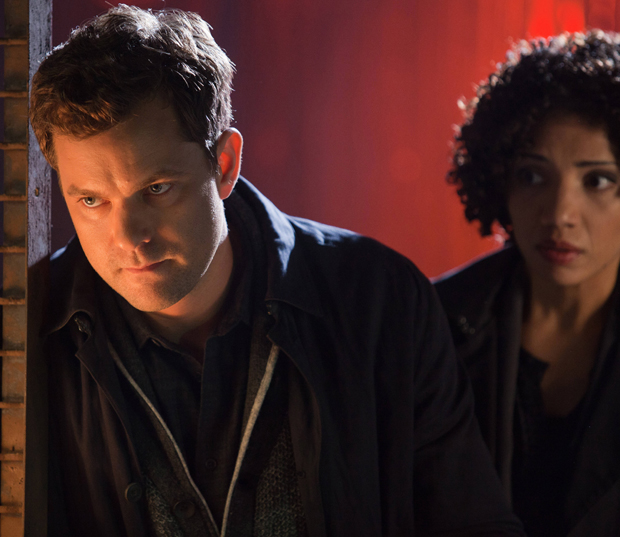 Over the next few months, we'll see new series soar, old series sour, and so much Jersey Shore madness, we'll want to shower. Let's face it: The Fall TV season is intimidating. With dozens of new and returning shows hitting our small screens, we know we have some big choices to make. So, to help you determine what to watch, we're digging deep into the most notable series premiering this season. Where did each show leave off? Where is it headed? And who should you watch it with? Today, we'll look at the cult favorite Fringe, which, in its final season, will send our beloved heroes to a dystopian future run by mysterious bald guys known as Observers.
Returning Series: Fringe
Premiere Date: Friday, Sept. 28 at 9 p.m. on Fox
Number of Seasons On the Air: This will be Fringe's fifth and (sniff) final season
Cast: The Emmy-deserving John Noble, the fantastic, undeniably versatile Anna Torv (I mean, who can play two unbelievably nuanced versions of the same character, AND Leonard Nimoy?), the show's heart, Joshua Jackson, its unsung hero Jasika Nicole, the underrated bossman Lance Reddick, the mysterious Blair Brown, and newcomer Georgina Haig. 
You'd Like It If…: You dig complex sci-fi thrillers with brilliant writing, a superb cast, and one of the most fun fan-bases around. Yeah, we're biased towards this one.
You'd Hate It If…: You left your imagination behind in grade school. 
Ratings: Err, not great. By the end of November 2011, Fringe was the Fox's lowest rated program, and its finale only brought in 3.11 million viewers. Having a Friday time-slot is never fun, but Fringe's diehard fans have kept this one going. And Fox and Warner Bros. — thanks, Fox and Warner Bros! 
Accolades: They've been nominated for a couple of Creative Emmys, but the show (and the sinfully talented John Noble) has never received too much love from the Academy. But Jon Cryer won for Two and a Half Men last night, so we don't really care what they think. However, Fringe has cleaned up at the Saturn Awards — it won Best Network Television Series in 2012, and Torv, Nimoy, and Noble have all taken home acting statues. 
Where Fringe Left Off: Got a sec? Good, because last year's finale was a doozy. After three seasons with an alternative universe arc, our Fringe team was forced to close the gap to said alternate universe to save both worlds from collapsing. William Bell (Nimoy) planned to destroy them anyway, creating a new universe populated only by the creatures he had gathered in his Noah's Ark-esque boat. Olivia's Cortexiphan-enhanced powers saved the day, and Bell just sort of… disappeared. Then, Peter and Olivia learned that they were pregnant. Yay!
Only not really, because a few episodes before we flashed forward to a dystopian 2036, where Peter and Olivia's daughter, Etta (Haig), was fighting off the totalitarian Observers. She recovered Peter, Astrid, and Walter's bodies after they'd been encased in amber for decades, but Olivia was nowhere to be found. Back in modern times, we ended the season with September — our main Observer — telling Walter, "We have to warn the others. They are coming."
Cast In Question: Sorry, fans of Lincoln Lee: Seth Gabel's beloved character decided to cross over to the alternate universe, so we doubt we'll be seeing much of him. We're also not so sure about Nimoy's Bell, though given the fact that he left retirement to return to the show last year (and, that he supposedly did something horrible to Olivia in the time between last spring's finale and this year's 2036 setting), we're going to remain hopeful.
Advice the Show Has Taught Us: Hey, are you thinking of making a portal to another universe to steal a deceased loved one? Well, don't. Just don't. Yes, you'll get them back, but the fallout is just not worth it.
High Point: There have been so many, but season three's magnificent episode "Entrada" — the first episode to take place equally in both universes — is a must-watch for any Fringe newbie. Olivia's return to the prime universe after a gut-wrenching captivity was thrilling, and her Fauxlivia counterpart is delightfully wicked
Low Point: Erasing Peter Bishop from everyone's memory at the end of season three. It may have seemed like a good idea at the time, but the relationships between Peter, Olivia, and Walter are the show's big, beating heart, so making him a stranger so far into the show's run by erasing three years of memories was a huge no-no. It took the entirety of season four to make up for it, and they get points for having Olivia (eventually) remember, but it still smarts that all of those great Peter-Walter bonding moments from seasons one through three no longer exist.
Who To Watch It With: Your fellow nerds, duh!
Who Not to Watch It With: Newbs, because who wants to be bombarded with eight zillion questions about the show's admittedly complex mythology during the final season premiere?
Cast Member to Root For: The entire Fringe team, of course! But we're especially partial to the zany, lovable, somewhat tragic Walter, who is currently one of the most unique characters on television, and — dare we say it — arguably the best television scientist of all time.
Cast Member to Root Against: Any Observer. Screw those guys.
What to Eat While Watching: Any number of Walter's favorite foods: Root beer, blue cotton candy, double-dipped beer-battered onion rings, Red Vines, Devil Dogs, Blueberry pancakes… the list goes on and on. Just be sure to book appointments with your dentist and cardiologist before you watch.
Binge Watching Potential: Start, and you won't stop — one Hollywood.com staffer (cough cough, me) reportedly went through two seasons in a week. 
Ways to "Fit In" to the Fringe culture: Start obsessing over Peter Bishop's pea coats. Attend a geeky fan convention. Snag one of those cool Observer hats they gave out during last July's Comic Con. 
What You're Most Likely to Yell at the Screen: "Leave Walter alone!" (See below)
So, Will You Watch It?: The majority of you probably won't, if you're not already a fan. But one day you'll finally listen to that one friend of yours who'd recommended it for years and rent the DVDs, and you'll regret not joining in on the fun during its run. Rent it now! NOW! 
Follow Shaunna on Twitter @HWShaunna
[PHOTO CREDIT: Fox]
MORE:
New 'Fringe' Promo: The Observers Torture Walter — VIDEO
'Fringe' Season 5 Promo: They're Coming (For Peter and Olivia)