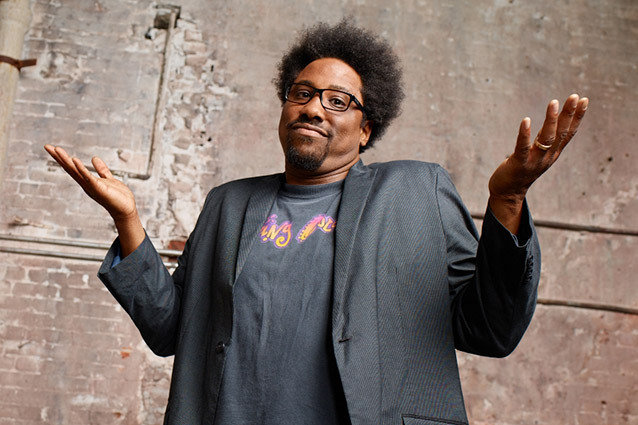 Matthias Clamer/FX
Yesterday, FXX announced the cancellation of its flagship talk show, Totally Biased with W. Kamau Bell, effective this week. The show's ratings since moving to a Sunday-through-Thursday schedule on the fledgling network have been a disappointment, but that's more indicative of the problems with FXX as a whole than with the show itself.
When it was originally announced that Fox was spinning off FXX from its host network FX, it made perfect sense. The plan was that FXX would be the home for the network's edgier comedy series, leaving FX to position itself as a network specializing in tough dramatic fare like Sons of Anarchy or The Bridge. The execution, however, hasn't worked out that way: although veteran comedies It's Always Sunny In Philadelphia and The League were also moved over to FXX, it appears that animated comedies like Archer and Chozen (a new series from the creators of Archer starring SNL's Bobby Moynihan as a gay rapper, set to premiere in January) will be staying on the mothership. Although at this point we don't even know for sure that there'll even be a new season of Louie, we don't yet know where that'll end up either. This bifurcation makes no sense, and suggests that Fox doesn't particularly care if FXX succeeds or not.
Given that the channel was created solely because Fox's soccer channel had shut down since NBC won the American rights to most international football matches, that may be truer than we think. That's also the cause of viewers' primary complaint about the new channel: on most cable systems, Fox Soccer had been buried in the upper reaches of the cable tiers alongside other low-rated niche channels. Most cable systems, including Comcast, didn't change the channel's location when it was rebranded, which means that viewers have to go searching for it (in my hometown of Boston, it's on channel 256). Unfortunately, that also means that viewers with cheaper cable packages may not even get FXX.
It's not helping that the programming hasn't been amazing yet: as much as I liked Totally Biased, which gave undervalued comedic perspectives a platform, I did think the show's quality level declined a bit in the move from one to four episodes a week. Similarly, even as a longtime fan, this season of It's Always Sunny in Philadelphia has been a disappointment. Other than the instant classic "The Gang Tries Desperately To Win An Award" — a deliciously meta story about the show's lack of award recognition that ran the week of the Emmys and featured probably the most joyously obscene dialogue this or any show has ever managed to get on television — Sunny just hasn't had the anarchic edge that makes this show so great.
And if they're trying to gain a younger, hipper demographic, what's with all the re-runs of Mad About You, a 20-year-old sitcom about a married couple in their 30s? I mean, it holds up and it's always nice to have 30 minutes to ogle Helen Hunt, but it's not exactly on point given the station's desired aims. And that's really the problem: FXX isn't doing what they said they wanted to do.
As for W. Kamau Bell, he's a gifted comedian with a really charming stage presence. He'll be fine. Maybe he should try a late-night political comedy show on MSNBC.