Interview: The 'Ghost Ghirls' Tell All — EXCLUSIVE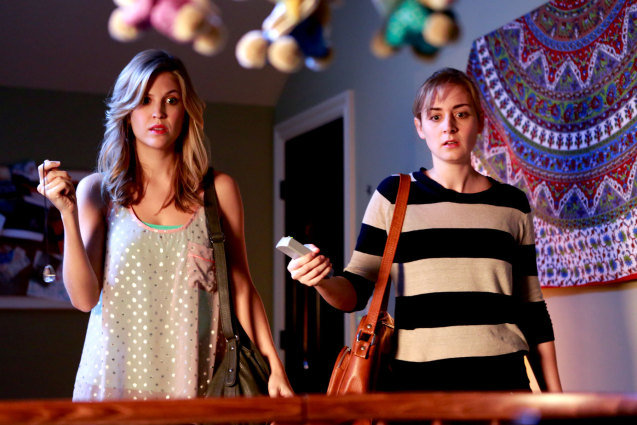 Bridging the world between horror and comedy the new web series Ghost Ghirls finds humor in the ghouslish. The show, executive produced by Jack Black and premiering on Yahoo! September 9th, stars Amanda Lund and Maria Blasucci as two hapless paranormal investigators.
Hollywood.com was lucky enough to commune with Lund and Blasucci about how Ghost Ghirls came about, whether they believe in the supernatural, and how they managed to get so many famous faces to haunt the online series.
How did the idea for Ghost Ghirls originate?
Lund: Maria and I had been wanting to work with Jeremy Konner on a project for a while. We are all fans of the paranormal genre and thought it would be interesting to see these characters within it.
Blasucci: So the three of us wrote up a little ten page script and went out and shot it. It is so much fun writing for these characters.
How did Jack Black get involved in the project? What was it like working with him?
Blasucci: Jeremy had known Jack Black for a while having worked as his assistant and the director of the Tenacious D documentary. Jack has always been really supportive of Jeremy and as soon as we brought it to him, Jack jumped onboard. Working with him was an absolute dream. He is the nicest and most caring guy.
Lund: Working with him was unreal! He has been so supportive. He showed up to set almost everyday while we were filming and called in a bunch of his famous pals to play parts. Really, I've learned so much by working with Jack Black. His enthusiasm and positivity are really contagious. We lucked out.
Who was your favorite celebrity guest star to work with?
Lund: This is tough! We had so many amazing people! It was pretty mind-blowing to work with Val Kilmer. Having Val, Dave Grohl and Jack Black on set all at once was like a beautiful dream I didn't want to wake up from. I think we shot like a 16 hour day when they were all there but no one cared because it was so amazing to watch them jam. (They were playing a Southern Rock Band). That was the most magical moment of filming.
Blasucci: All of the guest stars were so gracious and wonderful. Molly Shannon was really lovely and hilarious and Bob Odenkirk brought so much life to his character. He made the character so much richer than we could have imagined. I do love working with Jason Ritter. He did our pilot presentation and is in another episode as well. Having him and Jason Schwartzman on set was hilarious.
What was it like taking the show to San Diego Comic Con?
Lund : I had never been to Comic Con and didn't know what to expect! I couldn't believe that so many people came out to see our panel. I think we got a really good response actually. I feel like the Comic Con audience is really open and enthusiastic when it comes to new shows so it was cool to hear some positive feedback. I wish I had brought a costume to wear because I felt so stupid in my shorts when everyone else was in sweet capes and stuff.
Blasucci: I agree with everything Amanda said… except she wasn't wearing shorts. That was a lie.
Do you believe in ghosts? Have you ever seen a ghost?
Lund: I've had a few seemingly paranormal experiences. When I was nine I thought I saw the ghost of my grandpa coming out of my bedroom ceiling. However, I had an extremely active imagination. I had like a dozen imaginary friends as well and had a lot of strange conspiracy
theories.
Blasucci: I believe in ghosts. Why not, right? It's more fun to believe. I've never seen one though. I'm afraid of seeing one.
I'm going to steal a line from Scream: What's your favorite scary movie?
Blasucci: I'm going to steal from your question and say Scream.
Lund: I love scary movies! I'm drawn toward the classic, slow-burning ones like Rosemary's Baby or The Omen. But don't get me wrong, the Scream films and I Know What You Did Last Summer are close to my heart.
Why should viewers be excited to watch?
Lund: Because Ghost Ghirls has something for everyone! It's funny…it's scary…it's full of amazing guest stars! And it's short and free!
Blasucci: We find it to be a really entertaining show with a lot of heart. So check it out!
More:
Most Exciting TV Shows of Comic Con 2013
Jack Black Debuts Upcoming Web Series 'Ghost Ghirls'
Bob Odenkirk Might Get 'Breaking Bad' Spinoff
---
From Our Partners:


40 Most Revealing SeeThrough Red Carpet Looks (Vh1)


15 Stars Share Secrets of their Sex Lives (Celebuzz)