Girl Power at the Globes: How Lena Dunham, Jessica Chastain, & More Made It Ladies' Night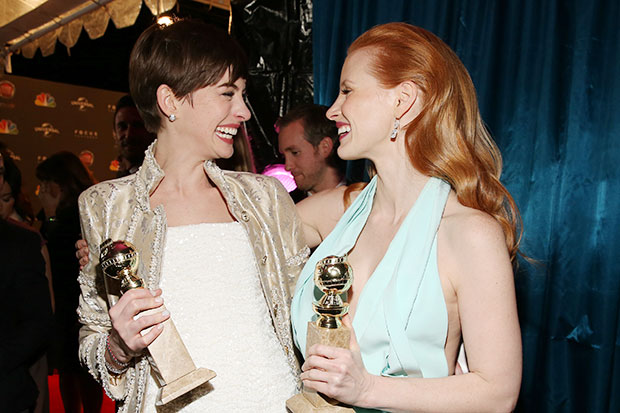 I've said it before: 2012 was not some all powerful, magical year of elevating women to an exalted position above the oppressive force of men in Hollywood. But you wouldn't know it based on Sunday night's Golden Globes ceremony, where women stole the show — and the awards.
The power duo of Tina Fey and Amy Poehler set the tone for the night of Girl Power with their opening monologue, which not only bested three-time deliverer of uncomfortable silences Ricky Gervais' past performances, but also paid homage to the talented women in the audience. Any awards show that starts out with a joke bashing James Cameron in the name of recent Oscar-snub and seriously talented director Kathryn Bigelow is probably going to come with a dose of fanfare for women.
And it did. It really did. From Lena Dunham and Girls' surprise win in the best TV comedy category, to kickass princess tale Brave taking home the Best Animated Feature award, to Jodie Foster arresting our attention for a seven-minute lecture about the entertainment industry (or coming out, or her mother, or Honey Boo Boo, or something), the biggest stories coming out of the night are almost all about women.
That feeling was likely ushered in by two powerful, beloved women helming the night for the first time in Globes history (before Fey and Poehler hosted, Gervais was the only official host of the ceremony in its history). Their appointment as the opening act of the show placed an emphasis on the talented women in the audience, like their "roasted" colleagues Julianne Moore, Dunham, and Bigelow. But the feeling of pro-feminist energy wasn't simply circumstance.
If we look at the people who took home trophies last night, it's a line-up of women whose 2012 award-winning roles are doing a great deal for women in film and television. Jessica Chastain, who won for her role as Maya in Zero Dark Thirty, not only exhibited strength on-screen in 2012's controversial film, but took time in her acceptance speech to highlight the importance of this film and director Bigelow's strides for women as a result. "I can't help but compare my character of Maya to you [Kathryn Bigelow]: two powerful, fearless women who allow their expert work to stand before them. You've said that filmmaking for you is not about breaking gender roles, but when you make a film that allows your character to disobey the conventions of Hollywood, you've done more for women in cinema than you take credit for," she said.
When it came time for the Best Actress in a TV Comedy award, Dunham also helped shed light on how the critical acceptance of Girls has opened the entertainment world a little wider for female characters who occupy spaces not often represented on television: "This award is for every woman who felt like there wasn't a space for her. This show has made a space for me," said Dunham, to appreciative and generous applause.
And when it comes to Foster's big moment, her speech was a little confusing — and for some members of the gay community, rather upsetting — but her placement as 2013's Cecil B. Demille award recipient is uplifting in and of itself. Awarded for not only her acting, but her directing as well, Foster is one of 13 women to receive the Globes honor out of 58 total winners, and the first woman to win since 2000's ceremony awarded Barbra Streisand. And whether or not we agree or disagree with Foster's speech, the woman did command an entire nation of viewers, keeping us waiting with baited breath as she stole the show and became the biggest story of the night.
Though Anne Hathaway's character in Les Miserables, for which she won her big award Sunday night, is the victim of ancient patriarchal values rather than a champion of rising up against them, her speech certainly echoed a sense of empowerment. She reached out to fellow nominee and screen legend Sally Field for inspiring her to know that "the Flying Nun could become Norma Rae." And while Les Mis' Fantine isn't exactly akin to a young woman leading the charge for a labor union, we get where Hathaway is coming from. If only she hadn't undermined this lovely little moment by hijacking the mic to thank her manager when Les Mis won its big award.
But Hathaway's faux pas and Taylor Swift's unforgettable case of Adele-envy aside, not since 2000, when Streisand won the Cecil B. Demille, Julia Roberts won for her pro-feminist role in Erin Brockovich, and Sarah Jessica Parker and Sex and the City won big for a punch of girl power, has the Globes felt so inclined towards strong female stars and pro-feminist projects. Perhaps it's a signal that we're slowly moving in the right direction — even if the Oscars hasn't quite caught up yet. We're getting there, and as exciting as it is to see talented, empowering women rewarded for their work, the true test of success will be the year in which this much girl power is present and it doesn't merit a thumbs up for its refreshing nature. When this much lady-love is the norm, that's when we'll know we've done it.
Follow Kelsea on Twitter @KelseaStahler
[Photo Credit: Christopher Polk/Getty Images]
More:
Kathryn Bigelow is Amused by the James Cameron Torture Joke – PHOTO
Golden Globes 2013: Tina Fey and Amy Poehler Deliver the Best Monologue Ever?
'Girls' Wins the Globe for Best Comedy

Megan Fox's 12 Hottest Moments (Moviefone)