'Girls' Breaks Hollywood's Habit of Making OCD a Joke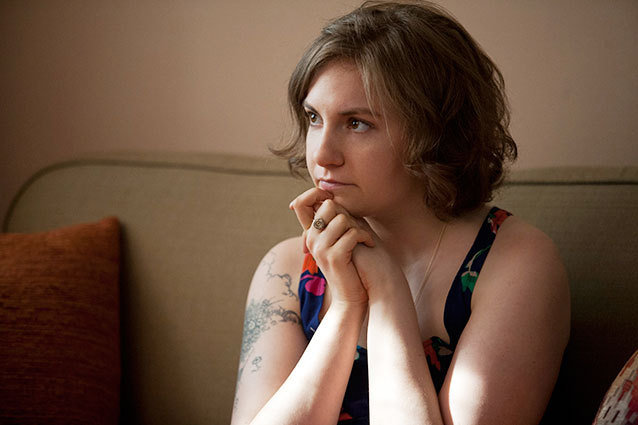 I'd like to believe the creators of Monk set out with good intentions. That the show was born from a desire to identify with and empower viewers inflicted with the same disease from which Tony Shalhoub's title character suffered. But somewhere along the line — not too far into the series, either — the severity was traded in at the behest of the show's opportunity for sight gags. Whatever the mantra was that might have inspired the USA detective series to begin with, it gave way to a new one that would carry forth through the eight-season run: Obsessive-compulsive disorder is funny.
And this is the mentality that has been tacked onto just about every depiction of the disease in Hollywood, with Sunday night's episode of Girls standing out as an exception to the rule. Dating back to Jack Nicholson's lighthearted romp with the illness in 1997's As Good as It Gets and traveling through the eclectic likes of Friends, Glee, The Cat in the Hat, Everybody Loves Raymond, and Deuce Bigalow: European Gigolo, Hollywood has upheld a pattern of transforming the disease into a sideshow of eccentric tics and habits.
RELATED: 'Girls' Recap: OCD, Infidelity, and Carol Kane Cameos
But outliers spring out of the woodwork every now and again, and often in the unlikeliest of places — Nicolas Cage's Matchstick Men, Michael J. Fox's appearance on Scrubs, and the latest being Lena Dunham's new episode of her HBO series Girls. Viewers saw Dunham's character Hannah Horvath, stricken with anxiety over her imminent book deal deadline and recent breakup with Adam (Adam Driver), endure a relapse into the obsessive-compulsive tendencies that plagued her during her teen years.
The plotline — companied with the more lighthearted stories of Adam going on a blind date, Shoshanna (Zosia Mamet) attending a college friend's party, Marnie (Allison Williams) submitting to jealousy over her ex Charlie's (Christopher Abbott) newfound professional success, and Ray (Alex Karpovsky) trying to read a book — is devastating. Hannah's gradual submergence into her habitual counting and repetitive behaviors isn't played comically, or even accessibly. It's painful to watch, and exhausting to sit through full rotations of simple tasks she is forced to perform eight or 16 times. It is some of the darkest, most difficult material with which Girls has wrestled to date.
Although Dunham has made her show's bread and butter the illustration of the bleak severity in a kingdom of colorful sunlight, her plight with OCD is an especially impressive one, considering Hollywood's commitment to keeping the disease a source of comedy.
And sometimes, it is. Speaking as a recovering OCD sufferer, I'm happy to admit to a degree of humor in the manifestation of my case: fastidious arrangement and rearrangement, a propensity to wear gloves all the time and avoid contact with any human or object outside my bedroom, the counting, the hoarding, and the washing. These things, from a glance, warrant laughter. I learned eventually not to blame my high school friends for finding laughs in the way I'd navigate crowded hallways.
RELATED: 'Girls' Recap: Daddy Issues
But these aren't the depths to which OCD drags you, which is something that Monk, As Good as It Gets, Monica Geller and Emma Pillsbury might mislead you into believing. The real lows of OCD are bitter and lonely, imprisoning its victims in endless, clawing thoughts, driving them to painstaking rites in an effort to rid their minds of the dark occupation.
As a visual medium, Hollywood plays up the "compulsive," lining its shows and movies with a hilarious community of soap fanatics and ritual performers. Admittedly, the trend has died down a bit. Six or seven years back, you'd be hard pressed to tune into a comedy program or film without encountering at least one character prone to the constant straightening of hanging photographs.
But in this backhanded embrace of this community, Hollywood neglected a key component of the disease: the "obsessive." The drive to complete these tasks is not out of some quirky lust for sanitation or order. It is to quell the plaguing anxieties and horrors amounting internally. The only way to shut out the nightmarish sense of dread, the blossoming phobias within, is to stack your spare change in even towers, to wash your hands until they bleed, or — in Hannah's case — to open and close her apartment door eight times.
Many of us are all too familiar with the "I am good and fine / I am fine and good" cataclysm wreaking havoc on Hannah's Sunday night psyche. And those who've withstood their own legions with the disease are likely to find Girls' depiction of OCD leagues beyond that of anything else we've seen on television.
RELATED: 'Girls' Recap: Book Deals and Boy Talk
Though some other issues might be taken with the inclusion of OCD in Hannah's story — perhaps the show's potential intention to use the ailment as a scapegoat for her selfish behavior — what can at least be said is that Girls looks to rescue obsessive-compulsive disorder from the clutches of softball comedy. Yes, there is an instance or two of laughter in the episode, such as when Hannah is charged with nudging a restaurant patron seven more times after accidentally bumping into him. But this is the outlier, and an honest one: from beginning to end, we suffer with Hannah. We see how grand a toll the disease has taken on her. We — not just those of us who have personal histories with OCD, but any mindful watchers — understand that this illness is far from a joke. And for that, Girls has accomplished something indubitably important: asking the world to finally take this serious disease seriously.
Follow Michael Arbeiter on Twitter @MichaelArbeiter.
[Photo Credit: HBO]
---
From Our Partners:


Justin Bieber Celebrates 19th Birthday, Loses His Pants (Vh1)


60 Celebrity Bikini Bodies: Guess Who! (Celebuzz)