'Girls' Recap: Cocaine, A Lonely Island Hook-Up, and An Icona Pop Earworm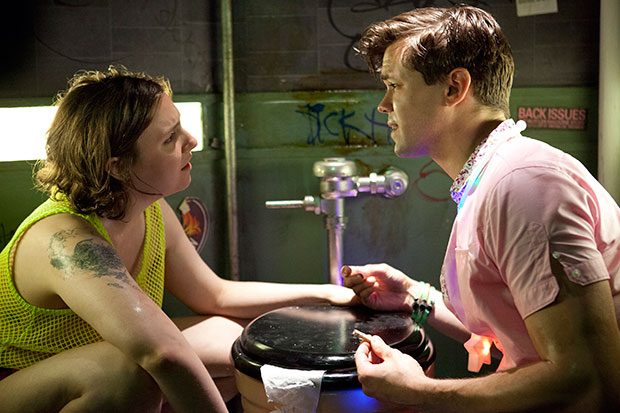 Before we get started with the recap of the latest episode of Girls, let's begin with what you all really came here for: trying to find the name of that incredibly catchy tune Hannah and Elijah were dancing to at the club was. It's Icona Pop's "I Love It" and you're about to listen to it on an endless loop over the next few days. Have fun, kids.  
Alright now that that's taken care of, let's get to the episode, titled "Bad Friend", which took both Hannah and Marnie (sadly, both Shoshanna and Jessa only made one brief appearance at a sidewalk sale) to unexpected, uncomfortable places they'd never really been before. When Hannah gets a freelance assignment from a kooky online editor (played by Angela Featherson) to take "a bunch of cocaine" and write about it, she doesn't think twice about it, despite the fact that she'd have to find the cocaine herself and would make just $200 for the whole ordeal. But, hey, she's living the dream, right?
Hannah recruits Elijah to be her partner in cocaine after scoring some for their former junkie downstairs neighbor Laird (Jon Glaser), who in true New York fashion, she has never met or talked to before. Ignoring the rules of "human decency" Hannah and Elijah begin their cocaine adventure at 4 in the afternoon and quickly descend into drug-addled hysteria of coming up with life goals ("I would like to visit a prison!") and writing them on the wall. That's the least troublesome thing they'd do. 
After picking out just the right power clashing, high-on-cocaine outfit, Hannah and Elijah hit the club to experience (real-life DJ duo) AndrewAndrew, dance, and do loads more cocaine in a sweaty, grungy bathroom. Unfortunately, neither of them wound up "staying out til 5 am and one of us definitely punches someone who has been on a Disney channel show."
They did, however, (and by they I mean surprisingly excellent dancer Lena Dunham and the fantastic Andrew Rannells) give one of the best comedic performances in recent memory. Playing high is always a gamble, as it either comes off as way too over-the-top or too gimmicky (think: just about every stoner movie ever) but Rannells and Dunham found the perfect balance. From her irrational high person behavior (she switches shirts with a guy in the club, who just happens to be wearing a mesh tank) to his hysterical reactions and one-liners ("Is this a bank?") it had all the humor and annoyances of watching a high person from the outside.
So it's really too bad it might be the last we see of Elijah/Rannells since a very upset Hannah told him he was moving out after he revealed he slept with Marnie because it ruined her relationship with her. Marnie, meanwhile, was dealing with her own tripped-out, bizarre experience after bumping into first-class pretentious art douchebag Booth Jonathan (The Lonely Island's Jorma Taccone, reviving his role as the sexually confident tool.) Yes, that very same guy that got her to do this, finally got her back to his place. I don't get it. Who hooks up with someone who tells you that you are part of a culture of youth that "is passionate about something and then give up the moment they have to struggle"?
Back at his place she experienced his "best work" (a complete nightmare video installation of graphic images) and sex that was so strange (he kept making her look at a doll and then asked her, with almost no time to spare to answer, if she was on the pill) she couldn't help but burst into laughter when it ended. I honestly think I was more tweaked out by Marnie's storyline than Hannah's. Though, if nothing else, Girls just once again reinforced that the twenties are a long, strange trip whether you're tripping or not.
Not to be outdone, as to be expected, was Hannah, who wound up hooking up with Laird, despite the fact that he'd followed her all night to "protect" her and that she thought he looked like he had leprosy. While the Dunham-penned episodes of Girls tend to be on the more uneven side (not to mention the show tends to work better when it's all four girls, though "The Return" is the exception to the rule) this one was pure comedy. There's a reason it won Best Comedy at the Golden Globes, even if it does scare the living hell out of your parents.
But what really stuck out with this episode is realizing that with this week marking the end of Liz Lemon era, Dunham's Hannah Horvath could be ushering in the new one. No, Liz would never do cocaine, have that much adventurous sex, or be involved in any kind of "hipster nonsense" that Hannah and co. take part in so willingly, when a coked-up Hannah declared that she wants "to get married wearing a veil and… taste like 15 cakes before and I know I said I was against the industrial marriage complex, but thats what I really want", it had traces of "princess" bride Liz from earlier this season. The existence of Girls may just soften the blow of the exit of 30 Rock. Lemon out, Horvath in. 
Here are some of the other best moments and line's from "Bad Friend":
– "Ray only wants to watch old episodes of Ally McBeal all night"- Shoshanna, on why she's so tired 
– "All the junkies in my building totally hang out by the mailboxes" -Shoshanna, please come back next week 
– Hannah's wifi networks have included "muffins are tasty" "madame ovaries" 
– "I'll never not have it" – Laird, on his turtle 
– While high, Hannah worries about the fact that she can't write a check properly. Elijah's main worry: that someday he'll hopefully get to raise show dogs.
– "It is my greatest dream to have sex with myself, but also my biggest fear"- Hannah 
– "She's very rib-y"- Elijah, on having sex with Marnie 
– "Her mouth tasted like non-petroleum lip balm and Trident layers"- Elijah, on having sex with Marnie 
– "Extremely Loud and Incredibly Loud"- Laird's title for Extremely Loud and Incredibly Close, which Elijah hasn't seen but heard is "so sad" 
– This interaction: "When did you eat jerky?" – Elijah, to Hannah after she kissed him…"That is not any concern of yours!"- Hannah. Elijah, please come back next week. 
– "We might do coke in front of you, so no more crying"- Hannah's warning to Laird 
– "It's a Wednesday night, baby, and I'm alive" – Hannah's declaration to Marnie, right before her other declaration that she is the "good friend" after all, and Marnie is the bad one for intentionally hurting her. 
[Photo credit: HBO]
More:
'Girls' Recap: HBO Series Finally Deals With Race
Lena Dunham Addresses 'Girls' Nudity, Implores Everyone to Cool Their Jets

20 Hottest Celebrity Bikini Bodies