'Girls' Heads to 'Nebraska' … Thematically Speaking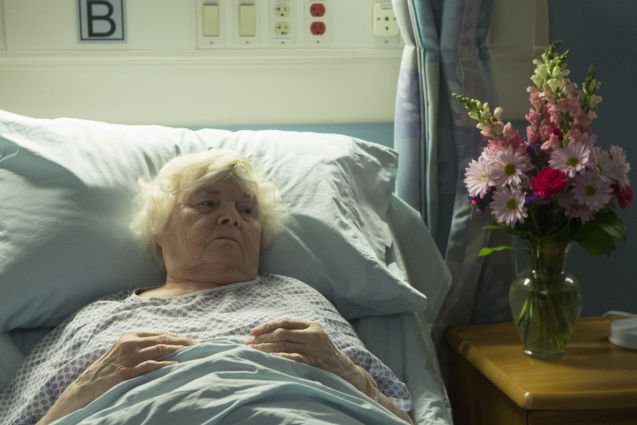 HBO
Last week, we delved into the theory that Girls was tackling the same themes as Spike Jonze's latest film Her — which we can now call Spike Jonze's Oscar winning film Her. This time around, the HBO series borrows a few elements from another Academy highlight, Nebraska: most obviously, the casting of June Squibb as Hannah's ailing grandmother Flo, the going-home-again story that frames the episode, and more subtly, in the soft touches of humanism that we don't often see in Girls, but which were plentiful in Alexander Payne's spectacular dramatic comedy.
If you didn't see Nebraska, you should (it's just as necessary as Her), but here's a brief recap: delusional octogenarian Woody Grant (Bruce Dern) believes himself to have won a million dollar sweepstakes and heads back to his home state of Nebraska to claim his prize money, stopping in his old neighborhood along the way with his put-upon son (Will Forte) and belligerent wife (Squibb) in tow.
It's not as deftly connected, thematically, to Hannah's exploits this week as Her was last time, but there are certainly similarities. Hannah heads back home, at her mother's behest, to say goodbye to her grandma in the hospital before she passes. We meet Hannah's aunts Margot — high-strung and hostile — and Sissy — frazzled and spacey — and her contentious med student cousin Rebecca (Sarah Steele), with whom Hannah attempts a friendly connection that turns into a bitter argument and eventually a minor car accident.
But the seasonal throughline is Hannah and Adam's relationship, which is brought to the forefront when Mrs. Horvath asks Hannah to tell her dying grandma that she and her bozo boyfriend are getting married. Hannah resists on the grounds of progressivism at first, but her mother's request Hannah with an abrupt realization of her own desires to maintain a life with Adam — a desire she defends when Mrs. Horvath suggests to Hannah that she might want to consider "other options."
After Hannah and her cousin incur a fender bender — the result of an in-car argument about preadolescent masturbation — Adam rushes into down via the good graces of Desi's motorcycle to make sure that she's okay. Hannah's mother notes appreciation for his kindness, but dubs him "such an odd man," as well as "angry" and "uncomfortable in his own skin." It's actually a very ominous scene, building upon last week's subtle hint that Hannah and Adam will, soon enough, grow apart… but this time around, it's Hannah outgrowing Adam that is suggested. But she won't hear any of it — she's committed to him.
Even Hannah's protests seem sad, implying that she's adhering to this man not out of genuine love but perhaps out of something a bit darker, like fear. The idea that Hannah is masking inner turmoil is noted in her grandma's final scene, when Flo curtly but caringly says, "You don't look good." Hannah responds with a sullen hesitation, a quick review of her own life and inner makeup, trying to take a glance from the kind of earnest perspective that only a grandmother can boast. She's not happy with who she is, but she's not ready or capable to come to grips with an honest look at herself just yet.
Still, it's perhaps the most tender episode of Girls we've seen in ages, hearkening back to the demeanor of Squibb's latest big screen foray. We've come to expect a cynicism from Lena Dunham's series, but we're pleased to see that it can still hit its marks just as effectively when playing it soft.