What Does the 'Girls' Season Premiere Set Up for Hannah, Marnie, Adam, and the Rest?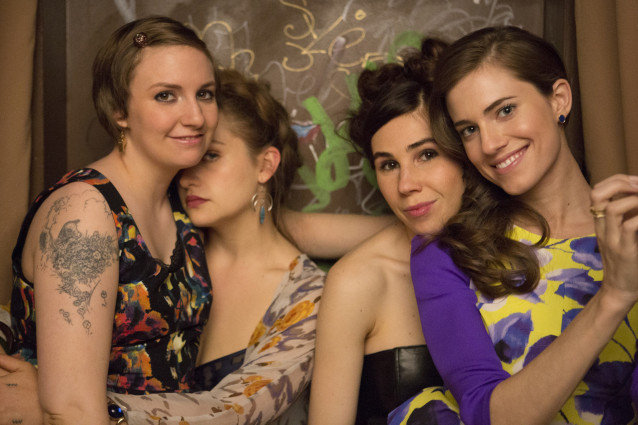 HBO
Let's start with Hannah
We open this season of Girls in the traditional way: on Hannah lying in bed, nestled in the comforting arms of her most cherished loved one and principle source of security — this time, that's Adam. The grid-evading oddball has moved back into Hannah's life, taking the wheel on her road toward self-betterment (as Hannah tells her therapist, a fumbling Bob Balaban, Adam is "making sure" she is eating healthy and taking her medication) and watching her embrace new productivity in the face of her editor's optimism. Hannah's Obsessive-Compulsive Disorder, as it none too shockingly turns out, is predicted to be a big sell by the maniacally pragmatic David (John Cameron Mitchell, who, far more shockingly, is 50 years old), who delights in the revelation of her ailment over a pair of edible chocolate cups. Romantically, professionally, and creatively, things are looking up for Hannah.
The one speedbump that Hannah does hit on this road trip to personal improvement comes when Adam's recent ex Natalia (Shiri Appleby), who you'll remember from perhaps the darkest and most disturbing cene on the series yet to date, confronts the pair in Ray's coffee shop with accusations of Adam being a selfish, heartless, and overall unreliable human being. Hannah manages to shake off the residual jolts from this particularly jarring conversation, but the viewer keeps them in mind. While Adam might have played the villain in his relationship with Natalia, we can see him enduring her fate — being left to grieve alone — as Hannah eventually ascends to whatever venture comes along with a more attractive path.
Which brings us to Adam
At this point, Adam seems to be the dominant voice of wisdom for each of our main characters this year — in the first two episodes alone, he chauffeurs Marnie through her breakup with Charlie, establishes the image of romantic ideality for the impressionable Shoshanna, and offers Jessa a helping hand in the kicking of her addiction. But the permanence that his arguably questionable bits of advice (we've got to remember that the source has exhibited his own tremendous character flaws, despite his broad-shouldered air of nobility) is yet to be witnessed. Adam probably isn't going to turn Jessa off drugs entirely, instill in Marnie a refurbished self-esteem, or drill into Shoshanna's head what it means to be in a healthy, adult relationship. And worst of all for Adam, he's probably not going to keep Hannah from succumbing to her own demons… and unleashing them upon him and everybody else.
Onto Marnie
Marnie, a victim of actor Christopher Abbott's suspended interest in his Girls character Charlie, is dealing with a sudden breakup, bled of her lasting self-efficacy by her venomous mother (Rita Wilson). Peaking visibly in the embodiment of defeat, Marnie breaks down at Hannah's dinner party over the very idea of Charlie, reciting the story of their split (they were planning to make frozen pizzas, and then… it was over) and wallowing in her ever loosening grasp on her sense of self.
It's not a particularly optimistic set-up for Marnie, both in-universe and out. We've seen her struggle with issues of loss and loneliness before, and things don't look to be "picking up" in any drastically different way. Yes, she's got a new apartment in Manhattan, but a pretty significant change is in order to keep our interest in the character's journey, however humane and relatable (albeit regularly contemptible) it may be. The first two episodes do very little to set her on any narrative path, so we're hoping that next week switches up the game in some fashion (be it a "happy" one or otherwise).
And now, Jessa
Stuck up in rehab in the boonies, Jessa is succeeding in alienating everyone around her. Playing the "bad guy" in her regular group therapy meetings, Jessa uses her wicked clever streak to diagnose and castigate her fellow patients, earning their scorn and her counselors' disapproval. While there is no doubt in any fan's mind that Jessa would behave as such in this kind of setting — nor that this behavior would result in a wealth of ill repute among the rehab inmates — what stands out as a bit too "stylized" is just how unique the rehabilitation establishment is making her out to be. Jessa' counselor condemns her as a rare case: someone who makes less and less sense the more you get to know her. But if the character is supposed to represent a sub-community of free spirit addicts who thrive on their own narcissism and obsessive detachment, then why is she being treated like such a one-of-a-kind figure? Surely, this is exactly what the Jessas of the world want to hear. To have a psychiatric professional utter these words seems damningly toxic for Girls' intention of breaking down its characters as products of an ill-fitting regime.
In the second episode of the season, Jessa — having been booted from rehab for inappropriate sexual advances on another patient, played by Orange Is the New Black's Taystee (Danielle Brooks) — awaits the arrival of Hannah, Shoshanna, and Adam (the only one of the lot old enough to rent a car). The road trip faces Adam's concerted belief system against Hannah's lack thereof, culminating in the reveal that Jessa is (despite Hannah's insistence) in lasting dire need of help. While she maintains her psychotic stoicism, Jessa does appear to have taken some pain away from her rehab experience. In some form, she believes she was helping Laura/Taystee, a closeted lesbian, achieve a new sense of honesty. Furthermore, the one friend she feels she had made at the establishment, a middle aged British addict, was only consumed by his sexual cravings for her. Although Jessa does not seem at all willing to accept Adam's (a fellow addict) offers for help, she is newly marred. And maybe that will institute some kind of new exploration for her.
Finally, Shoshanna
Her own experimental phase in high gear, Shoshanna is pretty much where we left her post-breakup with Ray. She's attending to her desires for adventure, primarily of a sexual nature, but is convincing herself that her studies will not go neglected… that proclamation coming shortly after we see her falling asleep at the library. But these hints, as well as Shoshanna's determination to graduate and escape the shackles of school life, suggest that Girls is setting up her professional future to be particularly nightmarish. The anxiety-ridden character is likely to achieve a new understanding of the cold hand of reality once her tenure at NYU comes to a rest, which means a new plateau of confusion and terror for the girl we once saw accidentally smoke crack and run around Bushwick without pants.
Ray was barely in these episodes
He called some girl a "feisty shiksa," and told Hannah that she was pathetic, but that's about it.
What did you think about the episodes? Sound off in the comments section!