The Promo For the 'Glee' Tribute to Cory Monteith Will Make You Cry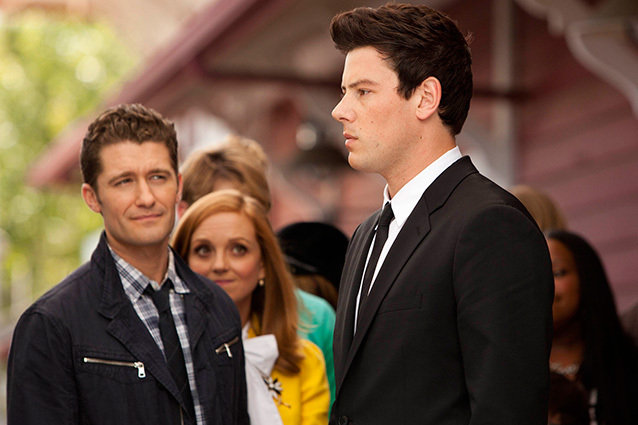 Adam Rose/FOX
Fans of Glee have been waiting to say their goodbyes to star Cory Monteith since his death in July, and next week they will get their chance, along with the rest of McKinley High. "The Quarterback" will serve as the show's tribute to Monteith and will show the characters grieving over the death of his character, Finn Hudson. You know, because watching Lea Michele's Teen Choice Award acceptance speech didn't make us cry hard enough. The first promo for the episode has been released, and it promises to make even the least-invested Glee fans shed a tear. 
The short preview cuts between members of the glee club putting together a shrine for Finn in front of his old locker and shots of Kurt and Rachel crying, scored to Michele's cover of Bob Dylan's "Make You Feel My Love". The song will reportedly close out the episode, and will also be the only time that Rachel appears during the hour — although, based on the preview, her performance will be heartbreaking, no matter how much screentime she has. According to showrunner Ryan Murphy, "The Quarterback" will not reveal the cause of Finn's death, and will open after his friends and family have already received the news. Several characters who left the show are set to come back for the episode, incuding Mercedes (Amber Riley), Puck (Mark Salling), Finn's mother Carole (Romy Rosemont), and his stepfather Burt (Mike O'Malley). 
Although many current and former Glee fans have had their reservations about the epsisode — after all, Murphy isn't particularly known for his tact — the episode promises to be a loving tribute to a close friend and beloved costar. Murphy revealed that the episode was incredibly difficult to film, and the cast and crew were overwhelmed at times: "Those performances that you'll see, almost everything in that episode is from the first take of every performance because the actors and the crew had a really hard time shooting it. I've never seen a crew that you can't continue shooting because they've left the room sobbing." 
"The Quarterback" will air on October 10, after which the show will take a hiatus for baseball playoffs, and the writers are planning to use the time off as an opportunity to figure out the best way to continue without one of its main characters. Watch the preview for the episode below. 
More: 
'Glee' Season Five Premiere Recap: How To Misuse The Beatles
Ranking the 'Dancing With The Stars' Cast In Order of Relevance
Demi Lovato to Romance Naya Rivera on 'Glee'
---
From Our Partners:


A Complete History Of Twerking (1993-2013) (Vh1)


20 Grisliest TV Deaths of 2012-2013 (Vulture)