'Glee' Returns: A Deep Dive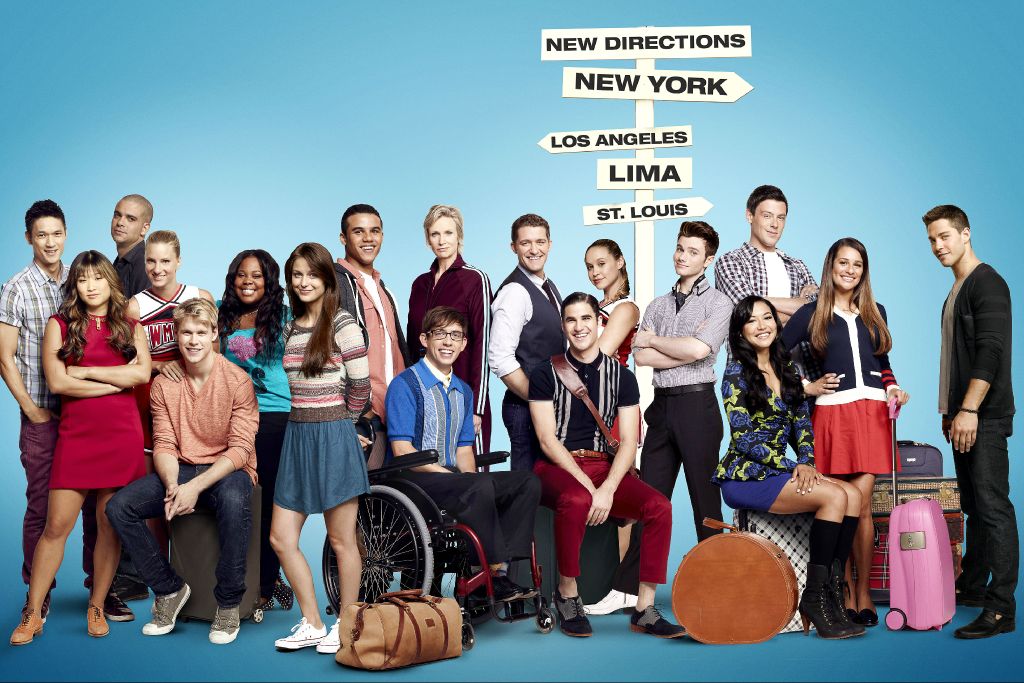 Over the next few months, we'll see new series soar, old series sour, and so much Jersey Shore madness, we'll want to shower. Let's face it: The Fall TV season is intimidating. With dozens of new and returning shows hitting our small screens, we know we have some big choices to make. So, to help you determine what to watch, we're digging deep into the most notable series premiering this season. Where did each show leave off? Where is it headed? And who should you watch it with? Today, we're checking out the return of Glee, which has all the mystery of a giant sparkling question mark. Where will Ryan Murphy's darling go now that its beloved singers are scattered all over the country?
Series Name: Glee
Premiere Date: Thursday, Sept. 13 at 9:00 PM ET
Number of Seasons: Three down, heading into the fourth.
You'll Like It If: You've never seen Glee before and love show choirs (hello, one person in the entire United States) or you've continued to watch Glee despite being disappointed are you still hold out hope that the series will redeem itself. (Hi, my name is Kelsea and I have a hard time accepting that Glee is not going to return to its glory days. Hi, Kelsea.)
You won't like it if: You get uncomfortable when characters break out into song and even more uncomfortable when they tell you why they're about to break out into song.
Best Piece of Merchandise: In case the pillows, iPhone covers, clothing lines, buttons, nail polish, etc. aren't enough, there's an Archie Comic/Glee crossover coming. No word on whether Rachel is the Betty or the Veronica.
Best government-funded school common area: That quad. I mean. There are no words. What high school has a full set of steps to nowhere opening up to the general lunching area for the entire student body, practically begging for 12-14 talented teenagers to dance and sing all over them? Seriously. I need to know. That high school sounds awesome.
Cast: Everyone who isn't tied up over at The New Normal and American Horror Story. Ryan Murphy attracts big names like bowties attract Blaine Anderson. And if you've been living under a rock, here's an exhaustive (and I mean, man am I tired from memorizing all these names) list of the friendly faces of McKinley High and beyond: Lea Michele, Cory Monteith, Naya Rivera, Jane Lynch, Jenna Ushkowitz, Darren Criss, Kevin McHale, Chris Colfer, Heather Morris, Chord Overstreet, Amber Riley, Harry Shum Jr., Mark Salling, and (just accept it) Matthew Morrison. And those are only the returning cast members. The five newbies include romantic comedy heroine extraordinaire Kate Hudson and youngsters Dean Geyer, Melissa Benoist, and Jacob Artist and Becca Tobin as mini-Puck and mini-Quinn. See, don't you need a little cat nap now?
Synopsis: Set partially in Lima, Ohio and partially in New York City (and probably partially in a few other places), Glee is about a growing roster of characters trying desperately to take part in relevant storylines without being overshadowed by Sue Sylvester and Blaine. This is nearly impossible. Also, everyone can sing. Even Jayma Mays.
Where we left off last season: Rachel and Finn graduated, and he joined the army, White Fanged her (as in "go on, git," not whatever you perverts were thinking), and sent her off to New York, where she promptly behaved like Barbra Streisand in the fictional '60s movie Rachel created in a dream. Kurt is also preparing to go to New York. This makes his papa cry and Kurt and Blaine decide they will end up like the couple from The Notebook, minus the dementia. Mike is headed to a Chicago Dance school, Santana is also (probably) headed to New York, Brittany flunked and is going to be a Super Senior, Quinn is off to Yale, and Mercedes is hoofing it to Los Angeles to be a star. Schue is no longer trying to move his wedding so the glee club will be there. Sue is still pregnant with a real baby and NeNe Leakes is trying to take over the school (but she's on The New Normal now so that'll probably work itself out). There's probably more, but my brain is sparking and sputtering, so I'm going to give it a rest.
Character to avoid modeling your own wardrobe off of: Will Schuester (sweater vests affect 3 out of four History teachers every year*), Kurt Hummel (sorry, my friend, you are fabulous, but you don't look it), and (duh) Rachel Berry's school girl chic.
*Statistics are not based on any real calculation, but rather a fuzzy memory of all my past History teachers.
Required reading: Stephen Sondheim's Wikipedia page. The references are rampant and now that they're in New York… oh boy.
Relevant YouTube clip: Lord Tubbington's Household Chores How-To (because any excuse for a cat video is welcome).
Don't do this while watching: Hold anything sharp. As much as we keep coming back to this show, hoping it will wash away its past sins, there have been at least a handful of actual facepalm moments in each episode, so that would be bad. Think about it.
Who to watch it with: Someone who isn't going to insist that you sing along with every musical number. There are way too many per episode for that nonsense. Also, someone who isn't easily shocked by dramatic and comedic ploys (think, "Oh my GOSH. Did Sue really say that really mean thing?! No. Way.") There are also far too many of these per episode.
Suggested viewing party refreshments: Carrot sticks (there are some seriously skinny ladies prancing around on screen and you totally skipped the gym to watch this show, so you'd better make up for it somehow. Plus, it will really help offset the calories in all that red wine).
Emmy Wins: Best Comedy Series (2010), Outstanding Guest Actor in a Comedy Series (Neil Patrick Harris, 2010), Outstanding Guest Actress in a Comedy Series (Gwyneth Paltrow, 2010), Outstanding Supporting Actress in a Comedy Series (Jane Lynch, 2010)
Ratings last season: Season low was 6.01 million, Season high was 9.21 million
Follow Kelsea on Twitter @KelseaStahler
[Photo Credit: Fox]
More: