'Glee' Season 4 Finale: 5 Things We Need To See in 'All or Nothing'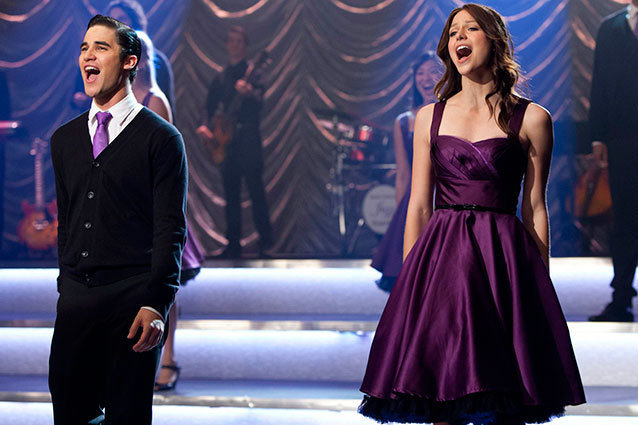 Well dear Gleeks, the day has finally arrived. After 21 episodes of shimmies, shakes, highs and lows, Glee airs its final episode of Season 4 tonight and they have a lot of explaining to do. Before we can say goodbye to our musically talented characters, we've compilled a list of five things that we absolutely need to see in tonight's episode, "All or Nothing," or else we're going to go all Lima Heights Adjacent on the first person we see. (Our apologies, random victim, but Glee is very serious business.) Take a look at all of the storylines that we absolutely most definitely need answers to and then treat yourself to a sneak peek of tonight's songs.
1. The True Identity of "Katie": This storyline been going on far too long, and it's time to finally get the answer we've been (im)patiently waiting for. Of course, since this is Glee, there will be one last cover up before the real truth is revealed and this girl will take the fall to protect the real catfisher from Ryder's wrath. Is it Kitty? Marley? Unique? Tina? We know but we're not telling…
2. A Kickass Regionals Routine: Glee has been taking its sweet time with random episodes — ahem, "Shooting Star" we're looking at you — before taking us to Regionals, so they had better reward us with a jaw-dropping routine. Also we don't want any of this "And the winner is…." cliffhanger nonsense. Just tell us that the New Directions have won so that this year is not a complete and total waste.
3. Rachel Berry Is Fanny Brice: We all know it: This is the role Rachel was born to play. She lives, breathes, and sleeps Barbra Streisand so if she is not rewarded with this Broadway role in tonight's episode we're going to stomp on our reindeer sweaters and the drink lots of water because we'll be sad. (Any true Glee fan should totally get that last reference. Did you?)
4. Relationship Status Update: Earlier this season our three beloved power couples (Finchel, Klaine, and Brittana) were ripped apart. Although we've had a few heartwarming interactions and stolen kisses here and there, we're ready for some answers. We need to hear some kind of a reference to Finn even though we know he'll be completely MIA from the episode. We need to know if Blaine is going to propose to Kurt, and fingers crossed it will all work out beautifully. And we need to know that Brittany and Santana will end on good terms before one of them departs for the next chapter in her life.
5. The Truth About "Shooting Star": Even though we're not happy with how Glee handled the school shooting — or should we say the two shots that accidentally went off in school — we still want to see that Sue gets the redemption she deserves. We want to see that Becky gets the help she clearly so desperately needs. We also want to finally learn the identity of Sue's baby daddy, but Jane Lynch already promised that we will.
Want more Glee? Of course you do! Take a listen to all the songs from "All or Nothing" and get ready for an action-packed episode that is hopefully filled with oodles of answers.
"To Love You More" — Rachel (Celine Dion)
"I Love It" — New Directions (Icona Pop)
"Clarity" — Hoosier Daddies (Zedd)
"Wings" — Hoodier Daddies (Little Mix)
"Hall of Fame" — New Directions (The Script Feat. will.i.am)
"All or Nothing" —Marley & Blaine
What are you most excited to see in "All or Nothing"? Which Glee song do you think will be your favorite? How many cliffhangers do you think we'll be left with? Sing your thoughts in the comments below!
Follow Leanne on Twitter @LeanneAguilera
MORE:
Pucker(man) Up! We Charted All Of The 'Glee' Kisses — Exclusive Infographic
We Picked The Top 10 'Glee' Songs of Season 4
20 'Glee' Storylines You Probably Forgot About
---
From Our Partners:


Watch Justin Bieber Attacked in Dubai (Celebuzz)


33 Child Stars: Where Are They Now? (Celebuzz)