Government Shutdown Viewing: 6 Political Shows To Watch Until The Government Returns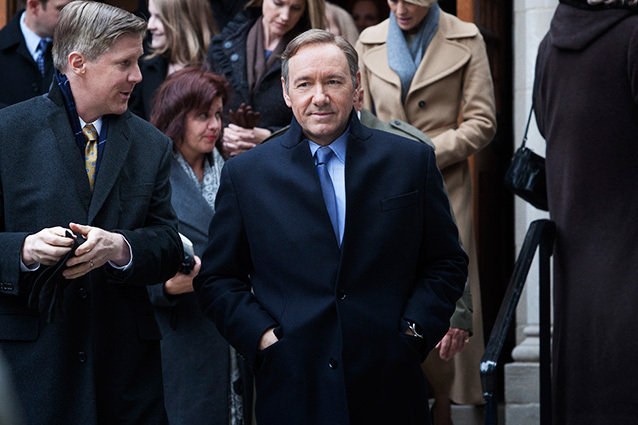 Melinda Sue Gordon/Netflix
Right now is a tough time to be a political junkie. You can't just flip on CSPAN for your fix of bickering congressmen and long senate hearings. Thanks to the government shutdown, all the bickering is now taking place far away from the halls of power.
We feel your pain, and so we've compiled this list of TV shows for you to binge watch while you wait for the government to come back in session. Aside from HBO's Veep, all of these shows can be found easily on Netflix streaming.
Despite the fact most of these shows are highly unrealistic and overly dramatic, you can take comfort that the governments presented still somehow manage to be more functional than our actual government at the moment.
The West Wing
The ultimate drama for the political junkie, this Aaron Sorkin classic imagined Martin Sheen as the fictional (and eloquent) President Bartlett. Taking viewers inside the White House and behind the halls of power, it featured razor-sharp writing and fantastic performances.
House of Cards
The Netflix original series features Kevin Spacey as a highly corrupt senator on a mission to make his political rivals pay. While at times the show strained credulity, its over-the-top political maneuvering makes it a must watch for anyone looking to feel a little bit better about our government in comparison.
Veep
Julia Louis-Dreyfus just won the Emmy for a reason, and here she plays a hilarious Vice President who is barely able to get out of her own way. Things in Washington right now are grim, so it might be time to flip on an episode of Veep and watch Selina Myers walk through a glass door.
Parks and Recreation
If you want your politics less cynical and more sunny side up, then look no further than the great Leslie Knope on NBC's Parks and Recreations. The politics might be small town, but the laughs are always big.
Political Animals
What would life be like if Hillary Clinton made a run for office? This is what the miniseries Political Animals asks, as Sigourney Weaver plays a pretty obvious Hillary stand-in. The series is more soapy than serious political potboiler, but it features a strong turn by Weaver as the former first lady dreaming of one day becoming the Commander in Chief.
Scandal
If soap is what you want, why not go all out with Shonda Rhimes' soapy, over-the-top drama about a political fixer. Olivia Pope and her team are the ultimate PR dream team, except for the fact that Pope is totally having an affair with the President. With a title like Scandal, you know what you're getting yourself into, yet the fast-moving drama is also fantastically addictive.
Until D.C. and the national parks reopen, why not cuddle up with these political TV shows instead? The government might be closed but the drama, backstabbing, and scandal you're jonesing for is always open in these television classics.
What do you think? What are some of your favorite political shows? Sound off in the comments!
More:
Upcoming Movies That Wouldn't Be Possible In A Government Shutdown
Celebs Take Government Shutdown To Twitter
Google Doodle Celebrates Yosemite As It Closes
---
From Our Partners:


40 Most Revealing See- Through Red Carpet Looks (Vh1)


15 Stars Share Secrets of their Sex Lives (Celebuzz)