Grammys Burning Questions: Did Chris Brown Remain Seated when Frank Ocean Won? Is Taylor Swift Jigsaw?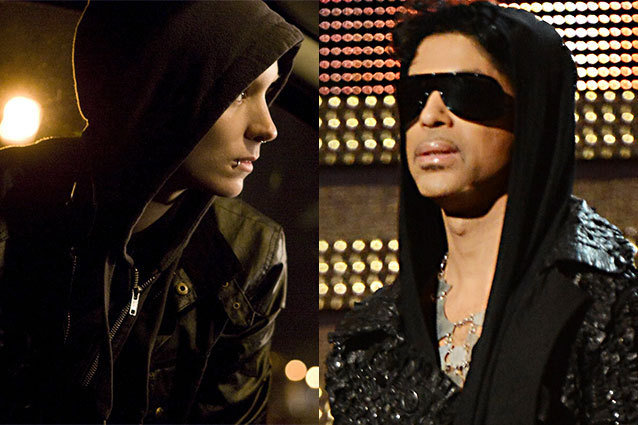 The golden gramophone trophies have been carried away by the lucky winners. The rented jewelry has been returned. Industrial Light & Magic has repossessed Carrie Underwood's light-up dress. CBS has confined the idea of a telecast dress code to the dustbin of broadcast history. And entertainment journalists now have to wait two full weeks until the Oscars before they have a legitimate reason to write the term "sideboob." But, like our anger over seeing Rihanna cuddle up to Chris Brown, many questions about the 2013 Grammy Awards remain. We consider it a public service to answer 12 of the biggest for you.
1. What's the difference between Prince and Lisbeth Salander?
Seven Grammys and one cane.
RELATED: Rating the Grammy Performances from Best to LL Cool J
2. Okay, in all seriousness now, what's the difference between Record of the Year, Album of the Year, and Song of the Year?
This is a perpetual Burning Question when it comes to the Grammys because it's just so confusing! Record of the Year honors the best individual recorded track to debut during the eligibility period (in this case, October 2011 through October 2012). That's an award that recognizes the production behind a song. So if a song wins Record of the Year, Grammy trophies will be handed out to the artist who recorded it, as well as the producer, mastering engineer, and mixer who helped create its sound. Song of the Year, on the other hand, recognizes songwriting and is awarded to whomever wrote the ditty—which often has not been the person who performed it. However, at this Grammys the writers of the 2013 Song of the Year, "We Are Young," were exactly the same as those who performed it: the band fun. Grammy rewarded "We Are Young" for its structure and lyrics, while Gotye & Kimbra's "Somebody That I Used To Know" got feted for its unique sonic production as Record of the Year. Album of the Year is easy. That's the best LP-length collection of tracks that's not a compilation of already-released songs. This time Album of the Year went to Mumford & Sons' Babel. Make Sense?
RELATED: Why Can't We Admit Frank Ocean's Performance Was Bad?
3. How many American Idol winners have won Grammys?
Four of the eleven American Idol winners to date have taken home Grammy trophies. Of course, there's Kelly Clarkson, who last night snagged Best Female Pop Vocal Performance for "(What Doesn't Kill You Makes You) Stronger," her third Grammy to date. And Grammy magnet Carrie Underwood has won six. Fantasia picked up one in 2011 for her song "Bittersweet." But best of all? Gray-haired trivia-night answer Taylor Hicks netted his first ever Grammy yesterday for, get this, Best Comedy Album. The Season 5 winner appeared on one of the tracks of Jimmy Fallon's Blow Your Pants Off, and made enough of a showing to qualify for a trophy himself.
4. Was alcohol allowed inside the Staples Center during the ceremony?
Judging by the behavior of some of the attendees, you'd probably think the answer is "yes." I mean, why else would Taylor Swift sing along to EVERY SINGLE PERFORMANCE. But, actually, alcohol was strictly prohibited.
RELATED: Taylor Swift Tries Something New at the Grammys—Cool or Embarassing?
5. Did Chris Brown stay seated when Frank Ocean won his award?
See for yourself. He's in the white suit looking all like Rene Belloq. This guy really knows how to make friends and influence people, huh?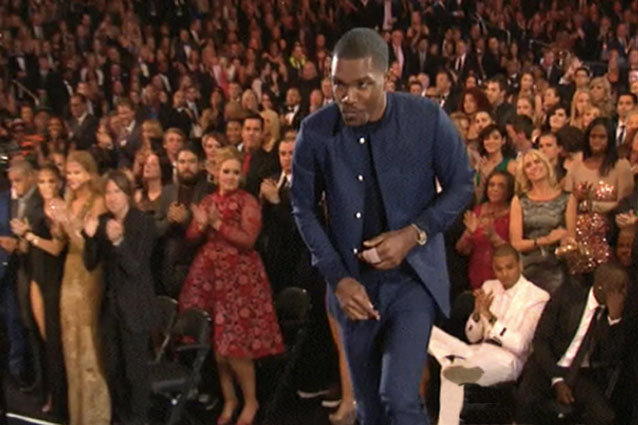 6. Who was the Black Keys keyboardist with the headdress?
That would be Dr. John, the 62-year-old New Orleans funk legend and recent Rock & Roll Hall of Fame inductee. He released a new album in 2012 called Locked Down which was produced by Dan Auerbach of the Black Keys, who also contributed guitar and backing vocals. Hence his appearance with the Keys at the show.
NEXT: What did Marcus Mumford say when he was bleeped? Who was that guy wearing the astronaut suit? And have the Grammys now become the longest awards show?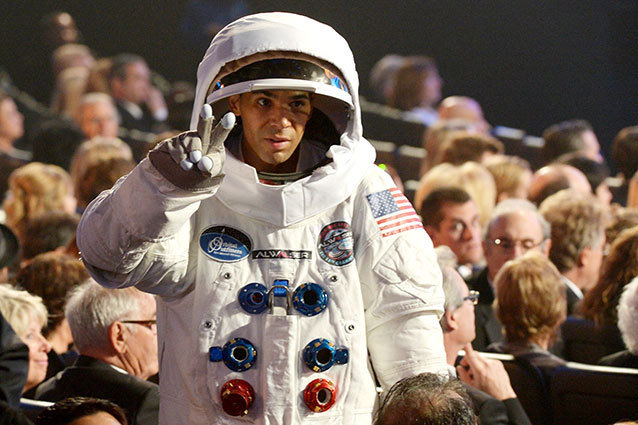 7. Who was the guy wearing the astronaut suit?

Here's a rule: if any Grammy attendee is wearing weird face-obscuring headgear, that person is either Lady Gaga or a European/Canadian electronica artist. In this case it's the latter. DeadMau5 wears his giant rodent chapeau. Daft Punk wear their Tron-style lightcycle helmets. And Swiss dance music artist Al Walser wears an astronaut's spacesuit. Never heard of Walser? You can be forgiven. He was nominated for his first Grammy at this year's ceremony in the Best Dance Recording category for "I Can't Live Without You."

RELATED: Kim Kashkashian Wins a Grammy?!

8. Why did Bruno Mars and Sting sing their own songs during the Bob Marley tribute?

Even I, a fan of the tribute to the late reggae icon, have to admit that its concept was about as hazy as the air at one of Marley's ganja-fueled concerts. But I guess the idea was this: Both Mars and Sting have been heavily influenced by Marley, so they sang two of their own songs—"Locked Out of Heaven" and "Walking on the Moon" respectively—that featured a cool Jamaican vibe. Sadly, that left time for only one actual Bob Marley song, the slithering guitar jam "Could You Be Loved," on which the Rastafarian maestro's sons Ziggy and Damian lent an assist.

Perhaps the biggest unanswered Burning Question of all is "How can we take the Grammys seriously when Bob Marley never actually won one?"

RELATED: J.Lo's Plunging Dress and More of the Most Controversial Grammy Moments Ever

9. What did Marcus Mumford say when he was bleeped during his acceptance speech?

Dude just won a Grammy, but he had to itch a previous grievance. He thanked the Recording Academy for the award, unlike last year when "Adele f***ing won everything."

10. When will "Pusher Love Girl," the new song that Justin Timberlake performed, be available on iTunes?

As of right now, there appears to be no indication that "Pusher Love Girl" will be released as a standalone single ahead of its inclusion on Timberlake's new album The 20/20 Experience. Currently, the only songs available for purchase off the LP are "Suit & Tie" and the eight-minute opus "Mirrors."

11. Are the Grammys the longest awards show of the year?

At this point, yes. No other awards show pencils in a full three-and-a-half hours of coverage as the default running time of the ceremony. Yes, the Oscars are always criticized for their length. But they only reserve three hours of broadcast time and, of late, have only been going over by about 15 minutes. (Long gone are the days for four-hour-plus ceremonies). The Globes and Emmys usually keep it to about a solid three hours. Blame a telecast larded with performances for the Grammys bloated length. Really, they could have ended at 11:15 ET last night, but they just had to let LL Cool J relive his 1990 glory days.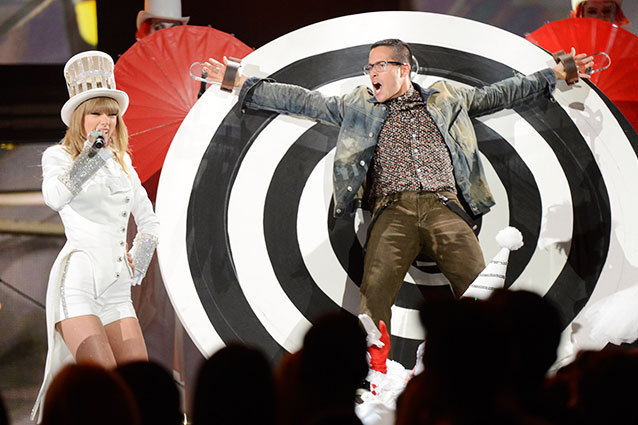 12. Is Taylor Swift really Jigsaw from the Saw movies?

Apparently so. Her anti-ex-boyfriend vengeance has been teetering on the edge of torture-porn extremity for awhile now, but it ventured into full Eli Roth bondage fantasy territory when she had a nerdy guy tied up on a torture wheel to await some kind of grisly fate. At this point I think most straight guys could be forgiven for replying to Swift's "We Are Never Ever Getting Back Together" with "Is that a promise?"

What else left you scratching your head about the ceremony?

Follow Christian Blauvelt on Twitter@Ctblauvelt

[Photo Credit: Columbia Pictures; Jeff Kravitz/FilmMagic/Getty Images; CBS; Joe Klamer/Getty Images; Kevin Mazur/WireImage
---
From Our Partners:

40 Hottest Celeb Twitpics of the Month (Vh1)

'Sports Illustrated' Swimsuit Issue: A Visual History (Celebuzz)