Where's the Fun in the Emmys? Check the Guest Actor Categories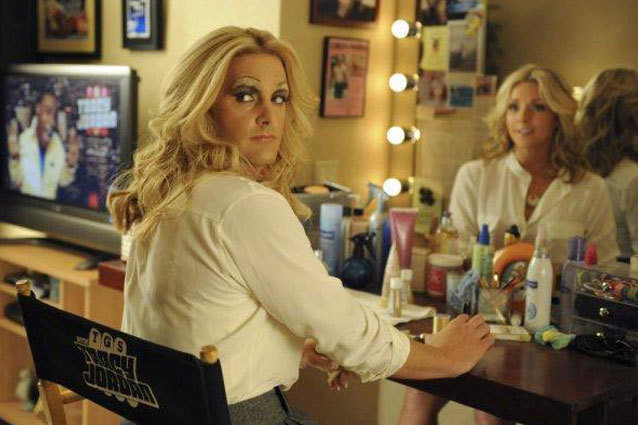 The Emmys aren't usually praised for their adventurousness. Traditionally, the Academy of Television Arts and Sciences will pick a few darlings (remember the Frasier years?) and nominate the hell out of them until they're off the air. This leaves little room to acknowledge the new, the fringe, or the emerging talent. 
If the marquee category nominations are putting you to sleep, keep scrolling to get down to the fun stuff. The Guest Actor and Guest Actress categories inject a little life into the proceedings and remind us of some of the most campy, dramatic, hilarious, and yes — excellent — performances of the year. 
In this year's Guest Actor in a Drama Category, the field includes two beloved stars who chewed scenery on The Good Wife (Nathan Lane and Michael J. Fox); Mad Men's stalwart senior partner Bert Cooper (Robert Morse) and new player Jim Cutler (Harry Hamlin); British dreamboat Rupert Friend as a CIA black-ops agent on Homeland; and as James Novak, the suspicious journalist threatening all the wheelers and dealers on Scandal, Dan Bucatinsky. For Guest Actress in a Drama, we have the formidable Margo Martindale on otherwise unrecognized spy drama The Americans; Dame Diana Rigg as the best mother-in-law in Westeros on Game of Thrones;  another nod to The Good Wife, this time for Carrie Preston; Linda Cardellini as Don's mistress of the moment on Mad Men; Jane Fonda as the owner presiding over The Newsroom; and the ever-enjoyable Joan Cusack for Shameless.
In Comedy, the Guest Actor Category includes two standout Saturday Night Live hosts (Louis C.K. and Justin Timberlake); a living legend (Bob Newhart on The Big Bang Theory);  more Nathan Lane, this time for Modern Family; Boardwalk Empire star Bobby Cannavale for his work on Nurse Jackie; and Will Forte for playing Jenna Maroney's boyfriend and impersonator on 30 Rock. Finally, Guest Actress in a Comedy shouts out Molly Shannon, sincere and hilarious on Enlightened; Dot-Marie Jones (Coach Beiste on Glee); Oscar winner Melissa Leo for an unforgettable appearance on Louie; Jack's guilt-tripping mother on 30 Rock (Broadway instituion Elaine Strich); and SNL hosts Melissa McCarthy (her second time out) and Kristen Wiig (her first since leaving the cast.)
Unfortunately, these awards aren't afforded a spot on the main broadcast, but are included in the untelevised Creative Arts Emmys. So, congratulations to Dan Bucatinsky, Carrie Preston, Bob Newhart, and Melissa Leo for besting their fellow nominees in that ceremony, which took place on Sunday, Sep. 15. We'll look forward to seeing tiny fractions of your acceptance speeches on the big show this coming Sunday.
More:
AMC Makes 'Mad Men' Viewers Wait Longer for Series Finale
The 'Breaking Bad' Spin-offs We Want to See
Fox Premieres New Comedy Line-up
---
From Our Partners:


40 Most Revealing See-Through Red Carpet Looks (Vh1)


15 Stars Share Secrets of their Sex Lives (Celebuzz)