H. Jon Benjamin Helps Us Find 5 Reasons to Watch Tonight's 'Archer' Season Premiere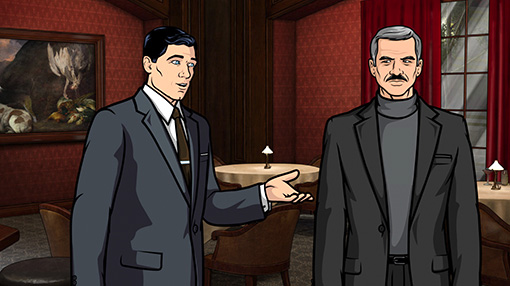 Tonight, Archer returns to FX at 10 p.m. In honor of its third season – and as a helpful little reminder – we're counting down the top five reasons to tune in with the help of the voice of Sterling Archer, comedian H. Jon Benjamin.
5. Archer's voice is "like a snowflake."
We had the chance to chat with Benjamin and he talked a bit about what it is that makes his voice so distinct. He didn't really have much of an answer, but he did leave us with this: "Every voice is different. Like a snowflake." Well, I guess it doesn't matter where that timbre comes from as long as it continues to take us into the…DAAAANGER ZOOONE.
4. This season, Archer goes to space.
In addition to spouting his wisdom about the beauty of the human voice, Benjamin shared a little niblet about the prospects for Archer's third season. The go to space! But don't get too bent out of shape – they aren't changing the fabric of the show: "They get to go to space, but I think that was part of the mission, so it's not like he was just like I'm going to go to space and take off."
3. "It's a relatively educational show."
Archer is known for its highbrow references to Herman Melville stories or miniscule details from The Lord of the Rings books, so much so that Benjamin often has to look up the references when he first receives the scripts. And this season, the series takes on literally one of my favorite misuses of the English language. Watching Archer might actually make you smarter. It might also teach you some disgusting vocabulary, but it balances the book smarts nicely.
4. H. Jon Benjamin abuses his vocal chords in order to create a season of Archer
If you've seen even 60 seconds of Archer, you know Sterling does lots of yelling. "It's not like I'm at war, but it's hard on the throat," said Benjamin. But Sterling's penchant for rash behavior and losing his temper are part of why his world is such a hilarious, screwed up mess, so Benjamin will just have to deal. Archer's a secret agent with no control. No, we mean it. Zero control.
5. Burt Reynolds. I'll say that again: BURT REYNOLDS.
We showed you the photos. You know it's coming. Burt Reynolds will shows up on the third season of the raunchy FX series. We can't say why Reynolds is hanging around, just that he is…around, and that it throws Sterling for a loop. But why, how? Since when does Burt Reynolds do cable TV shows? Benjamin has the answer – sort of. "I think it was the natural—well, not the natural progression, but Archer's obviously referenced Burt Reynolds a lot, so I'm sure it popped into Adam Reed's head to just to try and cast him. It's funny that I shouldn't be calling like these people and you must think like they'll never do it and then they're probably like, 'Of course, I'll do it.'"
So, there you have it: five pretty solid reasons for tuning in tonight. And those reasons came from the closest thing to real Archer as we can get – though Benjamin admits he can't quite wear a black turtleneck with the same flair as the super spy.
Season Three of Archer airs on Thursdays at 10 p.m. on FX.