'Happy Endings' Moving to USA Network Actually Makes A Lot of Sense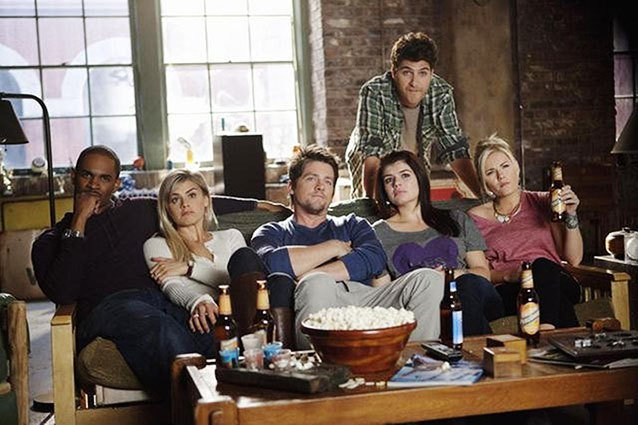 The future looks not suh kewt for Happy Endings — at least on ABC. The show's move to Friday nights did little to help the comedy that could's ratings, and neither did ABC's "Save Happy Endings!" ad campaign. But a new report says that another network could rescue the cult favorite a la TBS's Cougar Town experiment (the cable network snatched up the show after ABC passed on Season 4, and has subsequently renewed it for a fifth season).
According to Deadline, the studio behind Happy Endings, Sony TV, has been "quietly" reaching out to other networks, including NBC and USA, about possibly pulling a Cougar Town and extending the show elsewhere.
RELATED: 'Happy Endings' Ushers In the New TGIF
For what it's worth, star Adam Pally tells Hollywood.com he hasn't heard anything of a move to another network, but he's open to any solution that would keep the band together. "I'd be stoked to do the show anywhere or for anyone because it really is the best place to work and with the best people," he says.
When asked about a possible network swap, creator David Caspe tells Hollywood.com, "You know, that's all sort of stuff that's out of my paygrade. I want to keep making the show so we've just got to keep focused on it and keep making it and let the chips fall where they will."
But even if this is all speculative, as a USA rep tells us (there's not even anything to give a "no comment" on, really), it makes a lot more sense than most online rumors. Although the network is known for its hourlong "blue sky" dramas, Deadlinereports that it's "been looking to break into the half-hour original series space." An established entity could be a great, lower-risk way to try out the format, especially pairing HE with repeats of Modern Family, which USA will begin airing in the fall.
RELATED: 'Happy Endings' Scoop: There's a Third Kerkovich Sister!
Plus, even USA's dramas are pretty funny — and pop-culture savvy. The number of movie quotes and references on the network's legal show Suits alone could rival an episode of Community. The banter between its mismatched leads — not to mention the con man/cop pairing on White Collar or the non-psychic detectives on Psych — is reminiscent of the crazy chemistry between all six leads on Happy Endings.
USA's motto is "Characters Welcome," and the quirky Happy Endings gang are a bunch of characters, if nothing else. Sounds like an ahmazing fit!
Additional reporting by Leanne Aguilera.
Follow @hijean on Twitter 
[Photo Credit: ABC]
---
From Our Partners


See 'Game of Thrones' as 'Mad Men' (Vulture)


Hayden Panetierre Bikinis in Miami (Celebuzz)