'Happy Endings' Preview: 5 Things To Expect From Tonight's Perfect Episode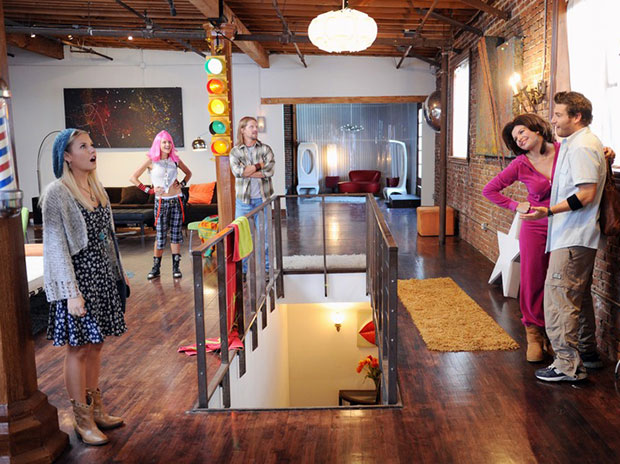 This is the story of seven six strangers picked to live in a house, and have their lives taped. To find out what happens when people stop being polite and start being amahzing. The Real World: Happy Endings!
Start hyperventilating with excitement you guys because tonight's all-new Thanksgiving episode of Happy Endings is giving us something we've been craving for three seasons: how the gang all met! And believe us when we say it's more awesome than we could've ever dreamed of. Back in September we caught up with the cast on set and they spilled all the glorious details on what makes this episode so perfect. To help get you a excited as we are (a nearly impossible task), we've compiled a list of the top 5 things you need to know about "More like Stanksgiving."
1. The Real World: Sacramento! Fun-fact: Did you know that there was a season of The Real World set in Sacramento that never aired? Oh yes and it had all the classic characters: the seemingly normal one, the skanky girl, the hot guy, the shy/borderline psychotic girl, the obnoxious one, the wannabe with the faux-hawk, and the douche with dreads. Wait, hold up? We recognize those last two! It turns out Max (Adam Pally) and Brad (Damon Wayans Jr.) were roomies on the on the once beloved MTV reality show and the gang all met when Max invited his friends over for some drinks and a little hot tub sesh. Classic. 
2. Secrets and Sandwiches: Max is beyond excited to share this long-lost footage with his friends for one very important reason: He came out of his very obvious closet onscreen! Pally explained, "Max believes that he was the first openly gay character on television—even though there were several seasons of The Real World that proceeded him with gay characters." Pshh, small details. But when the time finally comes for Max to reveal to a roomie (and the world) that he is gay, his love for food—more specifically sandwiches—gets in the way.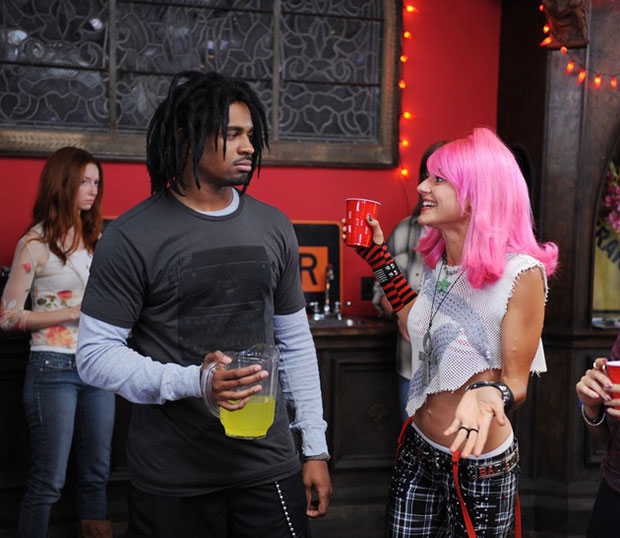 3. Kisses on the Nose: We've heard glorious bits and pieces about Max and Penny's (Casey Wilson) past relationship, but this episode shows us exactly what it was like for our favorite duo during their Real World romance. In the confessional Max tries to explains their amazing sex life: "We are like two rabbits just doing it all the time. There's so much sex and it's all hetero!" Awkward. Penny—while rockin' the 'Rachel' haircut and Uggs—has absolutely no idea that her beau likes boys. Wilson laughs, "It's just so sad to watch."
4. First Impressions: We all know that Brad and Jane (Eliza Coupe) are perfect together. Their shared love of stanky cheeses, organic farmers markets and month-of-the-month subscriptions are just a few of the millions of reasons that they belong together. But what if we told you that a Gwen Stefani-esque Jane and a Counting Crows-channeling Brad almost never got together? It's nearly earth-shattering: we know! Luckily, there is always a magical cure to the most annoying of situations. Coupe teases, "Jane gets drunk." "And that's kind of how we start," Wayans chimed in. And this is exactly why God made tequila…
5. 1/16th of a Thanksgiving: Dave (Zach Knighton) and Alex (Elisha Cuthbert) decide to channel their inner Brad and Jane and host the Thanksgiving festivities at their new place. Cuthbert reveals, "[Dave's] stuff hasn't been moved in and obviously I live on the streets and don't have anything, so our furniture is really funny." (Spoiler: There may or may not be a kinky swing involved!) While the gang is reliving their unaired 15 minutes of fame, Dave—back on his 1/16th Native American kick—sets out on a journey that his distant Navajo ancestors would definitely be proud of. (Or maybe they would just laugh at him, because that's what we did…)
You can catch tonight's all new episode of Happy Endings tonight at 8 PM on ABC.
Are you excited to see the long-lost season of The Real World? Intrigued to learn what Brad's first impression of Jane was? Shout out your thoughts in the comments below!
Follow Leanne on Twitter @LeanneAguilera
[Photo Credit: ABC]
MORE:
'Happy Endings' Recap: Sabado Free-Gante
Exclusive: The Cast of 'Happy Endings' Dish Season 3 Shenanigans—VIDEO
First Look: The Best 'Happy Endings' One-Liners and Abrevs—VIDEO

American Music Awards 2012: The Complete Red Carpet Arrivals (PHOTOS)
(Celebuzz)

Justin Bieber, Selena Gomez Seen Together at American Music Awards After-Party
(Celebuzz)