Would Harry Connick Jr. Be a Good 'American Idol' Judge? The Top 4 Weigh In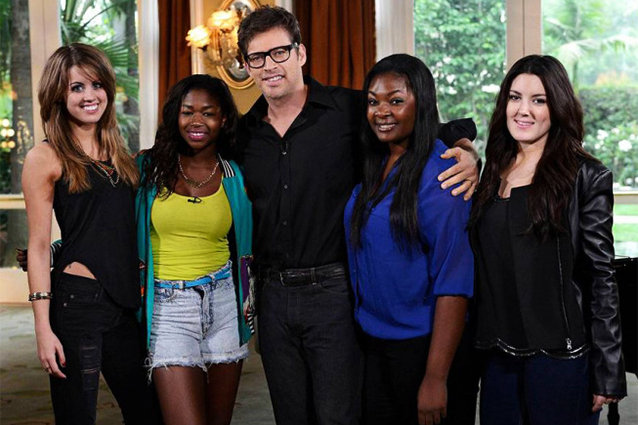 American Idol Season 12 got its very first mentor just three weeks before the big finale, during the second go 'round at Top 4 week. Harry Connick Jr. joined the last ladies standing to advise them on this week's two themes: standards (a natural mentor choice) and Billboard Top 100 hits from 2013 (a slightly puzzling one). Not only did Connick manage to give the contestants their most helpful advice yet, he also had no problem laying down the truth, even if it could hurt their feelings.
Basically, he's prime judge material, having also advised singers during Season 9. And with at least one spot on the panel sure to open up by the summer, Hollywood.com asked the remaining Idol hopefuls what they thought about the potential for Connick to make his guest spot a permanent gig.
Unsurprisingly, they're all for it. Says Angie Miller, "I love him. I would love for him to be a new judge," she says backstage after the second Top 4 performance show. "I like how the stuff that he said was really honest and very true. It was really helpful to hear from him. He's the most hilarious guy."
And that's coming from the contestant Connick liked the least! Or at least it seemed that way when he said some not-so-nice things about her — which of course were all in jest. "Oh yeah, he was completely sarcastic," Miller says. "I hope people got the joke!"
Says Candice Glover, "My God, he is the most honest person I have ever met in my whole life. He has such a dry sense of humor that you never know when he's kidding or being serious. He's really honest, so I think he should be a judge next year."
But aside from Connick's joking personality, he had some very deft technical advice for the contestants. "I like how he said in the moment you don't have to do all these runs and all this stuff that you think sounds good," Miller says. "Holding out the note is such a powerful thing. He said that on 'Someone to Watch Over Me' and it was helpful knowing I didn't have to do all this crazy stuff. I just had to be simple and hold it out."
Despite the fact that Connick's critique for Kree Harrison's take on "Stormy Weather" was slightly harsh, the singer says she listened to every word he told her. "Of course I took it to heart because I've always been a fan of him," she says. "That is his lane, these jazz standards, so he knows what he is talking about."
Then again, Harrison is always up for some words of wisdom from an industry pro. "Honestly, I always love what the judges have to say, whether it's good or bad," she says. "I listen to everything because I respect them so much so Harry was just a cherry on top of all of it. I love him. He's hilarious."
With such honest advice for a crop of contestants who clearly respect him, could there be room on the judges' panel for him? Only time will tell. In case all four current judges stay in place, though, Amber Holcomb has a backup plan to keep him around: "There should be five judges and he should join the panel."
More:
'Idol' Top 4 Redux: Amber Brings Nicki Minaj to Tears
New 'Idol' Judges Already? Ratings Are Bad, But Don't Blame Mariah
How 'American Idol' Made Me Love Keith Urban
Follow Jean on Twitter @hijean
---
From Our Partners:


Miley Goes Braless for Magazine Cover (Celebuzz)


33 Child Stars: Where Are They Now? (Celebuzz)