'Hart of Dixie' Season Finale Cliffhanger: Who Did Zoe Choose?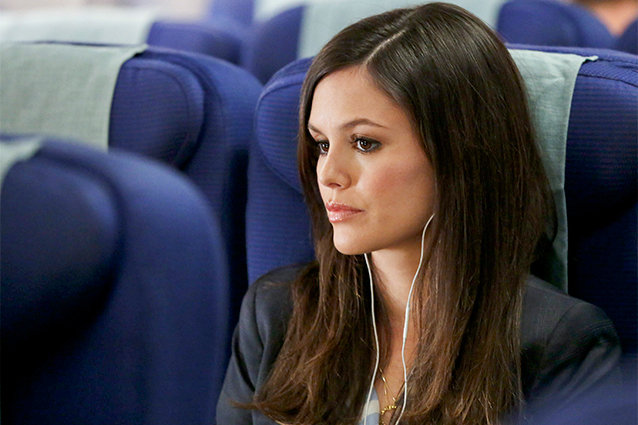 Going into the Season 2 finale of Hart of Dixie on Tuesday night, there were a few things I was expecting: Zoe (Rachel Bilson) would inevitably regret her drunken one night stand with Wade (Wilson Bethel) that occurred at the end of last week's episode, but ultimately would look for a deeper meaning in their tryst and question her feelings for him and his feelings for her again. Or Zoe would also try to get together with her supposed soulmate George (Scott Porter), now that they were both single at the same time. And amid all of her emotional struggles, she would wrestle with the decision to go back to New York and accept a job at her old hospital, thus saying goodbye to Bluebell for good.
However, none of these things happened. Well, to be fair, they each happened but in ways I was not expecting. And that is what made "On the Road Again" the perfect season finale for a show like HOD. Let me explain…
First of all, Zoe didn't actually end up choosing between #Zade and #Zeorge, as the Bluebell public named the couples. In the end, she chose herself. She decided to move back to NYC for the summer and take up the job at her old hospital, give herself some space to figure out how she truly felt about Wade (after he confessed his love for her and promised he was ready for a real relationship now), and do what she loves in the city she loves. The distance would help her see things more clearly. As she told Wade, it was only three months. 
The hopeful look on Wade's face when Zoe told him she'd be back in three months spoke volumes on how he feels, but the appearance of Jonah (Travis van Winkle) at the wedding Zoe was attending in NYC means the doctor probably won't be pining for Wade alone.
So, what about George? After pouring his broken heart out through song (and many, many beer pitchers), he realized, with the help of country performer Lily Anne (Amy Ferguson), that singing was actually therapeutic and joined her on the road to tour. With those lingering glances and musical chemistry, something tells me sparks might be flying on the road for these two.
The episode ended without any true resolution to the Zoe/George/Wade love triangle, because each component of the triangle found another entity to focus on/distract themselves with until the inevitable conflict rears its head again in Season 3. And while that might sound like it would make fans mad, that is actually the exact reason why this was the perfect season finale for HOD. 
This show is all about adult relationships in a small town. Sure, sometimes those relationships can get melodramatic and unrealistic but most of the time, the couples on HOD represent real issues and struggles. People cheat, people fall out of love, people fall in love with people they used to hate, and nothing is ever tied up in a happily-ever-after bow. Life and love are messy and there is no The End once you've found happiness.
Maybe Zoe didn't choose George or Wade just yet, but she's got three months away in the city that never sleeps with a hot, uncomplicated doctor who just wants to have fun with her. George found a new way to pass the time, and someone to pass the time with. Wade finally realized he was ready for a real relationship, and can prove to Zoe he meant what he said by responsibly running the Rammer Jammer, cultivating his new successful business over the summer. Life will keep moving, and when Zoe returns to Bluebell in three months time, things will probably have changed. If she and Wade still feel the same way, then they can try again. If they don't, then the relationship was doomed to fail anyway. 
The choices Zoe made were real, and in my opinion they showed major growth on her part. Instead of just jumping back in to a relationship, she's going to focus instead on herself. By using a bit of patience and thinking things through, she can make a healthy choice once she returns to Bluebell. And when Season 3 picks up this fall, you can be sure that the love triangle will also pick up steam again. After all, it isn't HOD without a little drama!
Follow Sydney on Twitter: @SydneyBucksbaum
More:
'Hart of Dixie': Was Wade's [SPOILER] Believeable?
'Hart of Dixie' Showrunner on Zoe and George: 'That Might Not Happen… and That's Okay' 
The CW Orders Renewals for 'Hart of Dixie' and More 
---
From Our Partners:


Watch Justin Bieber Attacked in Dubai (Celebuzz)


33 Child Stars: Where Are They Now? (Celebuzz)