A Guide to Hate-Watching NBC's 'Sound of Music, Live!'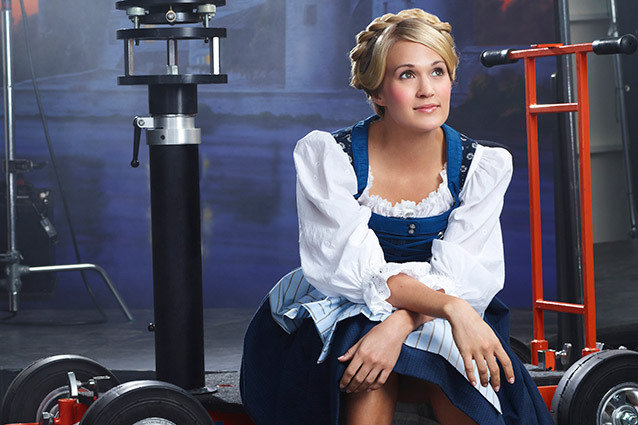 NBC/Getty
"Carrie Underwood is the Julie Andrews of country music," said no one ever.
Yet, NBC is building an entire live concert special around that idea. Sound of Music, Live! (yes, the exclamation point is a part of the official title) will air — live — on Dec. 5 at 8PM ET. The bizarre casting choices continue, as Stephen Moyer of True Blood steps into Captain Von Trapp's uniform. The three-hour event is brought to us by the producers of Smash, the network's last big-budget musical disaster. And it's only got to live up to a classic, beloved movie musical that's a part of family traditions all over the world. So, trainwreck conditions are looking pretty good.
Camp levels will be high, so Sound of Music, Live! is prime for a good old fashioned hate-watch. If you're planning on taking one for the team, here are some steps for getting the most out of it.
Step 1: Call Your Snarkiest Friend(s)
The more (and the more sarcastic) the merrier. Also, double-check your WiFi connection so you can live-tweet with all your social media buddies.
Step 2: Pick Your Poison
Whiskey, vodka, red wine, eggnog. ("These are a few of my favorite things…") Pick one and define the rules of your drinking game. We'll get you started: drink anytime Underwood belts the crap out of a song that isn't meant to be belted. Christopher Plummer claims to have gotten blisteringly drunk every night of filming the original, so think of this as a tribute.
Step 3: Silently Hope the Captain Takes His Shirt Off in This Version
Because otherwise, why?
Step 4: Spend Commercial Breaks YouTube-ing the Supporting Cast's Broadway Greatest Hits
Ask your showtune nerd friends for tips if you must. But Laura Benanti, Christian Borle, and Audra McDonald are all treasures and deserve better than this.
Step 5: Take Bets on the Next Holiday Classic to Be Butchered
Justin Bieber as Hermey in a live-action remake of Rudolph the Red-nosed Reindeer? We know his hair can do the thing.