The Most Exciting Shows on HBO's 2014 Lineup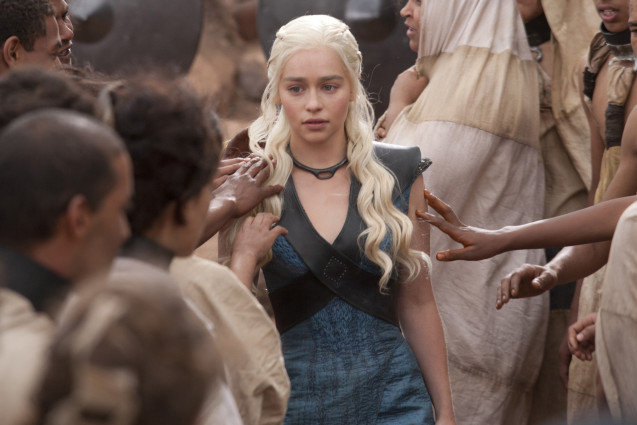 HBO
We hope you've fully recovered from the Red Wedding, because there's plenty more drama, action and death coming your way this spring. HBO has unveiled its spring premiere dates, with Game of Thrones set to pick back up on April 6 at 9 PM. And if you prefer your political power grabs to take place in the Oval Office rather than on the battlefield, never fear: Veep will premiere right afterwards, at 10 PM. The network has also announced the starts of several new shows and the tentative air dates of several new miniseries and movies that are sure to make a major impression on the Emmys committee.
First up is Silicon Valley, which will follow Veep on April 6 at 10:30, before the second season of Vice picks up later that week on Friday, April 14. Emily Mortimer will take a break from flirting with Jeff Daniels on The Newsroom on Wednesday, April 19, when her new sitcom Doll and Em premieres with two back-to-back episodes. Later in the spring will bring the premieres of The Leftovers, the new series from Damon Lindelof and Ryan Murphy's The Normal Heart, which will air sometime in May. Finally, Olive Kitteridge will make its debut at some point later this year, before HBO wraps things up with the fifth and final season of Boardwalk Empire.
Just in case you're having a hard time keeping all of that straight, we've created a handy rundown of HBO's new and returning shows, presented in the order we're most excited for. You can also check out the complete list of premiere dates and times here.
8. Vice
Unfortunately, it seems like the second season of this news show will end up getting lost in the midst of all of the other big spring premieres. Sorry, Vice, but unless you've got a Red Wedding of your own up your sleeves, we're going to find it hard to tear our attention away from Game of Thrones.
7. The Normal Heart
It might be a little early to start making Emmy predictions, but you should consider putting your money on this one. Based on a Tony Award-winning play, The Normal Heart deals with the beginning of the HIV-AIDS epidemic of the 1980s, and with the politics and prejudices that came with being gay during that period of time. The cast includes Taylor Kitsch, Matt Bomer, Mark Ruffalo and Jim Parsons, and is bound to earn the network the same kind of ratings and accolades that Behind the Candelabra earned last year. Our only reservation is that it's directed by Ryan Murphy, who can be a bit inconsistent when it comes to the quality of his projects, but we're willing to ignore our hesitation for a story this intense and touching.
6. Olive Kitteridge
Based on Elizabeth Strout's novel, this miniseries tells "the poignantly sweet, acerbically funny and devastatingly tragic story of a seemingly placid New England town wrought with illicit affairs, crime and tragedy, told through the lens of Olive whose wicked wit and harsh demeanor mask a warm but troubled heart and staunch moral center." You might not be hooked based on the description, but with a cast that includes Frances McDormand, Richard Jenkins and Bill Murray, this is definitely going to be a miniseries worth checking out. Oh, and did we mention that Tom Hanks is producing it? Sold.
5. Doll and Em
Co-written by actress Emily Mortimer, Doll and Em is a semi-improvisational comedy about the effects of a Hollywood actress hiring her best friend to be her personal assistant. Doll will be played by Dolly Wells, the series' co-writer and Mortimer's real-life best friend. Not a lot of information has been released about the show, but we're imagining something along the lines of Extras or Flight of the Concords in tone, both of which were shows that dealt with friendship and showbusiness, in their own unique ways. The premise has us intrigued and we're hoping that the show itself manages to live up to it.
4. Silicon Valley
This new sitcom, which comes from the mind of Office Space and King of the Hill creator Mike Judge, centers around tech billionaires in Silicon Valley, "the modern-day epicenter of the high-tech gold rush, where the people most qualified to succeed are the least capable of handling success." Judge has said that he hopes the show will be Entourage for the San Francisco set, and will focus on a similarly close group of friends, who are unprepared for the success that comes their way. With Veep as a lead-in, Silicon Valley should manage to do pretty well, as there is likely to be a good deal of overlap between audiences. There's still plenty more to find out about this show, but it's already go us intrigued, so Judge is off to a pretty good start.
3. The Leftovers
We've still got a good deal of time to go before The Leftovers hits airwaves, but we're already pretty excited. Based on the novel by Tom Perotta, the story revolves around the people who were left behind on earth after a Rapture-type event caused a good deal of the population to simply disappear from the face of the earth. The compelling premise is compounded by a cast that includes Christopher Eccleston, Justin Theroux and Liv Tyler, and the series is being adapted by Damon Lindelof. Fans of Lost know that he knows how to create an addicting television show, but we are a little bit worried about how well he'll managed to pull the whole thing together. He'll have a difficult time making the show stand out from all of the other apocalyptic dramas currently on television, but we have faith that The Leftovers will become our newest addiction.
2. Game of Thrones
With a cast of thousands, and characters constantly dying, getting kidnapped and losing limbs, it can be a little hard to keep track of everything that's going down in Westeros. This season, Danerys has a ship, and army and her dragons, and she's more determined than ever to regain her throne. Sansa and Tyrion are living unhappily ever after, Jamie's lost his hand, but not his friendship with Brienne, Arya's still on the run and Joffrey's got a wedding of his own coming up. And since we know how well wedding tend to in this universe, it's bound to be entertaining. It's impossible to predict what will happen next on this show, which is what makes it so addicting, but at least we can always take comfort in the fact that no matter what happens, Jon Snow will continue to know nothing.
1. Veep
When last we left Selina Meyers and her well-meaning but generally-incompetent staff, they had just found out that the President had decided not to run for re-election, which would put her at the top of the ticket, and bring her that much closer to her dream of a seat in the Oval Office. Of course, since this is Veep, there's no way that her presidential preparations will go smoothly, and that's just what we can't wait for. Julia Louis-Dreyfus is wonderful as Selina – and she's got the Emmys to prove it! – and there's very little we love more than watching her hurl insults at Jonah or embarass herself at a major press event. And since the last season of Veep predicted the government shutdown in the spring, it's probably best to tune in just in case they manage to foreshadow any more major political crises.