Does HBO's 'Hello Ladies' Live Up to Its 'Office' Pedigree?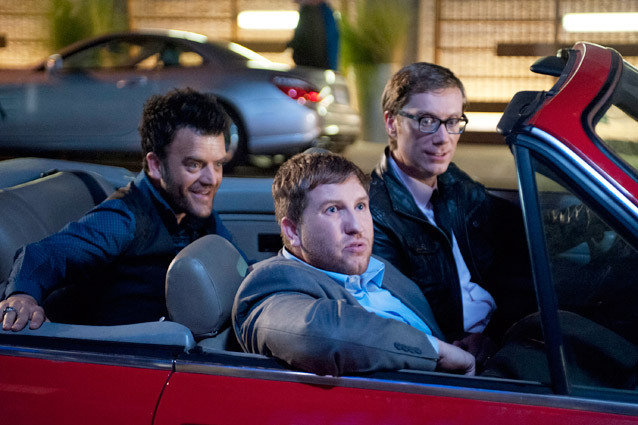 HBO
Since The Office took its final bow last May, there's been a serious lack of cringe comedy on our televisions. Thanks to HBO and original Office co-creator Stephen Merchant, that gap is now filled.
Hello Ladies quietly premiered last weekend, on the day that will henceforth be known throughout all time as Breaking Bad Finale Sunday. In the half hour comedy, Merchant plays Stuart, an English ex-pat web designer attempting to live the swinging single life in LA. As anyone who's been on the receiving end of the pick-up line that serves as the show's title knows, a conversation that starts with those two words can't possibly be going anywhere good. But, while an awkward encounter at a club can ruin a perfectly good night out, watching Stuart strike out again and again from the safety of your own home is time well spent.
What makes Hello Ladies work is that Merchant imbues his clumsy character with immense likability. In the pilot, he considers ditching his newly separated best friend Wade (Nate Torrence, who you know from every commercial ever made) to mack on ladyfriend, but has a (somewhat guilty) change of heart and inadvertently gives him the time of his life. He also has an easy chemistry with his tenant Jessica (Christine Woods) in a friendly relationship that's clearly set up to turn into flirtation and more down the line.
In the UK version of The Office and follow-up show Extras, Stephen Merchant and Ricky Gervais shepherded two incredibly flawed characters through a series of humiliations so that they could come out the other side still flawed, but definitely more self-aware. Even as a character to pity, Stuart isn't perfect. (He calls condoms "groin cloths" and is incredibly cheap with his friends). But he's harmless enough that American audiences will likely warm to him faster than they did say, David Brent. But will Stuart take a place next to Brent in the Hall of Fame of perfectly imperfect comedic characters? Time will tell.
More:
Lois Wouldn't Have Put Up With Heisenberg
Superheroes Take Over TV
NBC and CNN Drop Hillary Clinton Projects
---
From Our Partners:


40 Most Revealing See-Through Red Carpet Looks (Vh1)


15 Stars Share Secrets of their Sex Lives (Celebuzz)