Hey 'Idol': Cool It With the Gospel Choirs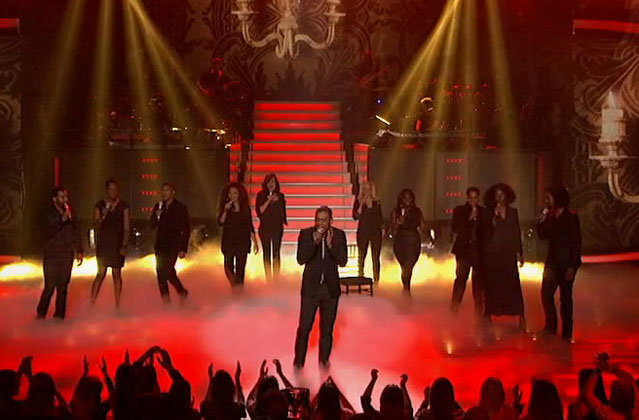 We used to see it only once or twice a season. And, when we did, we cried with joy, soaking in a rare treat that helped transform a simple episode of American Idol into absolute must-see TV. No, I'm not talking about the creature that is Deliriously Tired Ryan Seacrest, who made his triumphant return last night after a whirlwind day that included a disappointing appearance on morning television. (Deliriously Tired Ryan Seacrest was last seen in season 9, dancing with Michael Sarver in the audience during Tim Urban's performance of "I Can't Help Falling In Love." Welcome back, man!) I'm talking about the American Idol Gospel Choir ™.
The Fox reality series has enjoyed quite a history with the AIGC (as the kids, or rather, I calling it these days) — completely absent during the course of the low-rent season 1, the AIGC made its first appearance during Ruben Studdard's finale performance of "Flying Without Wings." As a devoted Claymate who still sings "Always and Forever" in her head while watching Clay Aiken sell sandwiches on Celebrity Apprentice, I angrily assumed Studdard's gospel backtrack meant Idol was literally backing the contestant before he had even picked up the crown — until Aiken was granted the same glorious AIGC treatment during "Bridge Over Troubled Water." Ever since, the AIGC has been employed for Idol's biggest finale moments, capping off long, stressful seasons (for us fans!) with dramatic emotional swells fit for the finest of Sister Act scenes.
But, like Randy Jackson's wardrobe, the AIGC has gotten out of control this season. We saw it last night not once, not twice, but three times — not only did both Elise Testone and Joshua Ledet get the gospel treatment with their renditions of "I Want To Know What Love Is" and If You Don't Know Me By Now," but Ledet enjoyed it again alongside Sanchez with their duet of "I Knew You Were Waiting (For Me)." And the AIGC has been used two other times during the course of season 11 by the worst offenders: Ledet was bizarrely backed by the choir during Top 10's "She's Got a Way," while Sanchez enjoyed their help that same night during "Everybody Has a Dream." Clearly, after last night, we've learned that the AIGC is paid by the episode.
Part of me still years for the old days of Idol — back when a piano was the only instrument backing the contestants during the semifinals. Sure, the series was void of the dramatic lighting and graphics that attempt to make The Voice shake in its boots, but all of Idol's bells and whistles have simply become on-stage clutter. Joshua, Jessica, and Elise's voices can be awe-inspiring (with the right song choice) — why do we need a gospel choir to alert us that we're seeing a performance worth praising? Even the AIGC's "surprise" entry onto the stage has become laughably tired. It's difficult to gasp in delight seeing the choir emerge from backstage when you already know there's a 50/50 chance they'll appear during one of Ledet's performances.
Don't get me wrong: I love a good AIGC moment. I bawled enough tears to fill many troubled waters during Aiken's final performance. Fantasia's "I Believe" sent me into hysterics that had me believing I belonged in an asylum. But the gospel treatment worked with those performances — it was an exciting addition to a climactic moment of television. But three AIGC appearances during a 1980s-centric Top 8 night? Idol, there's still a long road ahead — I pray you learn to save the gospel choir for when you speed into the finale. Otherwise, I'll sic Deliriously Tired Ryan on you.
Follow Kate on Twitter @HWKateWard
More:
American Idol Top 8 Recap: 80s Night is Time to Trim the Fat
American Idol Rankings: Gwen Stefani Lights a Fire Under the Top 8