'Homeland' Premiere Recap: Season 3 Is Off to a Slow Start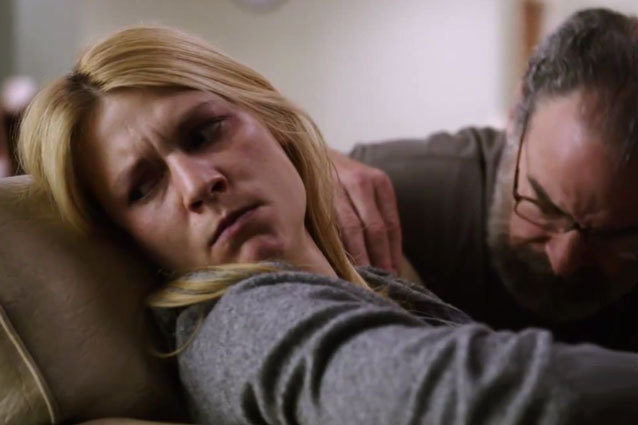 Showtime
Let's see, where did we leave off with Season 2 of Homeland? Brody (Damian Lewis) is hiding in the Canadian woods (presumably surviving off of fresh maple syrup), his family is about to start suffering the repercussions of his terrorist ties, Saul (Mandy Patinkin) is now in charge of the CIA and has to fix some minor things (you know, the bomb that killed over 200 civilians), and Carrie (Claire Danes) needs to pull it together. Sounds like Homeland to me. (If you need a more detailed reminder of the season, check out my season two finale refresher recap.)
Truth be told, after the end of season two, I was about ready to give up on Homeland. There's no denying that the second half of the season just wasn't up to par with the quality of season one; it had plot-holes and the story didn't seem to be progressing in any specific direction. And worse yet, the thrill of the spy drama became muddled with the far-from-perfect romantic relationship between Carrie and Brody, which I personally could not get behind. (Carrie had Brody right where she wanted him and then her naïve heart got in the way of things.) However, the season two finale left us all wondering who Brody really is (again), and because of the Clue-loving fan inside of me that just couldn't give up on the mystery of it all, I'm back for the third season.
"Tin Man Is Down"
Based on this episode, it's clear that the writers and producers of Homeland have been listening to the viewers because they have reverted back to their old ways: making us question Brody's innocence and Carrie's sanity. Why? Because they know it's what got us hooked in the first place. The question in season one was whether or not Brody had been turned, and the drama of it was that Carrie believed that he had been, but no one would believe her. Cut to the season three premiere: the audience doesn't know if Brody's the good guy or the bad guy, and once again, Carrie is fighting to prove that she's right about Brody (only this time, she's trying to prove his innocence).
I thought I would be satisfied getting back some of what made season one so addicting, but unfortunately, the plotline so far is just too similar to what we've seen before: Carrie has stopped taking her meds (big surprise) and no one believes her story about Brody. Déjà vu, anyone? The episode was slow moving, and while it did have a spy scene similar to the ones in the episodes of yesteryear, it wasn't enough to pull it all together. There was effort to put more emphasis on Saul, Dana (Morgan Saylor), and Quinn (Rupert Friend), but so far, their stories don't have a strong enough pull.
The episode begins with a shirtless Quinn (so far, so good) assembling what appears to be a bomb, but quickly switches over to Carrie being questioned at a hearing. Thanks to the bombing from last season, the CIA is in some serious trouble, and some higher-ups in the government want to demolish it for good. (The fact that the show so nonchalantly talks about the CIA simply being shut down seems quite unrealistic, but then again, Homeland seems to thrive off imagined situations. In the show's credit, later on in the episode Saul explains that the CIA's charter says that it can be shut down.)
The person interrogating Carrie, Senator Andrew Lockhart (Tracy Letts), asks, "How can the CIA protect this country if it can't even protect itself?" Snap. Carrie proceeds to muffle a Claire Dane's cry-face and admits that Abu Nazir outsmarted her. You can see the guilt engulfing her as she admits her mistake.
The hearing is called to recess, and the camera cuts to her notepad, which is covered in theories and crazy notes, very similar to the massive chart she had on her living room wall (again, repeating storylines). It turns out that Carrie has stopped taking her meds because she believes it's what prevented her from stopping the bombing. She copes with everything that's going on in her life by buying an insane amount of alcohol and having sex with a random guy she meets in the liquor store. So, things are obviously going well for her.
Meanwhile, Dana has some serious issues of her own. Apparently she tried to commit suicide and is graduating from a therapy program. While I'm usually irritated by almost everything that Dana does (she's just so moody), her "cry for help" was completely realistic — she found out that her dad is/was a terrorist and she just couldn't cope. But then she goes right back to being predictable and irritating Dana when it's revealed that she's involved with another patient, Leo Carras (Sam Underwood), who she likes to send nudey pics to.
I was hoping that Dana would have grown up a little more, but it seems like the show is still going to have a focus on Dana's teenage immaturity. As for the rest of her family, Jessica (Morena Baccarin) and Chris (Jackson Pace), not much else has changed in their lives except for Jessica's mom moving into the house (her character seems relatively annoying and unnecessary).
As for Saul, he has taken over for Estes as head of the CIA and is currently in the middle of catching the culprits responsible for the attack. (The President obviously wants to get Brody, but since they don't know where he is, Saul has to eliminate other players that were involved with the bombing.) Saul has to decide if he's ready to approve a mission to take out six men — an ethical dilemma that runs the course of the entire episode. Mira (Sarita Choudhury) is back in the States, and she's the voice of reason in Saul's life. According to her, "the world is paralyzing" him. He can't decide what to do about the mission, his relationship with Mira, or his problems with the CIA and Carrie. Mira's right; he is paralyzed.
Saul eventually decides to OK the mission, and six separate hits are made within 15 minutes of each other (a scene that is supposed to excite us, but rather just falls flat). One of the hits is made by Quinn who fails to kill his target the first time around because the target's child would have been harmed. However, when Quinn later successfully kills him, he mistakes the boy for another enemy target and accidently murders him. He is clearly distraught. Hopefully this emotional drama is foreshadowing an extended stay on the show for Quinn and a storyline that we can get behind.
Cutting back to the senate drama, it appears as if there's a leak in the CIA that has been feeding incriminating information to Senator Lockhart. Carrie freaks out and accuses Saul and his CIA cronies for using her as a scapegoat, but they deny everything. But then at the end of the episode, an extremely surprising character change happens: Saul speaks at the hearing, and after patting his own back, blames the CIA's mistakes on Carrie, her relationship with Brody, and her mental instability. Saul might not be the man we always thought he was.
The episode ends with Saul blindsiding Carrie and throwing her under the bus. While this was probably supposed to be the big ending that keeps us all hooked, it didn't really have a shock-and-awe factor. Yes, Saul isn't usually the one putting her down, and yes it was out of character for him, but we've all seen Carrie under a big pile of crap before. It's nothing new.
This show isn't supposed to be a courtroom drama with some looming government official breathing down the CIA's neck. The show is at its best when Carrie is doing what she does best: being a spy. Saul's CIA killing spree was exciting for all of three seconds, but it just doesn't match up to the rush of adrenaline that we get when Carrie's tracking down the bad guys. Hopefully Homeland will be able to pick up the pace and find its season three groove.
More:
'Homeland: The Musical' Brings Out a Whole Other Side of the Showtime Drama
'Homeland' Season 3: Damian Lewis Thinks Brody Won't Survive
'Homeland' Season 3 Trailer is So Good it Doesn't Need Words
Follow @CaseyRackham  
Follow @hollywood_com
---
From Our Partners:

A Complete History Of Twerking (1993-2013) (Vh1)


20 Grisliest TV Deaths of 2012-2013 (Vulture)