'Homeland' Recap: Who's the Father of the Baby? (Season 3, Episode 10)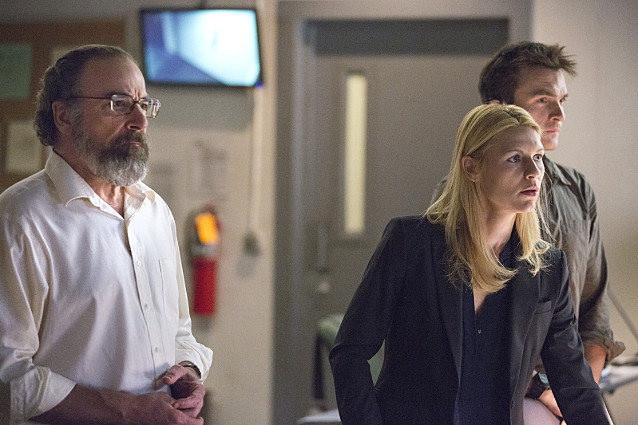 Showtime
Where we left off: Brody went through some intense withdrawal symptoms and was whipped into shape for a mission, and Carrie missed every opportunity to tell him that she's pregnant.
"Good Night" 
While most of the episode might center on Brody attempting to cross the Iraq-Iran border and seek asylum, it's Carrie who drew the most attention. Her face is so damn expressive that if anyone in the room watching Brody's mission go down had glanced at her for even a nanosecond, they would have seen that she is way too emotionally involved to make responsible decisions. Every time Brody says a word, takes a step, or coughs, Carrie is there to react with a tear in her eye, and when he finally completes his mission (albeit in quite a roundabout way), she smiles like she's just found out that her own child was accepted into Harvard.
Speaking of her own child, Quinn totally knows that she's pregnant. However, the reveal was pretty drama-less and, more importantly, completely ridiculous. Leave it to Quinn to be no nonsense about the whole ordeal, and leave it to Carrie to think that the bigger issue is that Quinn read her medical files than her not telling anyone she might be carrying Brody's child (you know, the maybe ex-terrorist asset who's at the helm of the CIA's entire mission). If Carrie thinks her situation is no big deal, then she seriously needs to reassess how she views her life (although, we all already know that she needs to do that). Also, Quinn needs to move his ass and tell someone what's up with Carrie before she does something that jeopardizes everyone. If he doesn't start spilling secrets soon, Carrie is going to pull a classic Mathison move and mess everything up in the name of unstable love. (Also, she might have told Quinn that Brody's not the father of her child, but she seems way too invested in Brody's successes for that to be true.)
After Carrie, the second star of the episode is the mission itself. While Brody is included in that mission, his role in the situation doesn't even compare to the actual combat scenes. It all starts to get good when the show veers away from the buddy-buddy aspect of the agents' relationships with Brody, and focuses on the fact that a team of U.S. agents is in the middle of quite a serious operation – they are in the center of Iraq attempting to cross into Iran — and the last time I checked, that isn't an easy feat. Entering some sort of reality, the agents become surrounded by a military patrol and are fired at from all different directions. But because the show can't stay in a world of reality for more than five minutes, things quickly get back to Homeland's version of normal, and Brody disobeys orders, managing to "luckily" fall into the hands of the Iranians, and even "more luckily" the hands of Javadi. Checkmate for Saul.
Highlight of the Episode: Senator Lockhart finally switches sides (for now, at least) and shows that he's not a completely terrible person. It's nice to finally not want to punch him in the face every time he speaks.