'Honey Boo Boo' Halloween Special Promo: It's Spooky How Staged This Looks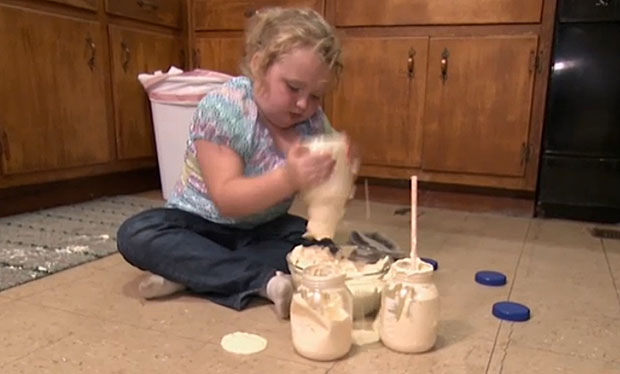 The new promo for Sunday's Here Comes Honey Boo Boo Halloween special on TLC is downright scary. Not because of ghosts, goblins, or globs of saturated fat. But because shortly after the first season of the hit cable series — starring the eccentric Mama June Shannon and her breakout beauty queen daughter, Alana "Honey Boo Boo" Thompson — the HBB clan is already starting to sound over-rehearsed.
It's a shame too — part of what made Mama June's family so appealing in the series' first season was their authenticity. Despite the on-camera attention, June shrugged her shoulders about living the simple life, and even if cameras weren't the household, Alana would likely still unleash t-shirt-ready catchphrases like, "I wish I had an extra finger, then I could grab more cheese balls." (Or one of the most refreshing quotes to come out of a reality television in recent years, "Ain't nothing wrong with being a little gay. Everyone's a little gay.")
But, based on Sunday's promo, which revolves around Mama June's hatred for (of all things!) mayonnaise, the HBB clan seems much more aware of their on-camera surroundings. Be it Mama June's new bleach blonde hairstyle (don't follow in Heidi Montag's footsteps, June), Chubbs fighting for airtime by claiming she won't eat mayonnaise because she's a vegetarian (no one's that dumb), and Alana's spoon-fed quotables ("Mom was turning white. Just like mayonnaise"), some of HBB's innocence seems to have gotten lost after Season 1.
Of course, perhaps it's not fair to judge until Sunday — we might still see HBB's refreshing genuineness beyond this single scene. But here's hoping this TLC series doesn't think it needs an extra dose of Go-Go Juice to keep us entertained.
[Image Credit: TLC]
More:
Honey Boo Boo vs. The Karadashians in a Christmas Card Showdown
Redneckognize It! Honey Boo Boo is One of Barbara Walters' 'Most Fascinating People'
Reality TV is Making Us Smarter, Even When It's Stupid

20 Hottest Bikini Bodies of 2012: Katy Perry, Miley and More!